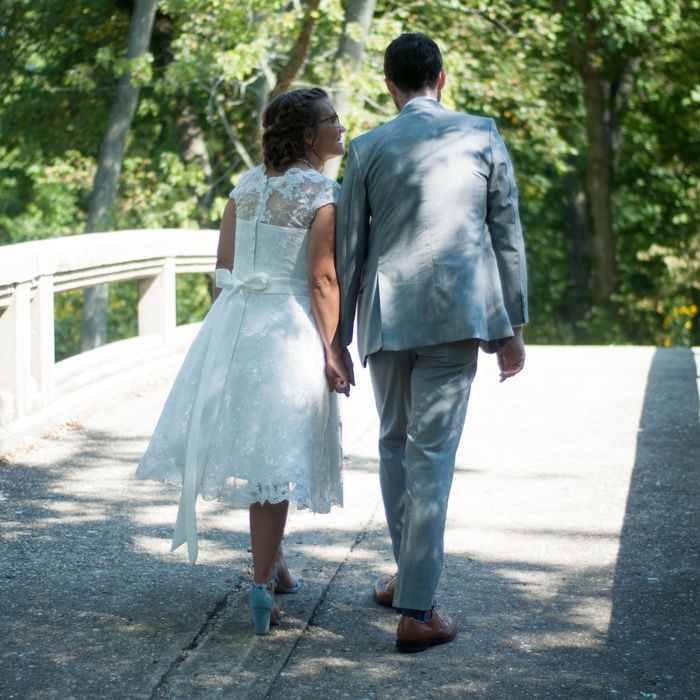 This very dress was $70.
Photo: Classic Photography
On one recent slow news day, just for kicks, we typed "wedding dress" into Amazon to see what would come up. A lot came up. And a lot with excellent reviews, and price tags starting in the two digits. This, it turned out, was exactly the random way in which multiple brides we interviewed for this story ended up walking down the aisle in a mermaid or A-line or tea-length gown that arrived via Prime shipping, in the same boxes that usually carry the toilet paper. We had to know more. So we found a whole bunch of these women, asked for pictures, and interrogated them: How did they settle on a dress? Did the corset actually fit their bust? And did the synthetic lace make them want to scratch their eyes out?
In the cases of the eight women we talked to here — who, on the whole, had quick turnaround times for their wedding dates (sometimes less than a month) — the results were not necessarily bridal-boutique quality, but nonetheless much more expensive-looking and -feeling than they would have expected. And one woman even wound up (unintentionally) choosing an Amazon seller whose gowns are made to measure in Hong Kong, for no extra cost. She was surprised as anyone when the company emailed her for exact measurements.
"I had no desire to go to a bridal salon, get undressed in front of strangers, and be picked and prodded over."
Carol-Le Braden
Wore: The Ruolai ASA Bridal Vintage Cap Sleeve Gown
What brought you to Amazon? I had no desire to go to a bridal salon, get undressed in front of strangers, and be picked and prodded over. That sounded like hell. Initially, I ordered a dress from an online vendor that I'd rather not name — about five weeks out from the wedding, I decided I wasn't happy with it. I said, "You know what? I'm going to go on Amazon and see what I can find."
Seems rather late in the game to order a whole new dress, no?
I was definitely nervous about it showing up on time, and what it would look like. It arrived in about two weeks, ten or so days before the wedding — which was cutting it a little close. But I had decided, if it didn't show up or didn't work, I was still going to get married. That was the important thing.
And so what made it work?
It had what I wanted: romantic lace — with that vintage feel — and an A-line silhouette. There was an option at the bottom of the Amazon page to message the brand with your measurements for a custom-made dress for no extra cost — but it fit right out of the box. And I loved the delicate bits of lace around the neckline. We had a hundred-person wedding at the Downtown Central Library in Kansas City, Missouri, and I got so many compliments; nobody believed I bought the dress on Amazon for under $200 — which was less than my maid of honor's dress.
"I'm usually a really cautious decision maker, but not with this dress."
Angelia Lynn Lo Russo
Wore: The Ubridal Lace Mermaid
Had you thought much about wedding dresses before you got engaged?
I do remember seeing on Pinterest a line of wedding dresses by Alfred Angelo based on Disney princesses. I was never the princess type of kid, or the fantasize-about-my-wedding type of kid, but I did love Alfred Angelo's "Little Mermaid" dress. And then when I got engaged — this was back in 2015; there weren't as many wedding dresses on Amazon then, but when I typed in "wedding dress," just to see what I could find, one of the few results that came up reminded of the Ariel dress: tight at the top and then flowing out a little, but not puffy like a typical princess thing.
And then you just went for it?
I'm usually a really cautious decision maker, but not with this dress, but my now-husband and I were mainly focused on buying a house together, and we wanted the wedding to be fast and simple. By the time we realized that a nice date for us would be December 20th — exactly a year and a half from when we began dating — we only had three weeks to plan. I had to pay $50 for expedited shipping, so $150 total — which I was willing to do because it looked like exactly what I wanted. Even though I didn't actually think it was going to work out.
And?
It perfectly fit and flattered my body. Well, it was too long for me–I'm only five-two, so I had to wear my Jessica Simpson stilettos, but otherwise, the lacy cap sleeves just rested softly on my shoulders, and the lace overlay of the upper half of the dress showed just a hint of cleavage. And the satin-lined bottom had volume but it wasn't itchy and annoying.
What kind of reaction did you get?
It was crazy because I didn't have to have it altered or anything. People were like, "You ordered this online and it just fit you?" I got a similar response to my cubic zirconia wedding band and engagement ring [Ed. this is indeed the exact one], which my husband bought as a set for less than $50, also on Amazon. At the time I was working in bank sales in this very well-to-do neighborhood in Main Line Philadelphia called Lower Merion, and the old ladies around would be like, "Oooh your rings are gorgeous; are they vintage?" When I walked down the — there wasn't exactly an aisle to walk down at the Observation Deck, but my father walked me from the elevator to around the corner where my husband was standing, in his new uniform; he'd just been promoted to Army sergeant. He hadn't seen me in the dress yet, so it was a big reveal.
"I wanted something easy… we wanted to just run away from our home in Iowa for a few days and elope."
Danielle Rinner
Wore: The Irenwedding Ruched Empire Waist Dress
Did you know that Amazon sold wedding dresses when you got engaged?
I just figured they have everything, and I wanted something easy — this was the second wedding for me; we wanted to just run away from our home in Iowa for a few days and elope on Pass-a-Grille