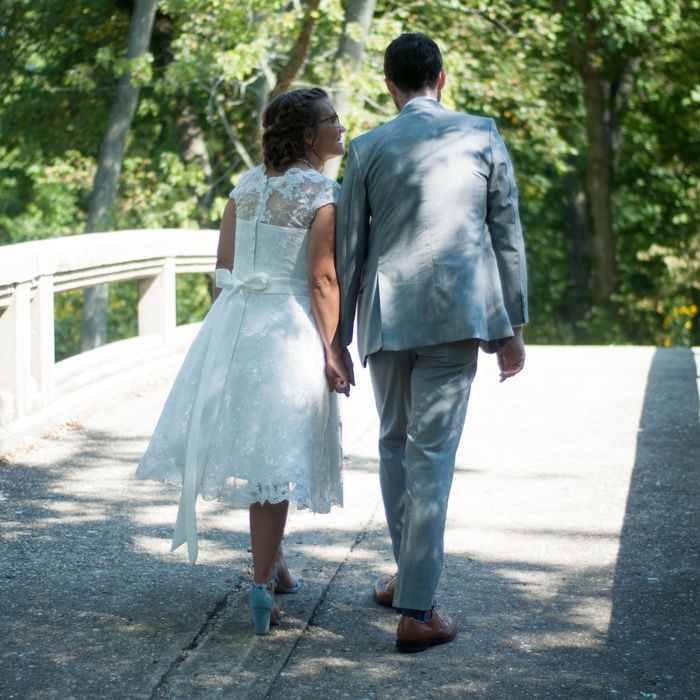 This very dress was $70.
Photo: Classic Photography
On one recent slow news day, just for kicks, we typed "wedding dress" into Amazon to see what would come up. A lot came up. And a lot with excellent reviews, and price tags starting in the two digits. This, it turned out, was exactly the random way in which multiple brides we interviewed for this story ended up walking down the aisle in a mermaid or A-line or tea-length gown that arrived via Prime shipping, in the same boxes that usually carry the toilet paper. We had to know more. So we found a whole bunch of these women, asked for pictures, and interrogated them: How did they settle on a dress? Did the corset actually fit their bust? And did the synthetic lace make them want to scratch their eyes out?
In the cases of the eight women we talked to here — who, on the whole, had quick turnaround times for their wedding dates (sometimes less than a month) — the results were not necessarily bridal-boutique quality, but nonetheless much more expensive-looking and -feeling than they would have expected. And one woman even wound up (unintentionally) choosing an Amazon seller whose gowns are made to measure in Hong Kong, for no extra cost. She was surprised as anyone when the company emailed her for exact measurements.
"I had no desire to go to a bridal salon, get undressed in front of strangers, and be picked and prodded over."
Carol-Le Braden
Wore: The Ruolai ASA Bridal Vintage Cap Sleeve Gown
What brought you to Amazon? I had no desire to go to a bridal salon, get undressed in front of strangers, and be picked and prodded over. That sounded like hell. Initially, I ordered a dress from an online vendor that I'd rather not name — about five weeks out from the wedding, I decided I wasn't happy with it. I said, "You know what? I'm going to go on Amazon and see what I can find."
Seems rather late in the game to order a whole new dress, no?
I was definitely nervous about it showing up on time, and what it would look like. It arrived in about two weeks, ten or so days before the wedding — which was cutting it a little close. But I had decided, if it didn't show up or didn't work, I was still going to get married. That was the important thing.
And so what made it work?
It had what I wanted: romantic lace — with that vintage feel — and an A-line silhouette. There was an option at the bottom of the Amazon page to message the brand with your measurements for a custom-made dress for no extra cost — but it fit right out of the box. And I loved the delicate bits of lace around the neckline. We had a hundred-person wedding at the Downtown Central Library in Kansas City, Missouri, and I got so many compliments; nobody believed I bought the dress on Amazon for under $200 — which was less than my maid of honor's dress.
"I'm usually a really cautious decision maker, but not with this dress."
Angelia Lynn Lo Russo
Wore: T