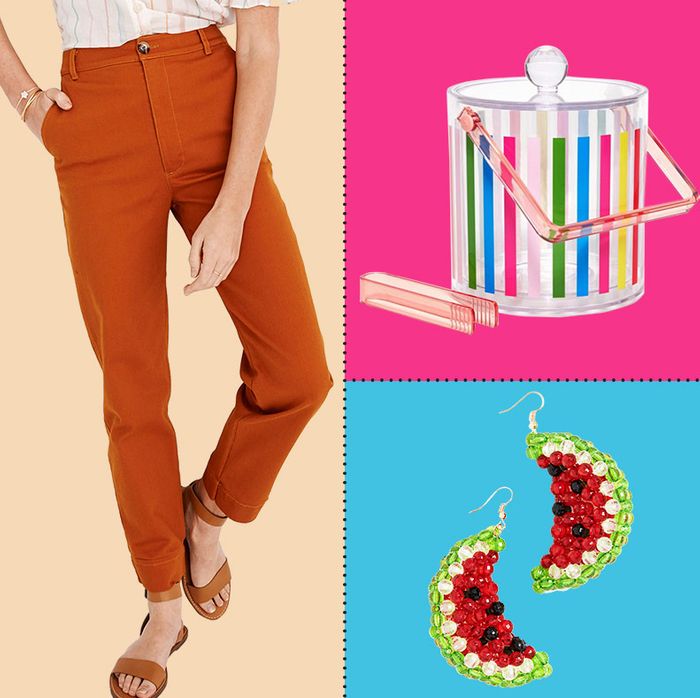 Photo: Courtesy of the retailers.
A lot of summery sales this week: we dug up deals on everything from watermelon earrings to ice buckets to sunglasses to miniskirts to swim trunks to tricycles.
It's outdoor party season time (almost), and an ice bucket is a surprisingly useful thing to have (that you wouldn't probably want to spend more than $24 on, to be honest).
(Former Lanvin creative director) Alber Elbaz's collaboration with LeSportsac features lots of kisses; from anyone else would seem a little too too, but from him feels just right.
For the mom who likes lavender: A pretty purple candle from Jonathan Adler.
These right here are some 2019 New Balances if we've ever seen some.
They'd look pretty fabulous with these high-waisted pink cropped jeans from Current/Elliott.
So too would these espadrille wedge sandals from Castaner.
This liquid eye shadow is for those looking to pull off that '90s rave unicorn mermaid look.
This Pendleton tote (made from cotton canvas with matte PVC coating) would make an excellent weekender or a diaper bag.
Some summer-y watermelon earrings from Susan Alexandra (who, incidentally, we wrote about earlier this week as she just released a Champion collab at Urban Outfitters).
For something a little more work-appropriate.
Mom doesn't have to know that this Eberjey robe was 70 percent off.
This is a very good price for Illesteva.