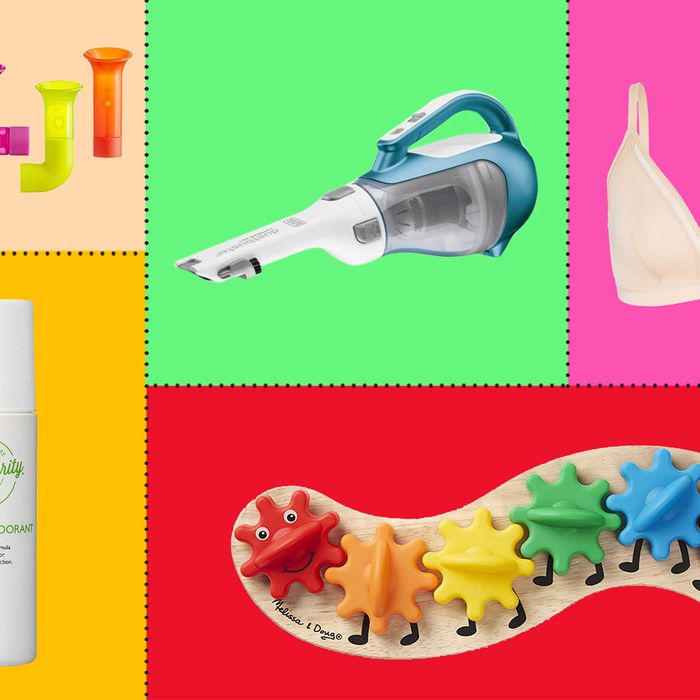 Photo: Courtesy of the retailers.
Welcome back to Your Shopping Cart, wherein we break out the top ten products that you, devoted Strategist readers, have been buying in droves. Think of this as the tl;dr of the Strategist: If your like-minded brethren are buying these items, maybe you'd like to, too.
In its first appearance on the list, a set of colorful bath toys for babies take the top spot (another one of our top gifts for 1-year-olds, this caterpillar toy, also makes its debut in sixth place). Returning favorites round out the top five, including a rose gold Lighting charging cable (in second, up from third place last week); a fancy lube (in third, up from seventh); last week's top finisher, a powerful handheld vacuum, in fourth; and a natural deodorant (that actually works) in fifth, up from sixth. Last seen in September, this classic white T-shirt, returns to the list in seventh place — perhaps an indication that spring is finally on its way. Two foundation garments — this bralette for larger breasts and these nude pantyhose — appear for the first time in eighth and tenth place respectively. Finally, this pillow for side-sleepers, a longtime best seller, holds steady at number nine.
Our number-one best seller this time around is a set of pipe toys that attach by suction to the side of the bathtub and have different moving parts that little ones can activate in the water. It comes recommended by child-development expert Sarah MacLaughlin as a perfect gift for a 1-year-old. "The idea that there are moving parts goes right along with that curiosity of the in, out, up, and down," says MacLaughlin. "Moving parts are pretty attractive to a 1-year-old, which is why you'll find them going after everything in your home that's not a toy."
For under $10, this USB Lightning cable (an Amazon favorite) is worth keeping in your bag for emergency charging situations. One reviewer raves, "I've ordered endless cables and they all work great for a week and then die. I decided to try this one since it had the lifetime warranty, and I'm so glad I did. It's excellent and pretty much just like the Apple USB. It charges my phone in the car super fast and even faster via wall charger." And since it's rose gold, you'll always know which one's yours in a sea of white cords.
When this very elegant-looking lube started inching up on our best-seller list, we credited it to a Valentine's Day bump, but now that it's appeared seven consecutive times — and this week moves up into the top three — we're confident in saying that our readers just love it. And they're in good company: Samantha Bard, co-owner of the sex-positive shop Shag in Williamsburg, says it's "one of the highest-quality silicone lubes out there," and Emily Morse, doctor of human sexuality and host of Sex With Emily on SiriusXM, is impressed that it has only two ingredients: "pure silicone with a trace of vitamin E."