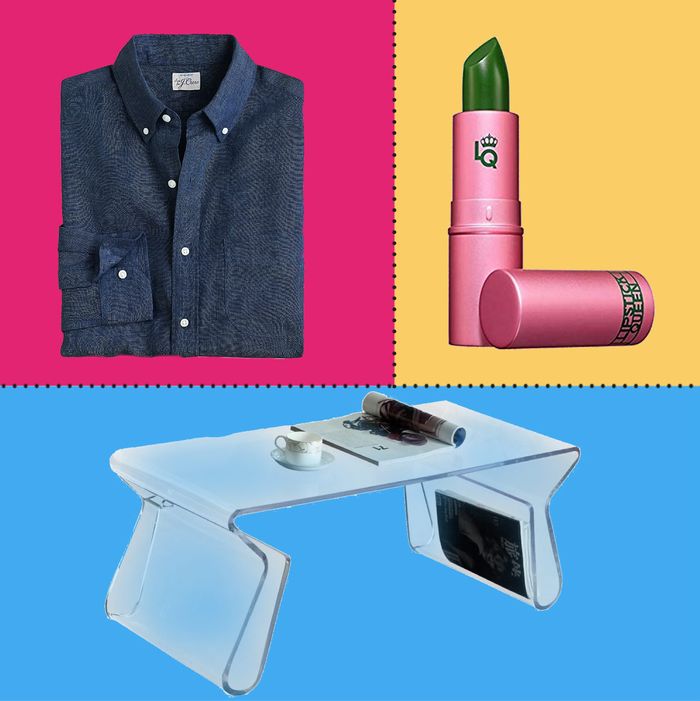 Photo: Courtesy of the retailers
If you follow our biweekly feature Your Shopping Cart, you know that we have some eerily good intel on what you all are buying. Which led us to think that, as Strategist editors, we could turn the tables and highlight all the things we've been buying ourselves. As you'll notice, it's both a blessing and a curse to be a Strategist editor; we're picky, but sometimes we just have to get on with it (it's online-shopping expertise meets IRL needs). Below, what we all bought in April.
Dominique Pariso, writer
These Lucite hoops are magic: every single time I wear them, I am showered with compliments. I love the dusty rose pair I chose, but I think these mossy green ones are even better.
As a member of the sweaty person club, I begin prepping for the hot summer months to come as soon as the first day of spring arrives. I bought this rechargeable, folding fan to keep me cool on sweltering subway platforms from now until Labor Day.
And I finally picked up this adorably utilitarian Kara backpack (on sale) that I've had my eye on for about two years. It's small but mighty, minimalist but distinctive, and I think we're going to be very happy together.
Anthony Rotunno, senior editor
The sisterhood of the traveling bath mat continues! Weeks after joining the Strategist team, I purchased what has become its de facto bath mat — which Katy first wrote about in a roundup of bathroom-transforming mats, inspiring Jason and then Alexis to buy it. And I am as satisfied a customer as each of my colleagues: The bamboo feels far more luxurious to step out of the shower onto than any fabric mat I've owned, and even though it has slats, the mat somehow does not manage to create puddles on the floor.
I always preferred cotton Oxford to linen shirts, but my brother gave me one of these button-downs as a birthday gift last June, and to my surprise, I loved the look. I quickly bought a few more that same month and, now that they're back in stock, recently got three new ones (in black and white, in addition to this denim-looking "ink" color). I'm not a linen expert, so I can't say if this particular brand of Irish linen is softer than others (though J. Crew claims Baird McNutt is the country's finest). But I can say that the shirts feel good against my skin (they're not scratchy at all), and are light without feeling insignificant — I'll wear them underneath a heavier overshirt on cooler spring days, and just take that outer layer off when warm temperatures officially set in.
Maxine Builder, managing editor
This month, I visited a friend who lives in western Massachusetts, where there's not much to do besides cook and drink and play card games. And though I love to both cook and drink, I hate to play card games. The one exception to this rule is Set, the pattern-matching card game. So I bought a deck to bring along on this weekend trip; that way, if we did play a card game (which of course we did), I knew it'd be a card game I actually enjoy. Turns out my friend already had a set, but I don't feel like I bought these in vain. I've been practicing on my own, usually after work as a way to unwind without looking at a screen, and it turns out that Set is a rare game that's just as fun to play solitaire as with a group.
Photo: Courtesy of the retailer
Something about the warm weather inspired me to clean out my closet. And after going through my jeans, I realized that all of the pairs I owned and actually liked to wear, were super faded or ripped or stained or weirdly baggy. So I took one of the old pairs of jeans and dropped it off at Madewell and got a coupon for $20 off a new pair of jeans and bought these high-waisted, boot-cut jeans in