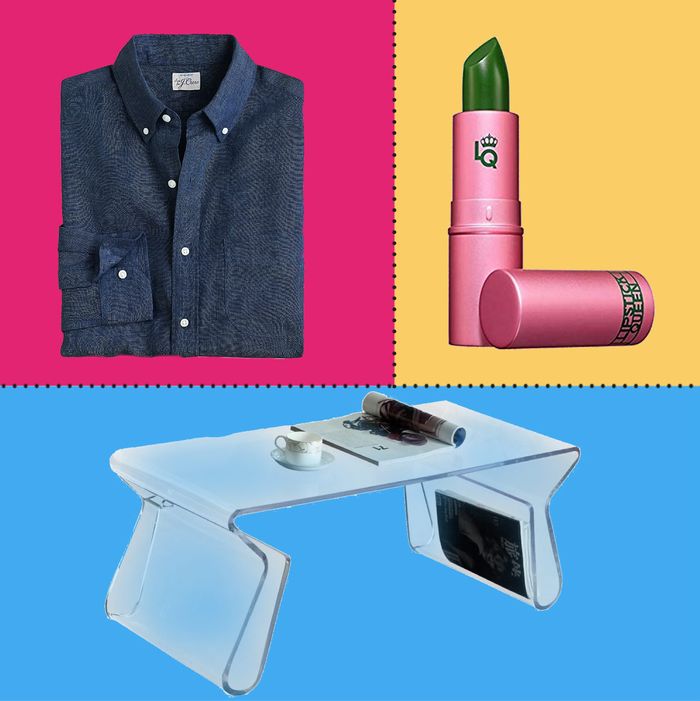 Photo: Courtesy of the retailers
If you follow our biweekly feature Your Shopping Cart, you know that we have some eerily good intel on what you all are buying. Which led us to think that, as Strategist editors, we could turn the tables and highlight all the things we've been buying ourselves. As you'll notice, it's both a blessing and a curse to be a Strategist editor; we're picky, but sometimes we just have to get on with it (it's online-shopping expertise meets IRL needs). Below, what we all bought in April.
Dominique Pariso, writer
These Lucite hoops are magic: every single time I wear them, I am showered with compliments. I love the dusty rose pair I chose, but I think these mossy green ones are even better.
As a member of the sweaty person club, I begin prepping for the hot summer months to come as soon as the first day of spring arrives. I bought this rechargeable, folding fan to keep me cool on sweltering subway platforms from now until Labor Day.
And I finally picked up this adorably utilitarian Kara backpack (on sale) that I've had my eye on for about two years. It's small but mighty, minimalist but distinctive, and I think we're going to be very happy together.
Anthony Rotunno, senior editor
The sisterhood of the traveling bath mat continues! Weeks after joining the Strategist team, I purchased what has become its de facto bath mat — which Katy first wrote about in a roundup of bathroom-transforming mats, inspiring Jason and then Alexis to buy it. And I am as satisfied a customer as each of my colleagues: The bamboo feels far more luxurious to step out of the shower onto than any fabric mat I've owned, and even though it has slats, the mat somehow does not manage to create puddles on the floor.