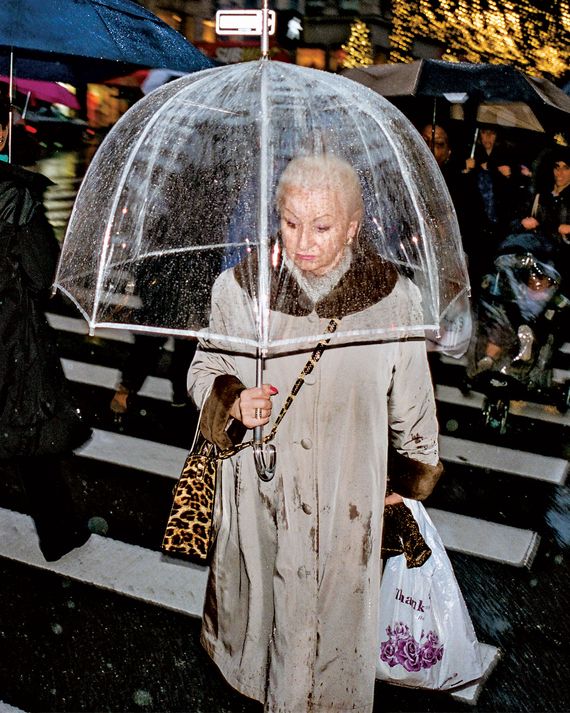 Purchasing an expensive umbrella can feel like a dicey investment: They're easy to lose and easier to steal. Yet a good one, like the Davek Elite, which ranked No. 1 in our guide to finding the nicest-looking and sturdiest umbrella on the market, is so far superior to its cheaper counterparts that it's worth the price. It's handsome, sure, but the real clincher is its ability to withstand the poorest of conditions. The fiberglass-ribbed frame holds firm in gusts, and the canopy is so protective it seems to create its own temperature-controlled atmosphere. And if that isn't enough: The company offers a lifetime guarantee and will replace the umbrella if it's stolen (yes, really) at half the original price.
What Is Rain?
As most relatively informed fourth-graders know, there's a fairly simple chain of events that leads to wet stuff intermittently falling out of the sky. When air rises, it cools, according to ­Stuart Evans, an assistant professor at the University at Buffalo and expert in atmospheric science. "And when it cools," he says, "the humidity increases until you get to saturation; this is the point at which water droplets start to form (but not fall, yet). An updraft keeps those water droplets up in the air, where they bump into each other and ultimately merge together. They continue to grow fatter through these collisions, until they're big enough to fall out of the sky." And there you go. That's rain.
The
37
Best
Umbrellas,
As
Tested
by
Strategist
Editors
Ten Strategist writers and editors braved the rain and tested dozens of umbrellas to find the best ones for keeping you dry, that won't invert, and that — yes — actually look good. Click through to read our ranking of the 37 best umbrellas.
When It Rains in New York, Where Does the Water Go?
"For 65 percent of the city, it's taken from the sewers to a treatment plant, where it gets treated, then discharged back into the pipes or the harbor. The rest still goes into the sewer, but it's drained directly into a local waterway. For a long time, the city considered rainwater wastewater. Now we think of it as a resource. And we've come up with ways to capture it right where it falls. For instance, we've created over 4,000 little rain gardens on sidewalks to catch water; we plant a lot of milkweed in those because they absorb a lot of water. They also attract monarch butterflies, so that's been fun for us."
—Mikelle Adgate, senior adviser at the city's Department of Environmental Protection
A Very Brief History of the Umbrella
AD 21: Before the umbrella, there was the parasol, which was first seen in ancient Egypt, the Middle East, India, and China. The Chinese started oiling theirs to make them water-resistant.
1709: A Parisian purse-maker named Jean Marius, whose shop was located near the barrier of Saint-Honoré, created the first pocket parasol. Looking strikingly similar to a modern umbrella, it weighed less than one kilogram and had flexible ribs so it could be folded.
1852: In Britain, Samuel Fox invented a steel-ribbed rain umbrella that used shaped rods to make the frame collapsible.
1928: Slawa Horowitz, a student studying sculpture in Vienna, created the first small modern folding umbrella, with a telescopic handle (allowing it to be more compact), metal ribs, a metal shaft, and a black silk cover.
2013: Japanese inventor Hiroshi Kajimoto created the Unbrella, whose design inverts the standard opening mechanism so the water doesn't slide off and soak your feet.
2019: An umbrella for buildings, made from ethylene tetrafluoroethylene, is invented by architects in Toronto to protect structures and pavements from harsh weather.
A
Raincoat,
But
for
a
Shtreimel
Niche cover-ups.
For a Cowboy Hat
For Heels
For a Violin
For a Shtreimel
Photo: Jim Hollander/EPA/REX/Shutterstock
For a Celine Bag
For a Camera
How
to
Take
a
#Puddlegram
"Make sure your puddle is clean and deep enough so you can get a strong reflection. Frame your shot with an interesting point of view, possibly something very aligned, establishing long perspectives. Sometimes your picture will look better upside down. The main thing: Puddle pictures should be spontaneous and not staged by placing a temporary subject in the reflection." —Olivier Wicki, puddlegrammer
What's the Best Weather App?
Stew Alexander, a systems engineer who has tested 75 weather apps, has some thoughts.
"I'm a weather freak: I studied meteorology and even got chased by an F3 tornado. For someone who just wants the weather, the best app is MyRadar. The interface is a bit crowded, but it's easy to get the hang of. It has live radar, and it gives you outlooks on severe storms. It's updated every five to seven minutes, compared to Dark Sky, whose data is about 15 minutes old. And for anyone with above-average enthusiasm, there's Windy, with its numerical modeling and dew points."
Will Global Warming Lead to More Rain in New York?
"Perhaps. In the Northeast we can expect climate change to make the region wetter by about 10 to 15 percent by the end of this century. The amount of water vapor that can exist in the atmosphere has an upper limit, and that limit is set by the temperature: The higher the temperature, the more water vapor the atmosphere is able to hold. Most of this new rain will be concentrated into heavy-rainfall events (like summer downfalls), so we'll have more rain but not necessarily more rainy days." —Anthony Broccoli, Rutgers meteorology professor
What's It Like Being Named Rain?
"Of course, when I was a kid, I was teased by boys who would sing 'Rain, Rain, Go Away.' It was the '80s, and I wanted to be Jennifer or Brittany. But now I like it. My son's middle name is River." —Rain Henderson, founder of Elemental Advisors
Is It Easier to Get a Restaurant Reservation When It Rains?
"You absolutely have a much higher chance of getting a table. On a recent very rainy night, we did 23 less covers than the previous week and were able to accommodate all walk-in guests. And there were seats available at the bar throughout the night. We've found that a lot of our neighborhood regulars will come by on those nights; I think they can sense the Manhattanites staying in their borough for the evening." —Gabby Ayoub, GM at Greenpoint's Oxomoco
The
Life
Cycle
of
the
$5
Umbrella
By Matthew Sedacca
The Umbrella
Around 50 percent of the city's $5 flimsy-black-umbrella market is dominated by Conch, according to Jing Li, general manager of Elite America Corp. Here's how they get to New York.
• After Wenzhou Conch Umbrella Co., Ltd., assembles the umbrellas in Wenzhou, Zhejiang province, China, the company ships the goods via freighter to the Port of New York and New Jersey.
• They are subsequently transported to distributor Elite America Corp in Greenpoint. (Other nearly identical, often brandless styles hail from manufacturers in Xiamen and end up at warehouses in New Jersey.) The company orders 1,000 cases a month with each case holding 60 umbrellas. (Elite did not disclose its wholesale prices.)
• Street vendors purchase them from middlemen like midtown-based B2B Supply or Elite America Corp.
• They're then on their way into the hands of forgetful New Yorkers and unlucky tourists.
• And, ultimately, into the trash.
The Vendors
On a drizzly night, umbrella-slingers took stock of their inventory.
"In three hours, we sold 50 little ones, 20 large ones. We're leaving now [the rain was letting up and his partner wanted to go], but I want to stay." —Rafael Cruz-Mendez, street vendor, northeast corner of Broadway and 45th Street
"We're in the middle of the block. If we were on a corner, maybe it'd be better. Right now we've got one umbrella left. These come in a 12-pack. It takes three to six months to go through a pack." —Aki Darji, St. Mark's E- Smoke & Beer employee
"When it rains, people are asking for them. Nobody is buying when it's not raining. The profit margin is small: $1." —Nayan Patel, newsstand vendor on the southeast corner of Broadway and 32nd Street
"I've been doing this for ten years — once, four years ago, I made $800 in a day. I feel like I'm doing a public service, making sure people are staying dry." —Clyde Corey, wandering umbrella-cart vendor from Oahu, Hawaii
The People Who Buy Them
On how long they last.
"First time I got one, I hit the button and the thing shot right off the end of it like some kind of missile or projectile." —John Davitt, NY1's chief meteorologist
"Two trips out of the house and that $5 is gone." —Chris Polinsky, photogrpher
"I've bought around at least 20 in the past year. That's what, $100? Some days they last maybe an hour — they're terrible. But I've had this one for at least two weeks. Let's hope I don't lose it." —Gable Lonning, landscaper
Can I Open an Umbrella Inside?
"You have to leave umbrellas open inside in order for them to dry out. Do it as soon as you get home. That's how your umbrella is going to last. I've been working in this business for almost 17 years; if it really was bad luck, I'd have been gone a long time ago." —Peggy Levee, owner of Rain or Shine, the only umbrella store in New York
How Do You Make It Rain Onstage?
"The rainiest show I did was Three Days of Rain. We created a drainage system in the basement to catch 4,000 gallons of water a night. It was like a big fish tank. The water is then pumped back into a filtration system to a reservoir. We promised that no one in the audience would get splashed, but it turned out that on day two, people got wet. Luckily they didn't care because they were being rained on by Julia Roberts and Bradley Cooper."
—Ben Heller, president of Aurora Productions
How Can I Harvest Rainwater in My Apartment?
"The short version is you install a rain diverter to funnel the water from the roof into a 50-gallon raised barrel, which the DEP gives to anyone who wants them. Plants grow really well with harvested rainwater, much better than they do with chlorinated city water." —Lars Chellberg, green-infrastructure engineer at GrowNYC
A selection of the city's best impromptu rain shelters.
By Matthew Sedacca
The Underground Hubs
Brookfield + Westfield + WTC
0.678 miles
Jump between the West Side and the middle of Fidi through this mall wormhole. (If you need one, buy an umbrella from the Gateway newsstand in Westfield.)
The Longest Stretch of Scaffolding
Fidi Shed City
0.78 miles
Lots of construction going on down here; you can walk multiple blocks almost drip-free.
The Unlimited-Metrocard Hack
Times Square
0.678 miles
If you can spare a swipe, it's an efficient way to avoid both rain and hordes of tourists.
The Enormous Building
Chelsea Market
0.2 miles
Grab shelter and a quick bite of Buon'Italia pasta from the grocery annex on your way to the A train.
The Outdoor Overpasses
7 Train
4.6 miles
It takes precision to align perfectly with the elevated tracks so as to avoid 99 percent of the droplets,but once this is accomplished, you can stay dry from Sunnyside to Woodside.
I Still Use This 50-Year-Old Umbrella I Took From the Knickerbocker Club
"It was back in 1982. I went to have dinner and drinks — mostly drinks — with a client's brother, and we went to the Knickerbocker Club
and stayed there until it closed. It's raining out, just sheets of rain, so I go to leave and there is only one umbrella left. It looked like mine, but it wasn't mine. Mine was a Brooks Brothers, not terribly expensive umbrella, and this one looked just like it, a style called Paragon — it had a silk cover, so it was very old, at least 20 or 25 years old at the time. So I took it. I still use it. Good umbrella." —Gerald Ross, attorney
A brief update on Gerald Ross's mystery umbrella: We reached out to Paul Garrett at Fox Umbrellas in London to get some clues on its provenance. "It is hard to date the umbrella without a hallmark but if it had a silk cover then it would have been between the 1920s and 1940s. Nylon was used after the Second World War, from 1946 onwards. As a stab in the dark, I would expect it was from around 1940."
As Gerald told us, he followed up with the Knickerbocker Club multiple times in the weeks after finding the umbrella in their stand, but with no leads turning up he eventually took it on as his own. We would like to think the original owner would be happy to know the umbrella has been so well taken-care-of all these years.
Speaking of Which, Is It Ever Okay to Take Someone Else's Umbrella?
"Of course not. But if your umbrella was taken from an open stand just inside a restaurant, what you can do is take it up with the restaurant. The business has implied that it's taking responsibility, so if your umbrella goes missing, the manager might offer you a free appetizer." —Elaine Swann, etiquette expert and founder of the Swann School of Protocol
And Some Other Rain-Related Ethical Queries:
Can I carry a humongous umbrella?
"If you're walking alone with a golf umbrella, you're claiming too much space. Stick to one that just reaches out to your shoulders. To avoid collisions, tilt the canopy away from people when you pass, and when it's folded, carry it vertically so you're not swinging the pointy end in a way that could jab somebody." —Richard Koral, doctor of ministry and leader of the New York Society for Ethical Culture
Can I order takeout when it's pouring?
"When the weather's bad, we're busier and we're making more money. That's good for us. We're like postal workers — rain, sleet, snow, we're on the road. For tipping, as far as I'm concerned, I'd say $5 and up is good. I don't expect to get more, but a couple extra bucks is always nice." —Rosario Mangano, delivery biker for Crosstown Diner
—Clint Carter
*A version of this article appears in the April 1, 2019, issue of New York Magazine. Subscribe Now!
The Strategist is designed to surface the most useful, expert recommendations for things to buy across the vast e-commerce landscape. Some of our latest conquests include the best acne treatments, rolling luggage, pillows for side sleepers, natural anxiety remedies, and bath towels. We update links when possible, but note that deals can expire and all prices are subject to change.