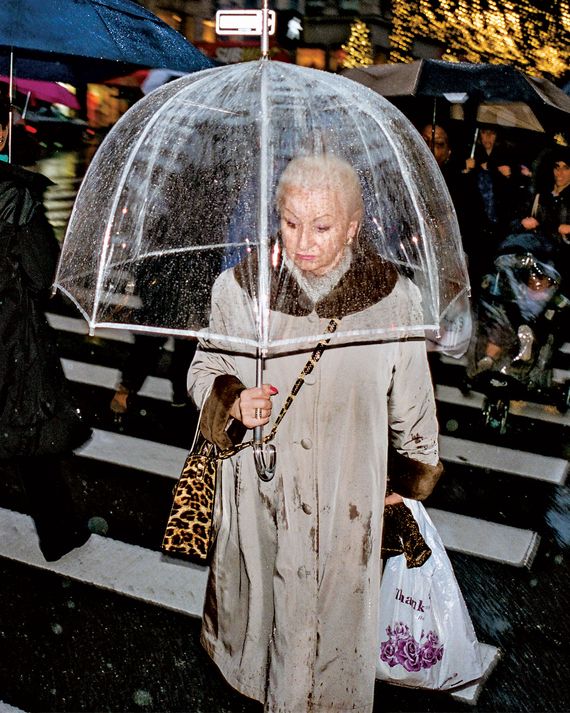 Purchasing an expensive umbrella can feel like a dicey investment: They're easy to lose and easier to steal. Yet a good one, like the Davek Elite, which ranked No. 1 in our guide to finding the nicest-looking and sturdiest umbrella on the market, is so far superior to its cheaper counterparts that it's worth the price. It's handsome, sure, but the real clincher is its ability to withstand the poorest of conditions. The fiberglass-ribbed frame holds firm in gusts, and the canopy is so protective it seems to create its own temperature-controlled atmosphere. And if that isn't enough: The company offers a lifetime guarantee and will replace the umbrella if it's stolen (yes, really) at half the original price.
What Is Rain?
As most relatively informed fourth-graders know, there's a fairly simple chain of events that leads to wet stuff intermittently falling out of the sky. When air rises, it cools, according to ­Stuart Evans, an assistant professor at the University at Buffalo and expert in atmospheric science. "And when it cools," he says, "the humidity increases until you get to saturation; this is the point at which water droplets start to form (but not fall, yet). An updraft keeps those water droplets up in the air, where they bump into each other and ultimately merge together. They continue to grow fatter through these collisions, until they're big enough to fall out of the sky." And there you go. That's rain.
The
37
Best
Umbrellas,
As
Tested
by
Strategist
Editors
Ten Strategist writers and editors braved the rain and tested dozens of umbrellas to find the best ones for keeping you dry, that won't invert, and that — yes — actually look good. Click through to read our ranking of the 37 best umbrellas.
When It Rains in New York, Where Does the Water Go?
"For 65 percent of the city, it's taken from the sewers to a treatment plant, where it gets treated, then discharged back into the pipes or the harbor. The rest still goes into the sewer, but it's drained directly into a local waterway. For a long time, the city considered rainwater wastewater. Now we think of it as a resource. And we've come up with ways to capture it right where it falls. For instance, we've created over 4,000 little rain gardens on sidewalks to catch water; we plant a lot of milkweed in those because they absorb a lot of water. They also attract monarch butterflies, so that's been fun for us."
—Mikelle Adgate, senior adviser at the city's Department of Environmental Protection
A Very Brief History of the Umbrella
AD 21: Before the umbrella, there was the parasol, which was first seen in ancient Egypt, the Middle East, India, and China. The Chinese started oiling theirs to make them water-resistant.
1709: A Parisian purse-maker named Jean Marius, whose shop was located near the barrier of Saint-Honoré, created the first pocket parasol. Looking strikingly similar to a modern umbrella, it weighed less than one kilogram and had flexible ribs so it could be folded.
1852: In Britain, Samuel Fox invented a steel-ribbed rain umbrella that used shaped rods to make the frame collapsible.
1928: Slawa Horowitz, a student studying sculpture in Vienna, created the first small modern folding umbrella, with a telescopic handle (allowing it to be more compact), metal ribs, a metal shaft, and a black silk cover.
2013: Japanese inventor Hiroshi Kajimoto created the Unbrella, whose design inverts the standard opening mechanism so the water doesn't slide off and soak your feet.
2019: An umbrella for buildings, made from ethylene tetrafluoroethylene, is invented by architects in Toronto to protect structures and pavements from harsh weather.
A
Raincoat,
But
for
a
Shtreimel
Niche cover-ups.
For a Cowboy Hat