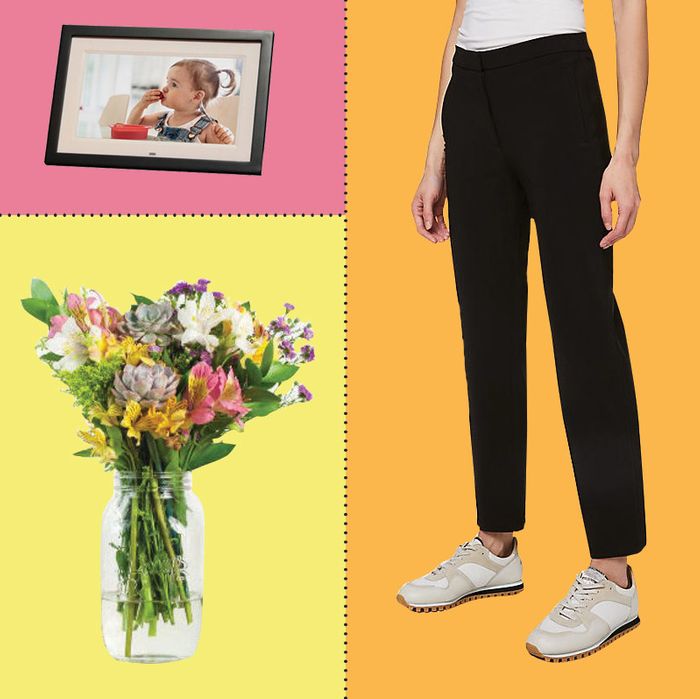 Photo: Courtesy of the retailers
Welcome back to Your Shopping Cart, wherein we break out the top ten products that you, devoted Strategist readers, have all bought in droves. Think of this as the tl;dr of the Strategist: If your like-minded brethren are buying these items, maybe you'd like to, too.
Mother's Day gifts certainly dominated the list this time around, including electric massagers (one for moms with sore feet in second, another for those with achy backs in sixth), digital photo frames (an easy-to-use one in third, and one on sale in seventh), and a pretty, colorful bouquet in eighth. The top spot, though, went to a pair of Lululemon work pants that look professional but feel like sweatpants. Further down the list we have some returning favorites, like a subtle musky perfume in fifth (down from third) and a rose-gold lightning charging cable in fourth (up from sixth). We close out the list with two bedding picks: a set of comfy linen sheets and a soothing weighted blanket in ninth and tenth, respectively.
Last week, we noticed these "comfy as sweats" Lululemon work pants were deeply discounted at 62 percent off. We think they're "ideal for those who would rather not squeeze themselves into a horrendously scratchy and tight pair of slacks on Monday morning, and for those who would like to look presentable while traveling." Clearly, lots of our readers agreed.
This electric heated foot massager has been a perennial favorite gift since writer Lauren Levy suggested it for a reader looking for the best foot massagers. We also noticed it was one of the top-rated models on Amazon. When we included it in our guide to last-minute Mother's Day gifts this year, many of you chose to pick one up for Mom, and we suspect she was very grateful.
Another popular Mother's Day gift, this digital photo frame lets her show off pictures of the kids (and grandkids) even when the family is spread out. As one Amazon reviewer says, "I bought this for my 91-year-old mother. I am far away and even though we have a very large extended family, she was feeling left out. You know, lives get busy. I sent out the email I created for her, and the pictures started pouring in. So easy to set up that she doesn't have to be tech-savvy to use it. She burst into tears. Those were happy tears, I might add."
For under $10, this USB lightning cable (an Amazon favorite) is worth keeping in your bag for emergency charging situations. One reviewer raves, "I've ordered endless cables, and they all work great for a week and then die. I decided to try this one since it had the lifetime warranty, and I'm so glad I did. It's excellent and pretty much just like the Apple USB. It charges my phone in the car superfast and even faster via wall charger." And since it's rose gold, you'll always know which one's yours in a sea of white cords.
Recommended by writer Fiorella Valdesolo, this Egyptian musk oil was the only fragrance she could tolerate during pregnancy — and afterward. She says it's "clean and mellow and faintly soapy and significantly more refined than my former head-shop variety." Plus, it was reportedly a "signature scent" of Carolyn Bessette-Kennedy. After debuting on the list in third place last time, it drops a bit to fifth.
This device is beloved by Amazon reviewers. One writes, "You can manage the amount of pressure you need and where the Shiatsu-type knobs are kneading. The knobs work forward and backward, heat can be added, but are not painful like the original Shiatsu units tended to be." We recommended this electric back massager for the new mom who needs some relief from carrying her baby around all day.