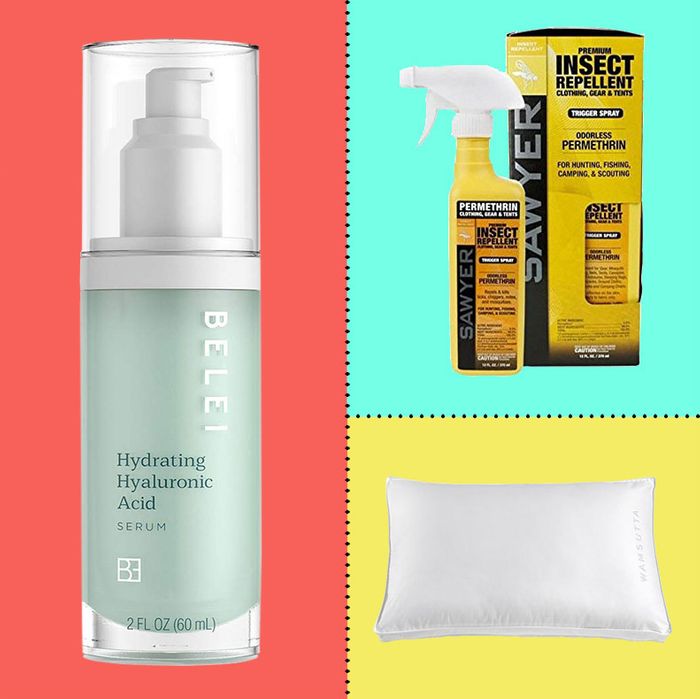 Photo: Courtesy of the retailers
Welcome back to Your Shopping Cart, where we break out the top-ten products that you, devoted Strategist readers, bought in droves. Think of this as the tl;dr of the Strategist: If your like-minded brethren are buying these items, maybe you'd like to, too.
As we slowly inch toward summer, Strategist readers are stocking up on warm-weather essentials like sandals (this surprisingly cheap yet comfy pair takes the top spot yet again, followed directly by a pair of metallic Birkenstocks), powerful insect repellent (back on the list, in eighth place, for the first time since last July), and white T-shirts (this perennial favorite V-neck is back in ninth). Two newcomers make a strong debut this week — a subtle, musky perfume in third, and a stylish, affordable jumpsuit in fourth). We've also got a fair share of returning champs hanging on this week, like a moisturizing serum recommended by Strategist beauty writer Rio Viera-Newton (in fifth, down from second), a rose-gold lightning charging cable (in sixth, down from third), and a fancy lube (in seventh, down from sixth). Finally, coming in at No. 10 is a pillow for side-sleepers that's back on the list after a week off.
These very affordable sandals (that have been mistaken for Margiela or Demeulemeester) debuted on the list at No. 1 last time and hold on to the top spot this week. Only days after writer Fiorella Valdesolo shared her incredible Amazon find, they fast became the top-selling item among our readers, with several colors and sizes quickly going out of stock. Valdesolo calls them "the ideal New York summer shoe," because "they're "deeply comfortable [and] able to securely carry me on the spontaneous flights of fancy that tend to happen more in the summer and so often require solid walking support."
Another pair of very comfortable sandals, these "just kooky enough" metallic Birkenstocks were our tenth-place finisher last time after we noticed they were 40 percent off at Zappos. They're only 10 percent off now, but lots of you are still buying them. We like that they're unique enough to stand out in a crowd of similar styles but "without being too insane."
Also recommended by Fiorella Valdesolo, this Egyptian musk oil was the only fragrance that she could tolerate during pregnancy — and afterward. She says it's "clean and mellow and faintly soapy and significantly more refined than my former head-shop variety." Plus it was reportedly "a signature scent" of Carolyn Bessette-Kennedy's.
Note: The Abdul Kareem oil is currently sold out, but Fiorella says she'll also use this Kiehl's musk essence oil in a pinch.
Photo: courtesy of the Retailer
Even when Strategist editors are off-duty, we always have their eyes peeled for those unique finds and rare deals that our readers love. So when our deputy editor Jason Chen spotted this (very Reformation-looking) jumpsuit on his boyfriend's sister-in-law, and learned that it was actually a cheap Amazon find, he was compelled to write a one-act play. Made from "a high-quality legging material — the fabric is a mix of polyester and spandex," it's flattering and looks more expensive than it actually is.
This moisturizing serum from Amazon's new skincare line debuted on our last list in second place after Rio raved that it's even better than a much pricier version from Drunk Elephant. She says, "As soon as I applied this serum, my skin looked and felt plumper and more moisturized instantly …I've never seen a hyaluronic-acid serum show its powers quite as fast as this lovely two-ounce, $35 serum does." It's down a bit to a still-respectable fourth place this week.
For under $10, this USB lightning cable (an Amazon favorite) is worth keeping in your bag for emergency charging situations. One reviewer raves, "I've ordered endless cables and they all work great for a week and then die. I decided to try this one since it had the lifetime warranty, and I'm so glad I did. It's excellent and pretty much just like the Apple USB. It charges my phone in the car super-fast and even faster via wall charger." And since it's rose gold, you'll always know which one's yours in a sea of white cords.