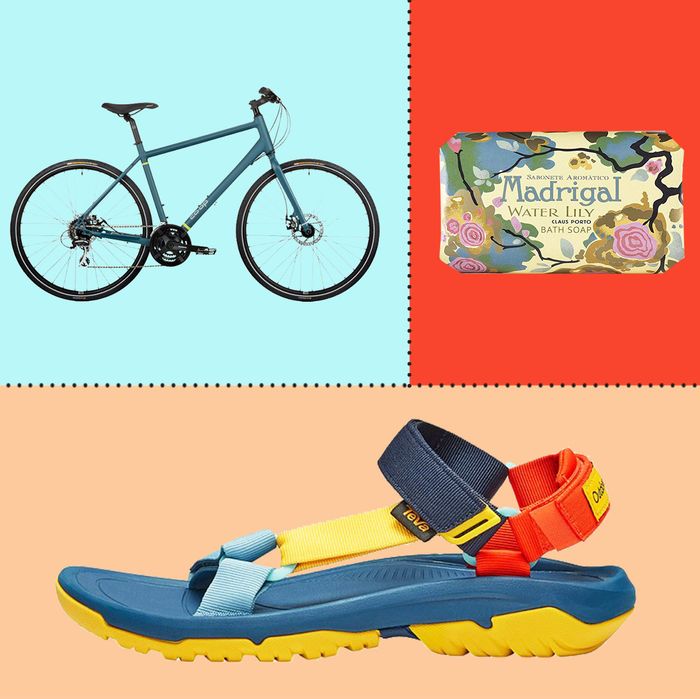 Photo: Courtesy of the retailers
If you follow our biweekly feature Your Shopping Cart, you know that we have some eerily good intel on what you all are buying. Which led us to think that, as Strategist editors, we could turn the tables and highlight all the things we've been buying ourselves. As you'll notice, it's both a blessing and a curse to be a Strategist editor; we're picky, but sometimes we just have to get on with it (it's online-shopping expertise meets IRL needs). Below, what we all bought in May.
Alexis Swerdloff, Strategist editor
After featuring these sneakers — a collaboration between Keds and Ace & Jig — in a Don't Dillydally, I went and bought them. I'd been in the market for a summer slip-on sneaker that didn't look like everyone else's summer slip-on sneaker, and so far I've been very happy with them. For a patterned shoe, they go with pretty much anything, and I've been surprised by how comfortable they are. And I like that they have a Japanese patchwork vibe to them.
Like his mother, my son has a hard time falling asleep without his trusty white-noise machine. But we have no plans to lug that thing around with us while away for the weekend, so I bought Dohm's portable baby-specific noise machine for shhhhh-shhhing on the go. It's chargeable and extremely lightweight, and we plan on taking it with us on all our various summer trips.
Anthony Rotunno, senior editor
This past May, I got married in a patch of woods on my husband's parents' property. The week before we said "I do," we spent a muggy afternoon clearing brush from the area, after which I was covered in bug bites. Not wanting to spend my wedding day scratching myself, I consulted Maureen O'Connor's list of non-smelly mosquito repellents for the Strategist and ordered her "backup bug lotion" because she wrote that it's more consistently odor-free than her go-to repellent. And I am happy to report that O'Conner's assessment holds up: When I squirted the lotion into my hands, not a trace of chemical smell wafted from it (and neither my neck nor my hands smelled like chemicals after applying). More importantly: I made it through our ceremony in the woods without a getting a single bug bite.
It doesn't happen a lot, but every so often a Strategist contributor will tell us about a product that almost seems too unbelievable to be real. That was my initial reaction to these antimicrobial sponges, which writer Sam Todd praised as actually odorless (I'm sensing a theme in my purchases of late). But truer words were never published — I wash a sinkload of dishes four or five days a week, and since I started using the sponges, my hands have not once smelled funky afterward. They dry quickly, too, and their patterned surfaces really do fade, so it's easy to tell when it's time to replace one (my first lasted me for about six days before the pattern deteriorated to the point where it needed to be replaced). To quote Todd, they truly are "the best (and best-looking) kitchen improvement I've made for under $20."
Dominique Pariso, writer
I was in desperate need of a new weekender, and this canvas bag from Baggu fit the bill: It's sturdy, can handle my overpacking habit, and is super-inexpensive.
While my snuggly velvet duvet cover kept me warm all through the winter, this month it came time to retire it until September. I figured if I didn't want to swelter this summer, linen was my best bet (and Strategist-approved brand Parachute's cover was on sale).
I'd been stealing some of this hand cream from a colleague (hi, David!) for far too long and finally invested in a tube of my own. The cream has a bright, citrusy scent that perks me up after my 3 p.m. crash.
I bought a pair of these eyeglasses when the Warby Parker x Chloë Sevigny collaboration first debuted a few months ago and fell for them. Hard. As a person who's worn glasses for 15 years, I can say with some certainty that finding a pair with this particular look that fits my wide face is a rare and precious thing. So when I saw that they were back in stock, I quickly scooped up a second pair for when (not if) I break my first one. And in the event that they're added to the permanent Warby Parker collection, I'll just have them turned into sunglasses instead.
Hilary Reid, writer
I've long coveted a pair of red Gammarelli socks — the ones worn by the Pope — but, out of fear of losing one or both, have never been able to justify spending $25 on them. With the Gammarelli ones in mind, I picked up these bright-red Entireworld socks, and they've turned out to be a good alternative for a little less money. They're a bright tomato color, mostly cotton, and hit a nice spot just above the ankle, making them perfect for warmer weather.
And I bought one of Entireworld's ribbed cotton tank tops in bright yellow (which they call "orange" on the website but is definitely more of a ripe-mango shade). I love the high cut of the neck and will wear it with my red socks when I want a full-on ketchup-and-mustard look.
Most of my spending this month happened in Portugal, where I went for a vacation with friends. Between all of us we bought enough beautifully packaged bar soap to last a few years, and this Madrigal Water Lily one from Claus Porto is my favorite. Though the lovely packaging tempts me to hoard it away, the water-lily scent — which smells like a freshly cut bouquet — makes the soap too nice to not use it regularly.
Before my trip, I was on the hunt for a compact travel toothbrush. I found this one on the Strategist, and it did not disappoint. It folds up to be about two inches long, and the best part is the roomy bristle chamber, which keeps the toothbrush head clean and dry between uses.
Jason Chen, deputy editor
This short-sleeved sweater (shirt? Swirt?) makes no sense, but I LOVE it. It kind of makes me sick how much it costs, but I couldn't wait for it to go on sale, and I feel validated now that I see it's almost sold out. Plus, it feels expensive, so I mind a little less. My favorite part is how the bottom is ribbed so it hugs a bit right around the waist, and it's nifty that the stripe at the sleeve turns green right under the baby blue, too.
I cannot believe I did this, but I did this. As much as I love wearing white sneakers all the time, they are not that easy to get on when you're bleary-eyed and trying to walk the dog in the morning. I'd been skeptical about Birkenstocks, but Chris Black convinced me. They also just look really good with jeans!
Dude, I am drinking the Chris Black Kool-Aid, because I finally threw out my old ratty J.Crew tees and bought his favorite Gildan T-shirts. BEWARE: They really shrink in the wash. I'm usually a small/medium (I got Ms) and almost wish I'd gone for a large because they're kind of trim post-laundry! The fabric is thick enough that they pass for much more expensive shirts, though, and I like that they're slightly boxy and hit right at the belt line. 8/10 would buy again.
Karen Iorio Adelson, writer
I'm realizing now that I did a somewhat embarrassing amount of shopping this month. Big Memorial Day sales — like the one at REI — didn't help. I'm already a fan of Janji's soft and breezy long-sleeve running shirts, so I picked up a short-sleeve one for summer in "mauve," which is actually a very pretty dusty rose color.
I've been getting more into spandex-y running shorts lately, so I thought I'd give this pair from Oiselle a try. And I love them! They stay put while you're running (which isn't always the case with this style of shorts), and they have more pockets than I have things to fill them with. I'm thinking of getting another pair in green.