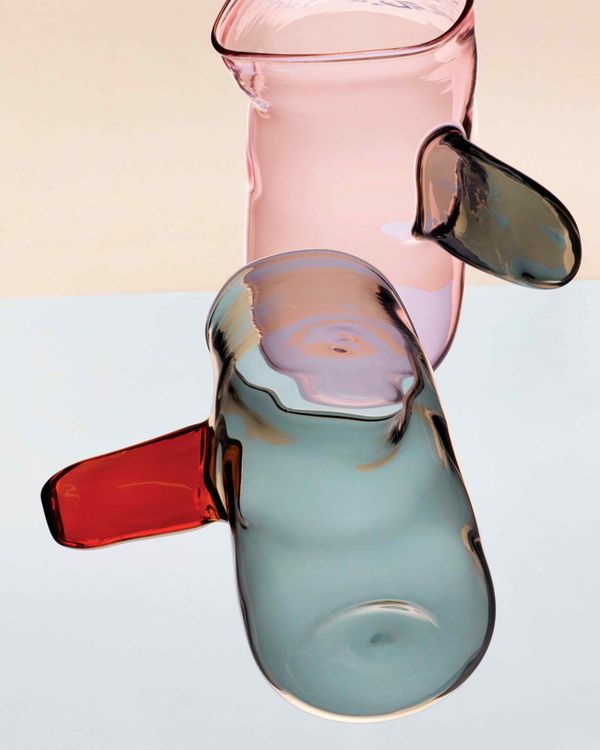 Over the past couple of years as the ceramics craze built steadily to its saturation point, another artisanal movement has been swiftly gaining traction: glassmaking. A surge of young glassblowers inspired by the studio-glass movement of the '60s are creating loopy glass straws and warped vessels (like those pictured above, by Jochen Holz, available at thenewcraftsmen.com) that have found their way into hypercurated homewares shops far and wide. In May, anecdotal evidence that handblown is the new hand-thrown was confirmed when online design magazine Sight Unseen erected a glassware exhibit at the Hudson Yards shop Forty Five Ten: Stylish young men and women (whose home shelves are more than likely lined with BZippy & Co. clay vases and Workaday Handmade ceramic mugs) mulled around, buying up handblown vessels by Sophie Lou Jacobsen and marbled cups by BaleFire.
Photo: ALEX MARKS, COURTESY OF FREDA
These colorful handblown glasses made by art-world couple Blair and Eli Hansen debuted in 2017 at Mirabelle Marden's Chinatown holiday shop.
Photo: COURTESY OF PROSPECT NY
The artist, represented by Friedman Benda, is known for his cashmere sofas, bronze desks, and, as of 2018, his glass straws, which were done in collaboration with Prospect NY.
Photo: COURTESY OF VENDOR
Hughes sells his work everywhere from Roman + Williams to Goop; he recently created a collection of prismatic lighters and ashtrays that are for sale on Tetra.
Photo: COURTESY OF VENDOR
The Danish designer launched her line of bubbly mouth-blown lamps in 2018 at 3 Days of Design; they have since consistently sold out on her site.
Photo: COURTESY OF VENDOR
Upstate started as a line of dyed textiles by stylist Kalen Kaminski. In March, she introduced her Galaxy glasses, which she has since had to restock several times.
Photo: ALEXADELA_CRUZ/INSTAGRAM
Glass jewelry too is having a moment. De la Cruz, a Mexico City–based designer, sells her pieces at Bird in Brooklyn.
Photo: DEGEN
A longtime glassblower and sculptor, Drobnis has started selling his hand-painted-face vessels at Sounds, a new café-slash-shop in Park Slope.
Photo: COURTESY OF VENDOR
Originally a furniture and lighting designer, Karlin released a two-tone bedside carafe in 2016 that is at least partially responsible for the current glass mania.