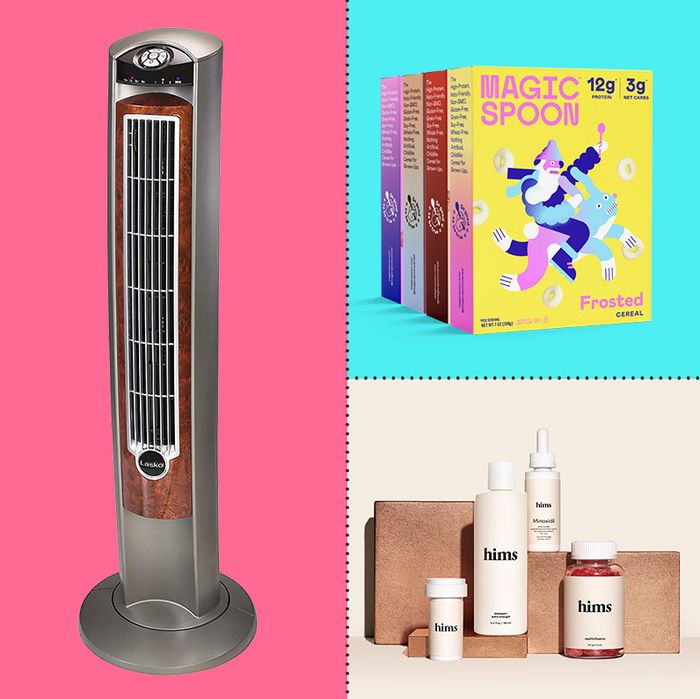 Photo: Courtesy of the retailers
Welcome back to Your Shopping Cart, wherein we break out the top ten products that you, devoted Strategist readers, all bought in droves. Think of this as the TL;DR of the Strategist: If your like-minded brethren are buying these items, maybe you'd like to, too.
This week, a high-protein, low-carb cereal makes its debut in the top spot after a writer's stellar review. Two additional products appear for the first time — a hair-loss treatment kit for men in seventh place and a Harriet Tubman stamp for updating your $20 bills in eighth. Some seasonal summer picks return to the list as the weather warms up, like a powerful insect-repellent spray in second place, a cooling tower fan in fifth, and Strategist beauty writer Rio Viera-Newton's favorite sunscreen in ninth. We also have some returning classics like a pillow for side-sleepers in third, a tiny but mighty Dustbuster in fourth, and a fancy lube in sixth. Finally, in tenth place (down from fourth in our last installment) is this rose gold lighting charging cable.
Strategist contributing editor Jessica Silvester was pleasantly surprised with this low-carb, keto-friendly cereal, writing that it "tasted delicious, as cereals tend to do — in this case, like a shimmery space Cheerio, weightless and crunchy and sweet," and, unlike other breakfast cereals, actually kept her full until lunchtime. Sweetened with allulose, a type of sugar that doesn't elevate blood-sugar levels, and featuring "very neo–Lisa Frank" pastel packaging, it quickly became a favorite among our readers as well.
At the start of last summer, this tick-and-insect-repelling spray shot to the top of the list after Strategist managing editor Maxine Builder discovered it when searching for the best products to keep disease-carrying pests away. The spray works by protecting your outdoor attire: "Spraying your sneakers or hiking boots before going out into the woods is another solid tick-prevention technique, as is spraying gardening gloves, pants, shorts, or T-shirts." With the buggy summer season approaching, Strategist writer Dominique Pariso checked back in with experts and learned it's still the best option out there.
While this Strategist favorite has appeared on our list 14 times, this third-place finish is actually its highest ranking. Strategist deputy editor Jason Chen first discovered it when he tested out a wide selection of pillows designed for side-sleepers and concluded that the Wamsutta Extra-Firm was the most comfortable and supportive of them all: "Unlike other pillows that mistake plushness or fluffiness for support, the WEF didn't sink as soon as I rested my head. Instead, it had a firm, satisfying spring — it's a different sensation, but one I took to right away. And even though I didn't do any measuring, my head felt more propped up from the mattress and sheets than with any other pillow."
With more than 16,000 reviews on Amazon, this cordless vacuum is known for expertly handling tasks ranging from "5 and 8-year-old [kids'] messes" to "vacuuming stink bugs from my [organic] plants." It's also praise for its durability. As one reviewer writes, "I have been using this vacuum for six years now. No broken parts, battery still holds a decent charge and the vacuum basically functions as it did when I purchased it."
Last seen on our list during last summer's heat wave, this cooling tower fan is another Amazon reviewer favorite with more than 5,000 five-star reviews. Reviewers like that it "reaches right up to bed height so you can 'get absolutely drilled in the face by that cool, angelic wind current,'" and one happy owner calls it "a voucher slip out of a damn heat stroke." Now with warm temperatures returning, lots of our readers are picking one up to get some relief from the heat.
Making its 15th appearance on the list (the fourth highest of any product), this very elegant-looking lube is a certified Strategist reader favorite. We first learned about it from Samantha Bard, co-owner of the sex-positive shop Shag in Williamsburg, who says it's "one of the highest-quality silicone lubes out there." Emily Morse, doctor of human sexuality and host of Sex With Emily on SiriusXM, is impressed that it has only two ingredients: "pure silicone with a trace of Vitamin E."