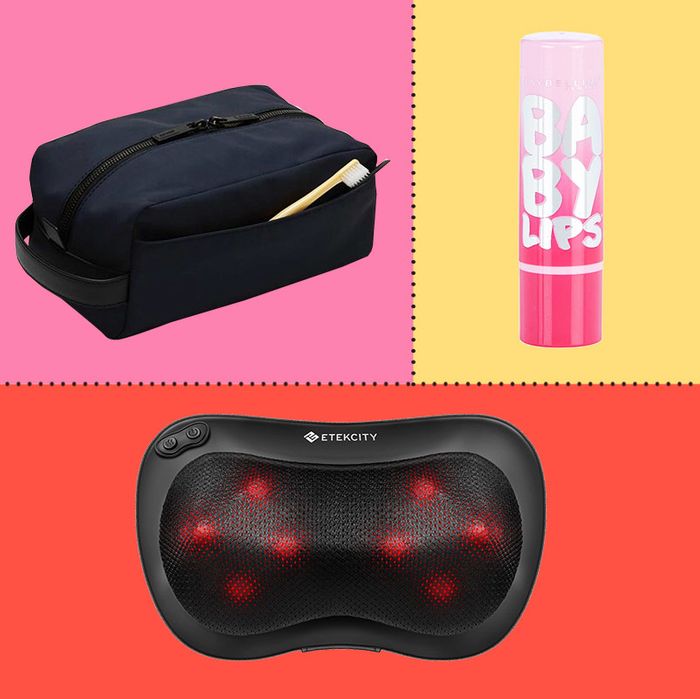 Photo: Courtesy of the retailers
Welcome back to Your Shopping Cart, wherein we break out the top-ten products that you, devoted Strategist readers, all bought in droves. Think of this as the tl;dr of the Strategist: If your like-minded brethren are buying these items, maybe you'd like to, too.
It certainly feels like summer on the list this week, with two insect-repellent sprays (one for clothing, in second, and another for body, in fourth) and with Strategist beauty writer Rio Viera-Newton's favorite sunscreen in third place. Plus, a Dopp kit for summer getaways makes the list in eighth. The runaway hit, though, making its debut at No. 1, is this $3 lip balm that one Strategist writer thinks is better than Dior's. These no-show socks, perfect for ballet flats, round out the top five. In sixth place, we've got the back massager with a cult following in Los Angeles, followed by an old favorite, this pillow for side sleepers, in seventh. A hair-loss treatment kit for men, the seventh-place finisher on our last list, drops a bit to ninth, and a very affordable sweater hits the list for the first time, in tenth place.
It's a dupe for the much pricier Dior Lip Glow, and Strategist writer Hilary Reid actually likes this drugstore lip balm more than the original. "The Maybelline Baby Lips Glow gave my lips almost the exact same rosy tint as the Dior Lip Glow at less than one-tenth the price. In fact, the pink glow produced by Baby Lips might even be better," she says. "It's just as hydrating as the Dior balm, too, and feels like it lasts longer."
For the second list in a row, this tick-and-insect-repelling spray takes the No. 2 spot. Strategist managing editor Maxine Builder discovered it when searching for the best products to keep disease-carrying pests away. The spray works by protecting your outdoor attire: "Spraying your sneakers or hiking boots before going out into the woods is another solid tick-prevention technique, as is spraying gardening gloves, pants, shorts, or T-shirts." With the buggy summer season approaching, Strategist writer Dominique Pariso checked back in with experts and learned it's still the best option out there.
This sunscreen, one of Rio's favorites, moves up from ninth place into the top three. It's packed with all-star ingredients like soothing Centella asiatica, brightening niacinamide, and moisturizing hyaluronic acid. "The Purito," she writes, "almost immediately improved the texture, radiance, and moisture levels of my skin … It's one of the best products I've ever tried in general, not just in the sunscreen category."