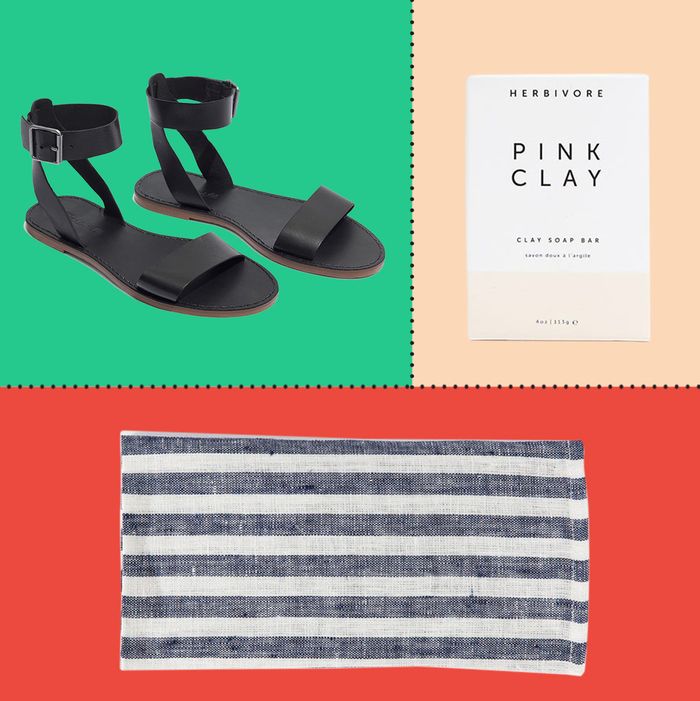 Photo: Courtesy of the retailers
It's the first day of summer, and the sales are already gooooood. This week, we found a few goodies to help you lug your stuff (Patagonia, Longchamp), some stuff you'll want to lug around (Maryam Nassir Zadeh, Birkenstocks), and a few home goods in case the old apartment needs sprucing up (Iittala glasses, a crazy-cheap Tramontina set). Below, the 35 best things we found this week.
The French weighs-nothing tote that folds into a teensy little envelope was practically created for July and August bopping.
Use this soap in the shower, or (let's be real) leave it on the dish in the guest bathroom to let folks know you have taste.
We would not guess these were Lululemon either (they're a little Theory, no?). The crop makes them perfect with sneakers.
Speaking of: A streamlined version of the classic Chuck Taylor (it has fewer lace eyelets, you'll notice) that reminds us of something almost European.
A classic water bottle that'll keep cold things cold and hot things hot — bright red makes it impossible for the office thief to nab, too.
An extremely chill long-sleeved shirt we could see packing for a weekend in the Poconos or the Pines.
We're not the world's greatest cooks, but for how cheap this cookware is (it's four pots with lids, plus a skillet), we can learn.
An Alexa Chung–approved sneaker that doesn't look so immediately Superga. We'd wear them with denim cutoffs or even the Lululemon pants above.
No cooking skills, no problem! This baby Instant Pot would be a perfect graduation gift for someone's first apartment.
We're obsessed with the cut on this sweater — it's like a crop top–slash–sweater combo that's just begging to be worn with mom jeans.
We've put this little straw number in a sales post before, but now it's even more discounted. Snatch it up quick for that Holbox trip!
The smoky color on these glasses is one thing already, but the ripple effect is what really puts them over the edge.
The ultimate not-so-little, smashable, durable carry-on for wherever you head this summer.
Ordinarily we hate patterned leggings and tights, but for some reason these are rather appealing.
We didn't know sandals could look dignified, but here we are.
A spiffy little machine with ten power levels for that 2 a.m. and I want leftovers feeling.
There's a '70s-ish quality to this tank top that's extremely appealing.
Almost-handsome Tevas that are extremely cheap right now.
The color blocking on this jacket made us almost think it was Madewell or Club Monaco, not North Face for 30 percent off.
A dainty little middle-school graduation gift!
A nice upgrade for dad's ratty old cardigans.
The icy blue on this wallet is a nice antidote to your snoozy black and brown.