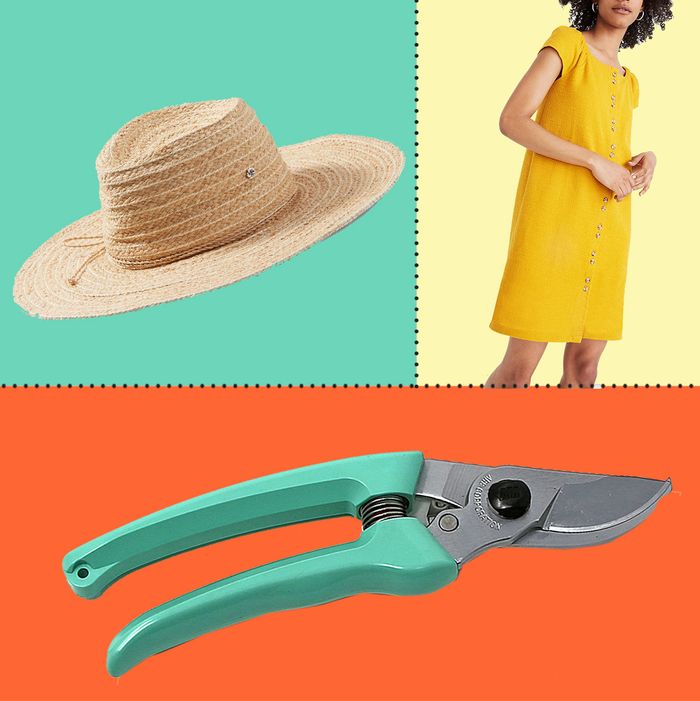 Photo: Courtesy of the retailers
If you follow our biweekly feature Your Shopping Cart, you know that we have some eerily good intel on what you all are buying. Which led us to think that, as Strategist editors, we could turn the tables and highlight all the things we've been buying ourselves. As you'll notice, it's both a blessing and a curse to be a Strategist editor; we're picky, but sometimes we just have to get on with it (it's online-shopping expertise meets IRL needs). Below, what we all bought in June.
Maxine Builder, managing editor
I don't know what came over me this month, but I went all-in on outdoors gear, starting with this pair of La Sportiva trail running sneakers. You might be asking yourself, "Maxine, you like trail running?" The answer is no, absolutely not. But I like hiking, and have big plans to traipse around Acadia National Park over the Fourth of July holiday, and I wanted footwear that would be more supportive than running sneakers but lighter than hiking boots. The answer was trail running shoes, and these had great reviews on the internet (and gave me some cute-but-ugly sneaker vibes). I've yet to hike in them, but I did break them in by walking from my apartment in Williamsburg to our office in Manhattan and had nary a blister, so I think I made the right choice.
I was suckered into getting the Black Hole dopp kit in medium, in part thanks to this micro-sale that went up a couple weeks ago, and because I've long been jealous of my boyfriend's Black Hole dopp kit.
I also bought a new pair of Baggies, which are different from the pair of Patagonia Barely Baggies that I already own and wear all of the time. Mine have a 2-inch inseam, which I've finally realized is just a little too short for when I'm trying to do actual outdoor activities. So I caved and bought a pair of these regular-length Baggies, with a 5-inch inseam, for more active situations (and the days I just want a little more thigh coverage), in a kicky violet. It felt like the right mood.
Speaking of the right mood, I bought a pair of Chacos. More specifically, Grateful Dead-themed Chacos. The official color is "Steal Your Face." I have no regrets.
Alexis Swerdloff, Strategist editor
This month we did something crazy, and took a trip with our nine month old to Paris! (Despite one very sleepless plane ride, it was wonderful and worth it.) To prepare I bought all sorts of nonsense, but a few things stand out, chief among them this stroller. We already had the Official Stroller of Bougie Brooklyn, the Uppababy Cruz It's great, but a real clunker, and we wanted something lightweight to travel with. It's a long boring story, but because we already had the Uppababy Mesa carseat, we wanted something that was compatible with it, and therefore landed on the Minu, as opposed to the Official Lightweight Stroller of Bougie Brooklyn, the Babyzen Yoyo. The Minu's very new (it's Uppababy's attempt to compete with the Yoyo) and there hasn't been a ton written about it, so I was a little apprehensive, but we are so pleased with it. The thing folds incredibly easily (truly with one hand), it's really lightweight (lugging it up the three flights of stairs to our Airbnb was no problem), and substantive enough to handle wobbly, cobblestoned side streets of Paris as well as bumpy Brooklyn sidewalks. Our baby took many an uninterrupted nap in the Minu, and my husband and I found it was very smooth to "drive." Plus, the basket underneath can actually hold quite a bit. We pretty much only use this stroller now that we're back in New York, and are probably going to sell our Cruz.
The other "hero" purchase of our trip was this insanely lightweight Baggu backpack, which I used as both an alternative to my tote bag (for storing my wallet and keys and a cardigan) as well as things for the baby that I wanted easy access to throughout the day (puffs, his bottle, a picnic blanket, a few toys). It truly felt like I was wearing nothing at all.
Finally, for myself and only myself I bought this mustard-colored Madewell dress. It's comfortable, dress-uppable (and -downable), and machine-washable!
Anthony Rotunno, senior editor
Technically, I did not buy the vaguely threatening one-gallon water jug that writer Caroline Goldfarb, the meme queen behind Instagram's @OfficialSeanPenn, recently told us about. It was actually my husband, but we share the same bank account, thus we share everything. (My dad and mom each bought their own jugs too; my mom also got the "jurse" to tote hers around in.) Still, I've drank enough from my husband's jug to be able to say it is a perfectly effective water bottle, though he says it can leak a little from the top if not upright. The more appealing thing about the jug, though, is that it genuinely does inspire him to drink more water, kind of like a healthy game. He has lugged it (in a tote bag) to work every day, to the park on weekends, and even to dinner with friends at Pastis the other night, all in his daily quest to finish every drop. And watching him do this has made me more conscious of my water intake, and inspired me to drink more, too. So it's probably only a matter of time until we're a two-jug household, because it seems the easiest way to drink more water is to have a gallon of it always by your side.