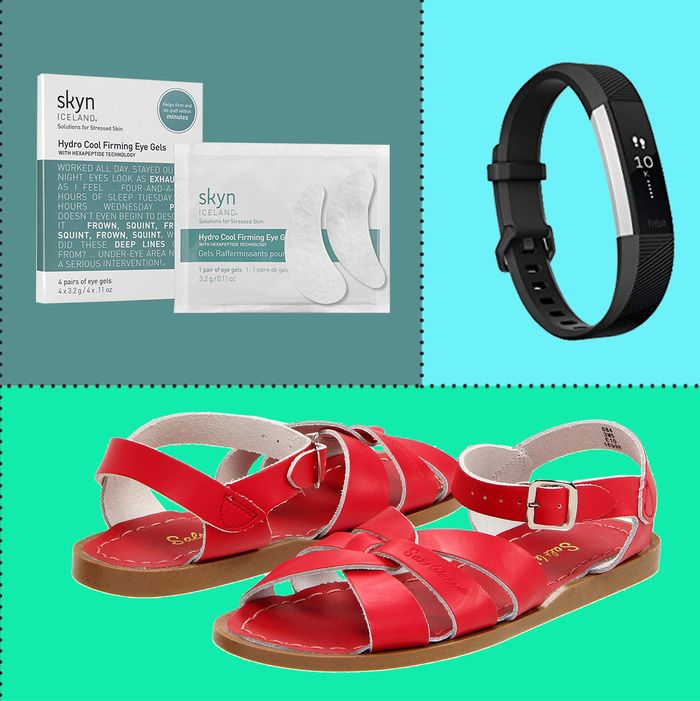 Photo: Courtesy of the retailers
Welcome back to Your Shopping Cart, wherein we break out the top ten products that you, devoted Strategist readers, all bought in droves. Think of this as the tl;dr of the Strategist: If your like-minded brethren are buying these items, maybe you'd like to, too.
If you (and your wallet) are still recovering from Amazon Prime Day earlier this month, you probably won't be shocked to learn that this list is dominated by picks from the big sale. Cooling under-eye patches (recommended by Strategist beauty writer Rio Viera-Newton) take the top spot, followed by a slim-looking Fitbit, and the now-infamous "Amazon coat," all of which were deeply discounted. While it wasn't on sale, enough of you bought Rio's favorite K-beauty sunscreen to keep it in the top ten (in fourth place up from sixth last time around). More Prime Day hits — mosquito-repellent bracelets and a dentist-recommended electric toothbrush — make the list in fifth and sixth place. Among a handful of newcomers, a freelance writer's posture-correcting brace makes its debut in seventh. The list closes out with more sale finds: very cheap bath towels (part of Macy's Black Friday in July) in eighth, classic leather sandals (marked down at Zappos) in ninth, and a jumbo-size bottle of body lotion (from the Nordstrom Anniversary Sale) in tenth.
These cooling eye gels were the most popular buy among our readers on the first day of Prime Day, so we're not totally surprised to see them at the top of this list, too. We included them in our roundup of the best beauty products to buy during the sale since Rio has long been a fan. She especially loves to use them while flying because, as she explains, "they help hydrate and bring circulation to my under-eye bags, which are always worsened on long-haul flights."
Strategist senior writer Karen Iorio Adelson picked this streamlined Fitbit as the best thing to buy on Prime Day. She likes that it's not as bulky as other activity trackers but still offers all the same functionality. "It's all of the tracking you need, with a device you won't be embarrassed to wear," she says. While it's not as cheap as it was during the sale, you can still snag one (in certain sizes and colors) for under $100.
It was more than a year ago that Strategist associate editor Katy Schneider first wrote about the expensive-looking but actually very affordable Orolay coat spotted on fashionable women all over the Upper East Side. And since then, the coat has exploded in popularity, become the subject of its own Instagram account — and gone up price as a result. But thanks to a Prime Day discount, lots of you were able to pick one up for even cheaper than the original price. Sure it's July, but winter will be here before we know it, and you'll be happy to have this cozy coat when temperatures start to drop.