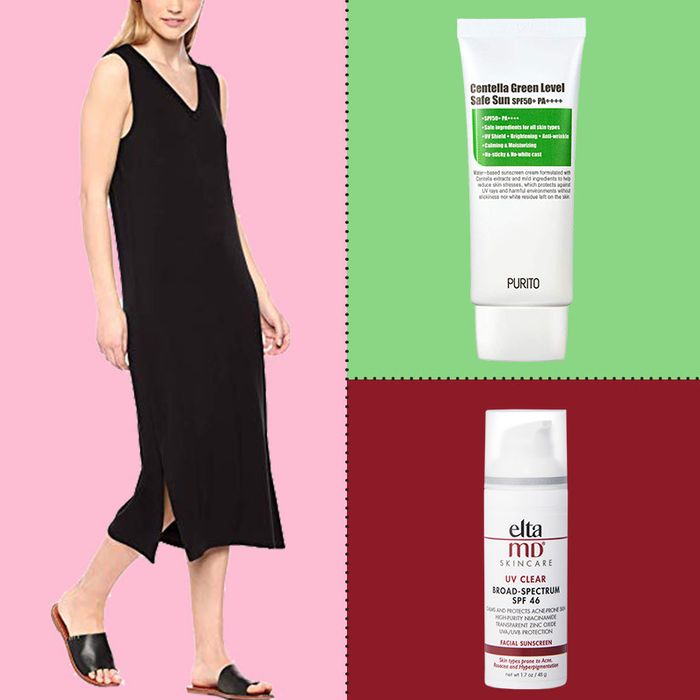 Photo: Courtesy of the retailers
Welcome back to Your Shopping Cart, wherein we break out the top ten products that you, devoted Strategist readers, all bought in droves. Think of this as the TL;DR of the Strategist: If your like-minded brethren are buying these items, maybe you'd like to, too.
While lots of you took advantage of Amazon Prime Day to get ahead on winter shopping (the Orolay coat was a hit), your regular purchases include a slew of summer necessities. On this week's best-seller list, we've got two sunscreens (a K-beauty pick from Strategist beauty writer Rio Viera-Newton in sixth, and a longtime dermatologist favorite in eighth); a powerful bug repellent in seventh; and two affordable summer dresses (a work-friendly style we found on sale from an Amazon house brand in second place, and a Loft dress recommended by writer Alice Gregory in tenth). Also making waves on the list this week are teeth-cleaning products we covered during last month's Teeth Week. In fact, the first and third-place spots this week go to a dentist-approved charcoal whitening powder and a silver-infused toothbrush, respectively, with each making its best-seller debut. And in its second appearance on our list, a classic electric toothbrush (that dentists love) finishes in fourth place. Finally, two returning champs make the list once more — a toy piano for babies in fifth (up from seventh) and a pillow for side sleepers in ninth for the second time in a row.
Looking for a more natural and less wasteful way to whiten her teeth, writer Robin Reetz made the switch from Crest Whitestrips to this charcoal whitening powder, with her dentist's approval. She reports: "After a few consecutive days of brushing with powder then toothpaste, my teeth appeared to go from a coffee-stained beige to a shinier ivory. And after repeating this routine every day for two weeks, all remnants of that beige color were gone, and a co-worker actually complimented me on how white my teeth looked."
Putting together a work-appropriate outfit in the muggy, sweaty days of summer can be a challenge, so we were excited to spot this simple black dress on sale earlier this month. "There are lots of black midi dresses out there," we said, "but what we particularly like about this one is the thickness of its V-neck, which gives it a somewhat elevated, and ever so slightly more 'structured' feel — allowing it to be dressed up or down somewhat more easily than most." It's no longer on sale, but at under $30 it's still a bargain. Note: Only a few sizes in black are left, but we also like the dark navy version. 
Because of her very sensitive teeth, writer Frances Dodds found herself brushing six times a day to avoid feeling like her teeth were covered in a thick layer of gunk. On a tip from her boyfriend's dad, she gave these silver-infused toothbrushes a try, and told us they work so well that she's back down to twice daily brushing. She likes that some of the brush's bristles are longer which "whisk away the early formations of plaque in deep crevices that a regular toothbrush can't reach, and from surfaces that floss wouldn't reach either."