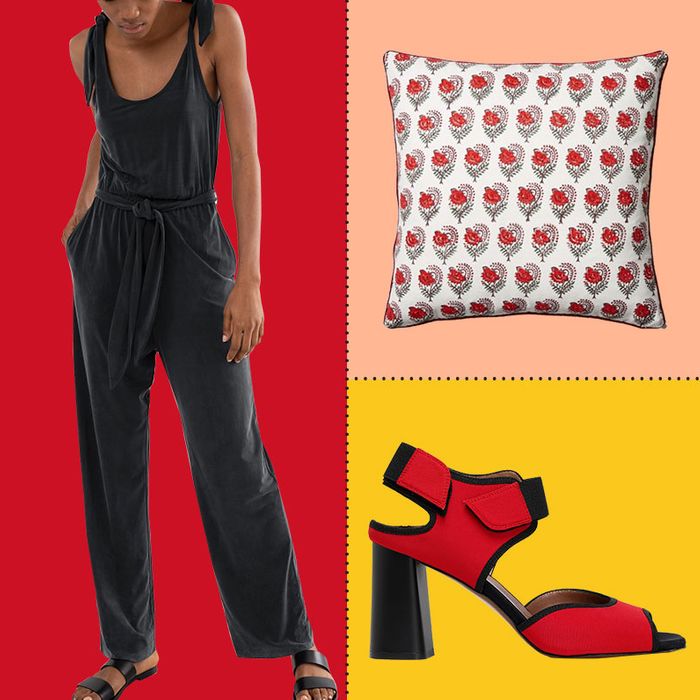 Photo: courtesy of the retailer
As we're coming down from July 4 sales and gearing up for Prime Day, we're doing our best to keep track of other notable sales (of which there are plenty). Below, our favorite deals, from 84 percent off jeans to 70 percent off bathing suits to 50 percent off throw pillows.
A sexy, but not over the top, black one-piece with a scooped crisscrossed back.
With all due respect, these (clearly very comfortable) sandals do not look like they are from Easy Spirit.
The backpack-esque straps of this striped one piece are so cool!
This sturdy green North Face duffel doubles as a backpack.
It works out to two bucks a lip gloss.
The "chunky waist sash" lends this floral cotton dress a little drama.
Some kooky (discontinued) studded, pink Birkenstock clogs.
There's still plenty of summer left to wear these stately Ben Sherman swim trunks.
Nordstrom's big anniversary sale is next week, but in the meantime, there are a whole bunch of White Company linens on sale, including this crisp, classic striped cotton quilt that's ideal for these warmer months.
A pair of party sandals if we've ever seen some.
The Outnet is having an insane sale, where stuff is up to 85 percent off — like these perfectly distressed J Brand jeans.
This striped Derek Lam T-shirt is also available in navy.
This is an unheard of price for a See By Chloe shirt.
These formerly $855 (!) Marni sandals would look great with a pair of cropped white pants.
This Kara bucket bag has an adjustable strap so you can sling it over your shoulder if you'd like.
A Clare V. clutch for under $100 is always worth calling out in our book.
Just wanted to call out these wonderful shorty overalls from Madewell's sale-on-sale that we wrote about on Thursday, which is still going strong.
And this slightly slimmed-down version of Madewell's classic Emmett pant.
Speaking of sales we just covered, the Outdoor Voices sale still has lots of stock left, including these classic OV colorblock leggings.
Buzz Bissinger's favorite mask (that left him with skin that even his therapist commented on) is included as part of this "superstar" set.
This floral throw pillow is pretty without being cutesy.