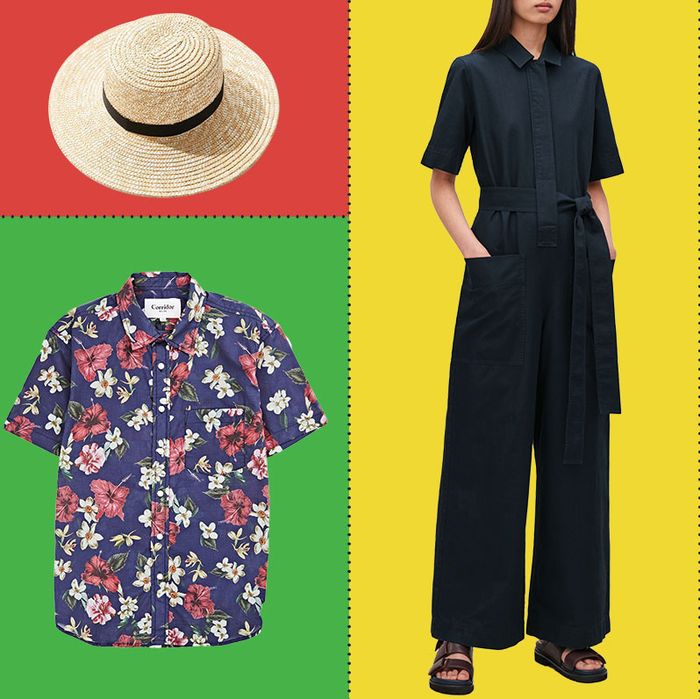 Photo: Courtesy of the retailers
If you follow our biweekly feature Your Shopping Cart, you know that we have some eerily good intel on what you all are buying. Which led us to think that, as Strategist editors, we could turn the tables and highlight all the things we've been buying for ourselves. As you'll notice, it's both a blessing and a curse to be a Strategist editor; we're picky, but sometimes we just have to get on with it. (It's online-shopping expertise meets IRL needs.) Below, what we all bought in July.
Anthony Rotunno, senior editor
This past Fourth of July, I spent most of the holiday weekend holed up at my parents' place in suburban New Jersey. It has central AC, a pool, and, minutes away, the Mall at Short Hills — one of the tri-state area's finer, still-surviving shopping centers of its kind. While doing the rounds there, I picked up this pair of Adidas Adilette slides. (Strategist newsletter subscribers will know that the white and black was a color combo I hadn't seen before.) Spiritually, they're kind of like the sandal equivalent of my white and black Superstars, and I've taken to wearing them like I would those sneakers — meaning, with just about everything (tees, button-down shirts, jeans, shorts) … and, to my husband's chagrin, even to work.
I stumbled upon this Himalayan-salt-lamp night-light (which also comes in a two-pack) while combing through home and furniture deals on Amazon during Prime Day. Honestly, it was one of the more interesting and unusual things I found during the sale. Technically, I did not buy it — a friend who was on a bit of a Prime Day binge bought the two-pack and gave me one as a sort of finder's fee. I've written before about how I love a good night-light, and this one doesn't disappoint. The salt crystal is surprisingly formidable and casts a nice pink-orange glow when on. And I suspect the crystal will last a while, because my light came with two light bulbs (which could also mean the bulbs suck, but I haven't had any problems yet). It does requires some light assembly — screwing an included light bulb into the base, popping the crystal over it, and plugging it in.
Lauren Ro, writer
I'm still trying to figure out what works with my postpartum body, and thought I'd stick to elasticized skirts and pants until I get back into shape (if ever). Because my jeans don't fit anymore, I turned to Nashville-based designer Elizabeth Suzann (whose linen shirts have become a staple in my closet since I bought my first ones last year) for a new pair of comfy but cool pants. This particular pair appealed to me because they are structured, yet still have an easygoing feel and the all-important stretchy waistband (plus some gigantic pockets). Because Suzann's stuff is all made-to-order, you can specify length, so I went with short (I'm 5'2"). Alas, when they arrived, I discovered they were too small in the waist — which was my fault, not the brand's, because I was maybe a little too ambitious about sizing (otherwise, the pants were exactly what I was hoping for). Luckily, returns (for store credit) are free, and I already received a voucher for my new size. I've still got a few more weeks before the new ones arrive, but I'm willing to wait for what I'm expecting be the perfect transitional pair of pants.
I was tired of all the water dripping out of our basic dish rack and spreading across the entire counter every time I did the dishes, so I decided to splurge on this rack from Simplehuman — and I'm so glad I did. It's huge, and because it's shaped like a box instead of having open sides, it can accommodate a bunch of stuff, no matter how high you pile everything. It even comes with a rack for wine glasses (although I would have preferred if there were more holders for regular cups). But the best, most ingenious part is its "innovative drainage system," which catches the water by way of an adjustable tray on the bottom that also has a swivel spout, so you can direct excess water right into the sink.
Karen Iorio Adelson, senior writer
I set out to buy a fun, colorful dress for a few bridal and baby showers I have coming up, but wound up purchasing this black-and-white Eileen Fisher number. It's less colorful than I originally wanted, but I couldn't be happier, since it's the rare tent-like dress that doesn't look like a shapeless sack. That's because the dress, which has high-cut armholes, is actually fitted on top before it flares out.