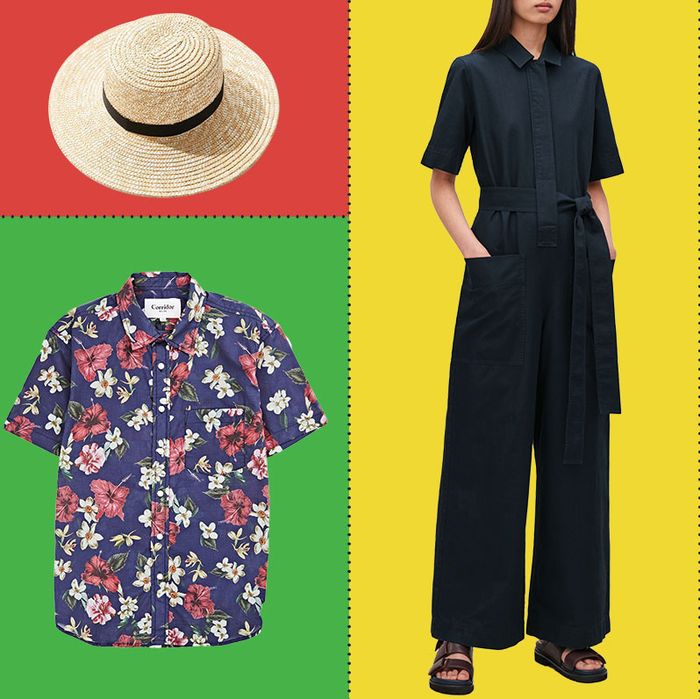 Photo: Courtesy of the retailers
If you follow our biweekly feature Your Shopping Cart, you know that we have some eerily good intel on what you all are buying. Which led us to think that, as Strategist editors, we could turn the tables and highlight all the things we've been buying for ourselves. As you'll notice, it's both a blessing and a curse to be a Strategist editor; we're picky, but sometimes we just have to get on with it. (It's online-shopping expertise meets IRL needs.) Below, what we all bought in July.
Anthony Rotunno, senior editor
This past Fourth of July, I spent most of the holiday weekend holed up at my parents' place in suburban New Jersey. It has central AC, a pool, and, minutes away, the Mall at Short Hills — one of the tri-state area's finer, still-surviving shopping centers of its kind. While doing the rounds there, I picked up this pair of Adidas Adilette slides. (Strategist newsletter subscribers will know that the white and black was a color combo I hadn't seen before.) Spiritually, they're kind of like the sandal equivalent of my white and black Superstars, and I've taken to wearing them like I would those sneakers — meaning, with just about everything (tees, button-down shirts, jeans, shorts) … and, to my husband's chagrin, even to work.
I stumbled upon this Himalayan-salt-lamp night-light (which also comes in a two-pack) while combing through home and furniture deals on Amazon during Prime Day. Honestly, it was one of the more interesting and unusual things I found during the sale. Technically, I did not buy it — a friend who was on a bit of a Prime Day binge bought the two-pack and gave me one as a sort of finder's fee. I've written before about how I love a good night-light, and this one doesn't disappoint. The salt crystal is surprisingly formidable and casts a nice pink-orange glow when on. And I suspect the crystal will last a while, because my light came with two light bulbs (which could also mean the bulbs suck, but I haven't had any problems yet). It does requires some light assembly — screwing an included light bulb into the base, popping the crystal over it, and plugging it in.
Lauren Ro, writer
I'm still trying to figure out what works with my postpartum body, and thought I'd stick to elasticized skirts and pants until I get back into shape (if ever). Because my jeans don't fit anymore, I turned to Nashville-based designer Elizabeth Suzann (whose linen shirts have become a staple in my closet since I bought my first ones last year) for a new pair of comfy but cool pants. This particular pair appealed to me because they are structured, yet still have an easygoing feel and the all-important stretchy waistband (plus some gigantic pockets). Because Suzann's stuff is all made-to-order, you can specify length, so I went with short (I'm 5'2"). Alas, when they arrived, I discovered they were too small in the waist — which was my fault, not the brand's, because I was maybe a little too ambitious about sizing (otherwise, the pants were exactly what I was hoping for). Luckily, returns (for store credit) are free, and I already received a voucher for my new size. I've still got a few more weeks before the new ones arrive, but I'm willing to wait for what I'm expecting be the perfect transitional pair of pants.
I was tired of all the water dripping out of our basic dish rack and spreading across the entire counter every time I did the dishes, so I decided to splurge on this rack from Simplehuman — and I'm so glad I did. It's huge, and because it's shaped like a box instead of having open sides, it can accommodate a bunch of stuff, no matter how high you pile everything. It even comes with a rack for wine glasses (although I would have preferred if there were more holders for regular cups). But the best, most ingenious part is its "innovative drainage system," which catches the water by way of an adjustable tray on the bottom that also has a swivel spout, so you can direct excess water right into the sink.
Karen Iorio Adelson, senior writer
I set out to buy a fun, colorful dress for a few bridal and baby showers I have coming up, but wound up purchasing this black-and-white Eileen Fisher number. It's less colorful than I originally wanted, but I couldn't be happier, since it's the rare tent-like dress that doesn't look like a shapeless sack. That's because the dress, which has high-cut armholes, is actually fitted on top before it flares out.
I'm a big admirer of Taffy Brodesser-Akner's journalism (that Gwyneth profile!), so I obviously had to read her first novel. It's everything I wanted it to be and more: heartbreaking, hilarious, and fearless. I've already recommended it to everyone I know. It even made Chris Black's summer reading list.
Maxine Builder, managing editor
I spent the Fourth of July in Maine, and on the drive back to New York, I stopped at the Patagonia outlet in Freeport. They were having a sale-on-sale, which is rare for anything Patagonia, and I picked up a few end-of-season swimsuits, including this bikini (though in a now out-of-stock black and white Batik-y pattern). I've yet to wear it in the water, but I'm stoked about the "nanogrip" lining, which is supposed to help keep these bottoms firmly on while I'm swimming.
I bought exactly one thing on Amazon Prime Day: this Supergoop mousse sunscreen, because sun protection is important to me, and I like to be well-stocked with SPF. Plus, this mousse formula is the easiest thing to apply. It's lightweight, rubs in almost instantly, doesn't stick to anything, and leaves no white cast.
Even though I'm obsessive about putting sunscreen on my face daily, I was terrified that I wasn't taking care of my lips well enough after helping to edit this piece on the best lip balms with SPF, according to dermatologists. It's not an expert-recommended pick, but this banana-scented lip balm with zinc is the best option they had in stock at the Whole Foods in Williamsburg. Surprisingly, I enjoy the scent, and now feel satisfied that my lips are protected, too.
Dominique Pariso, writer
This $5 lip balm is the best thing I've purchased all month. Like Maxine, I'd been neglecting to protect my lips from UV rays (especially during my long afternoon stretches at the beach). I find that a lot of SPF lip protectants are either too greasy (so they slide off immediately after applying) or too drying. Supergoop! Lip Shield is formulated with beeswax, as well as with coconut, avocado, and grape-seed oils, so it's moisturizing while being waxy enough to stay put.
Since we are in peak thigh-chafe season, it was time to get serious about preventing chub-rub. The situation between my thighs had devolved into something I would describe as somewhere between "hell-fire" and "the pain of a thousand sunburns." I was skeptical about this product: Isn't it just rebranded deodorant in fancy packaging? I thought. But I was so, so wrong. When first applied, it does feel like deodorant, but then it dries down to form a magical barrier that lasts for hours. Buy this and thank me later.
Alexis Swerdloff, Strategist editor
While poking around H&M for some shorts for my son (I settled on these basic guys), I stumbled on this black denim jumpsuit that I am wearing right now as I type. It's not a thick denim, and feels more like a soft black cotton, so it's ideal for these sultry summer days. I think in the fall I'll wear it with a T-shirt underneath.
One of my dear friends Helen Phillips's book The Need came out this month, and I bought a copy at her release party at Greenlight. Without giving too much away, it's an eerie, emotional page-turner about a paleobotanist/mother of two. I devoured it in a week.
This wasn't on sale for Prime Day but was rather a Prime Day Launch — Hanna Andersson's limited-edition collaboration with Amazon's baby-clothes line Moon and Back. I snatched up this very soft short-sleeved romper set that my 10-month-old wears as PJs, but also occasionally wears during the day. A true day-to-night piece. Note: They run a little on the big side, which is not the case for regular Hanna Andersson.