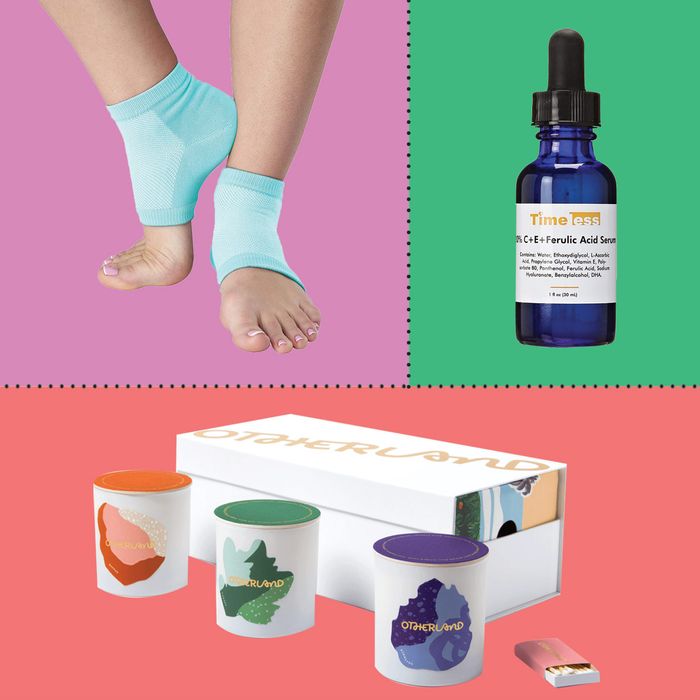 Photo: Courtesy of the retailers
Welcome back to Your Shopping Cart, wherein we break out the top ten products that you, devoted Strategist readers, all bought in droves. Think of this as the tl;dr of the Strategist: If your like-minded brethren are buying these items, maybe you'd like to, too.
Last month, Strategist beauty writer Rio Viera-Newton updated her legendary Google doc skincare post for its two-year anniversary, and three of her top picks make our list. Already going strong this summer, this K-beauty sunscreen jumps from fourth to first place; a skin-brightening essence debuts in third; and an affordable vitamin C serum – that Rio's loved for a while – pops up in eighth. Also recommended by Rio, these moisturizing heel sleeves hit the list at number four. The rest of the list is a mix of returning favorites and promising newcomers. We've got a dentist-recommended electric toothbrush in second place, and a set of mosquito-repellent bracelets in fifth. A phone-charging lightning cable that last made our list back in March reappears this time in sixth place. Finally, we have a set of status candles in seventh, a pair of tiny gold earrings in ninth, and some comfy (and on-sale) underwear in tenth.
Rio discovered this sunscreen a few months back, and it's now a staple in her routine — and on our list, making its seventh appearance this week. Rio loves that it's packed with all-star ingredients like soothing centella asiatica, brightening niacinamide, and moisturizing hyaluronic acid. "The Purito," she writes, "almost immediately improved the texture, radiance, and moisture levels of my skin for the better." She even raves, "it's one of the best products I've ever tried in general, not just in the sunscreen category."
During Teeth Week earlier this summer—when we investigated everything from natural toothpastes to teething toys for puppies—we asked dentists to recommend the best electric toothbrushes, and this one came out on top. Experts like that it both rotates and oscillates (vibrates)—44,000 times per minute—to clean teeth and remove plaque, and that its round brush head can make contact with all sides of the teeth. It makes the list for the fourth consecutive time this week.
Besides being a "really solid dupe for the very expensive, cult favorite, brightening and moisturizing SK-II Facial Treatment Essence," Rio says this essence has helped reduce her hyperpigmentation more than any other product. "It contains 95 percent galactomyces ferment filtrate, an ingredient known for smoothing out texture and brightening and hydrating the skin," she says. "And it also incorporates niacinamide, one of my favorite ingredients for brightening up dark spots, and adenosine, which is a known skin-smoother." It's so good she uses it twice a day.
Rio also got real with us about her summer foot-care routine, sharing the products she uses on her "perpetually dry and cracked" heels. After applying moisturizing cream, she'll wear these half-socks — which are "infused with vitamin E, rose oil, and jojoba oil" — overnight. Rio says her heels look better after just a few days of consistently wearing them to bed, and lots of you picked up a pair to keep your feet in peak sandal shape.
Strategist writer Liza Corsillo first raved about these mosquito-repellent bracelets when they were on sale during Amazon Prime Day, and they're still one of our best sellers, holding on to the number five spot. She wore one while doing yard work at her parents' house in Connecticut and was amazed by the results. "Hours passed without a single bite," she writes. "I was able to work diligently without needing to flail my arms around. My father, normally the most bothered by mosquitoes, didn't complain once. I know there were bugs around us the whole time, I saw them, but they steered clear." Plus, she says the bracelet "smells like a picnic in the park."