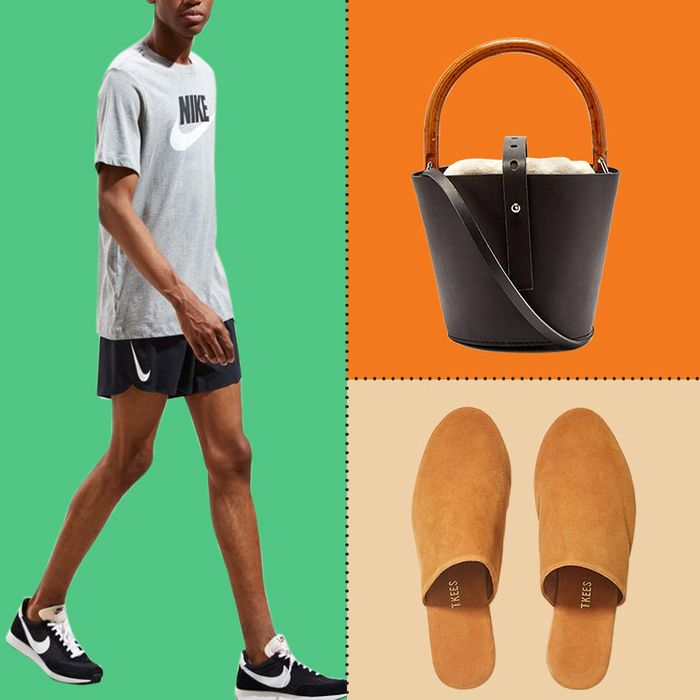 Photo: courtesy of the retailers
Lots of goodies in this Friday's sales roundup including several butt-flattering jeans, a chubby side-table, a practical knife set, and one of Rio Viera-Newton's favorite cream blushes.
Photo: 19-01-24 daliaslavic PM1 B4 benbrubaker W
When it comes to Levi's Wedgie jeans, it's always important to show a butt shot.
These Dickies coveralls are 40 percent off (today only) as part of an UO "flash sale" on dresses, rompers, and skirts. There's a stripy pair of Dickies coveralls on sale, too.
The Patagonia Houdini jacket (so called because it's insanely lightweight and folds up into a little nothing) is perfect for forthcoming crisp fall days.
If August seems like an odd time to buy cashmere that's because it is. But for 76 percent off, it's hard to resist.
As our colleagues at the Cut pointed out, Reformation is having quite the sale right now. These are some great-seeming high-waisted (stretchy) black jeans.
A relaxed striped tee that'd look great tucked into the black jeans above.
It's a little coy (the polka dots) and a little not-coy (the dramatic slit up the leg).
Some more seasonally inappropriate cashmere.
The mesh "inner shorts" help improve airflow.