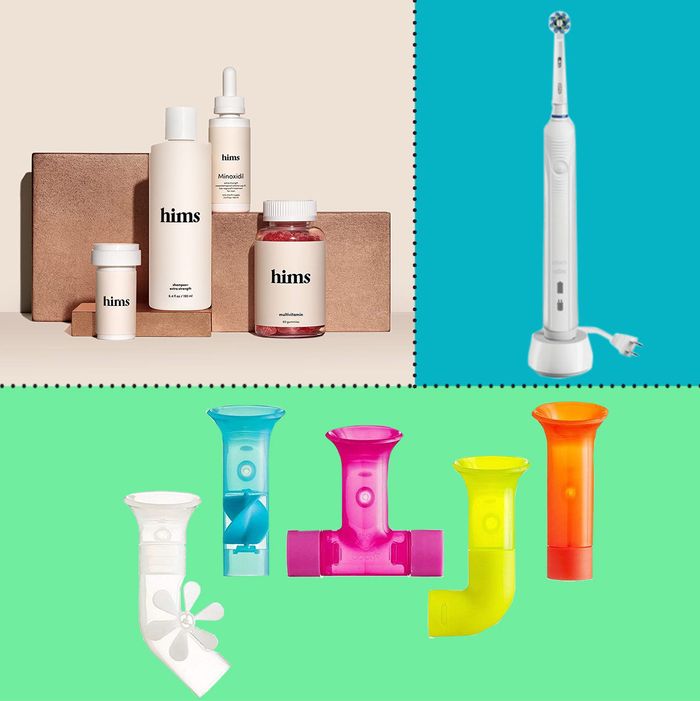 Photo: Courtesy of the retailers
Welcome back to Your Shopping Cart, wherein we break out the top ten products that you, devoted Strategist readers, all bought in droves. Think of this as the tl;dr of the Strategist: If your like-minded brethren are buying these items, maybe you'd like to, too.
A handful of returning favorites from last time kick off our list this week, with some shuffling in the order. A dentist-recommended electric toothbrush inches up from second place to first, while our former top finisher, a K-beauty sunscreen beloved by Strategist beauty writer Rio Viera-Newton slips down to third place. An iPhone-charging lightning cable leaps from sixth to second, and another Rio pick, these moisturizing heel sleeves, holds steady in fourth. Next up are two products for little ones — colorful bath toys (last seen on the list in April) in fifth place, and an interactive board book for toddlers debuting in sixth. The rest of the list is composed of longtime best sellers making their return after a few weeks — or months — off. This fancy lube (in seventh place) is back for the first time since June, while our eighth and ninth place finishers (a pillow for side-sleepers and hair-loss treatment kit for men, respectively) were last spotted in July. Finally, we have a Rio-recommended snail mucin serum hitting the list for the first time since January.
For our recent Teeth Week — when we investigated everything from natural toothpastes to teething toys for puppies — we asked dentists to recommend the best electric toothbrushes, and this one came out on top. The pros like that it both rotates and oscillates (vibrates) — 44,000 times per minute — to clean teeth and remove plaque, and that its round brush head can make contact with all sides of the teeth. Lots of our readers must have heeded their advice, as this is the toothbrush's fifth consecutive appearance on the list — but its first time at number one.
Writer Alison Freer loves the extra-long version of this Anker iPhone-charging cable, and these standard-length ones get glowing reviews on Amazon. Shoppers appreciate that they're Apple MFi certified while costing a lot less than an Apple brand cable. One reviewer writes, "Anker cables are just as good as the originals and they charge without any problems. If you're looking to save some money, but still get a great product then Anker is the way to go."
Rio discovered this sunscreen a few months back, and it's now a staple in her routine — and on our list, where it has now appeared for an eighth time. Rio loves that it's packed with all-star ingredients like soothing centella asiatica, brightening niacinamide, and moisturizing hyaluronic acid. "The Purito," she writes, "almost immediately improved the texture, radiance, and moisture levels of my skin for the better." She even raves, "it's one of the best products I've ever tried in general, not just in the sunscreen category."
Rio recently got real with us about her summer foot-care routine, sharing the products she uses on her "perpetually dry and cracked" heels. After applying moisturizing cream, she'll wear these half-socks — which are "infused with vitamin E, rose oil, and jojoba oil" — overnight, and says her heels look better after just a few days of consistently wearing them to bed. Lots of you seemingly picked up a pair to keep your feet in peak sandal shape and, for the second time in a row, they earn the fourth-place spot.
After appearing on our list for the first time back in April (in first place, no less), this set of bath toys returned this week. For the uninitiated, the pipe toys attach by suction to the side of the bathtub and have different moving parts that little ones can activate in the water. The set came recommended by child-development expert Sarah MacLaughlin as a perfect gift for a 1-year-old. "The idea that there are moving parts goes right along with that curiosity of the in, out, up, and down," says MacLaughlin. "Moving parts are pretty attractive to a 1-year-old, which is why you'll find them going after everything in your home that's not a toy."