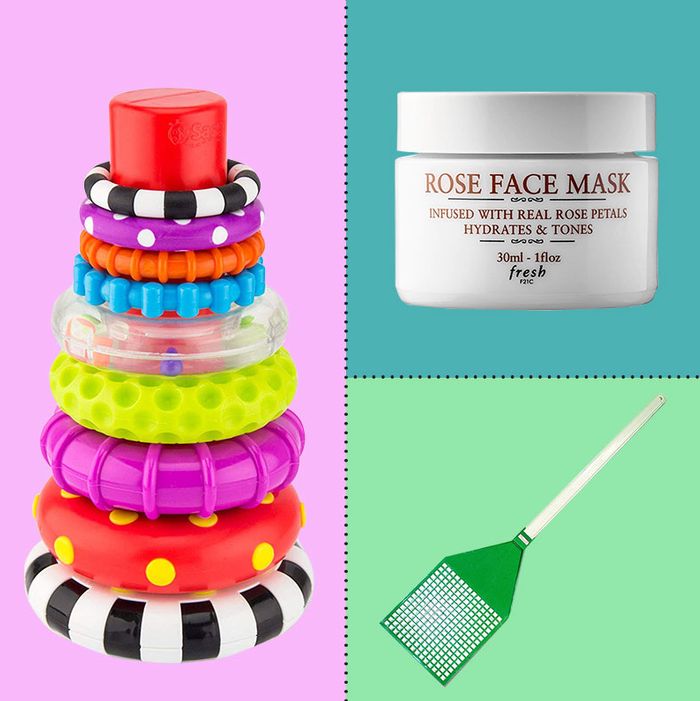 Photo: Courtesy of the retailers
If you follow our biweekly feature Your Shopping Cart, you know that we have some eerily good intel on what you all are buying. Which led us to think that, as Strategist editors, we could turn the tables and highlight all the things we've been buying for ourselves. As you'll notice, it's both a blessing and a curse to be a Strategist editor; we're picky, but sometimes we just have to get on with it. (It's online-shopping expertise meets IRL needs.) Below, what we all bought in August.
Anthony Rotunno, senior editor
After reading both Chris Black and Lauren Ro recommend Chacos and Crocs respectively as effective summer rain shoes, I bought this inexpensive pair of the latter for an upcoming trip to China when the forecast looks, well, hot and rainy. I've never owned a pair of Crocs, and was surprised at just how light they are. These seem to be cut a bit narrower (they're billed as unisex); the plastic/rubber "straps" on my men's size 9/women's size 11 chafe a bit along the inside of my foot, but I suspect that's just from breaking them in. Other than that, they're pretty comfortable, though they're a little less anonymous than Lauren's rain Crocs. (Each of my sandals has buttons with crocodiles on them, and the Crocs name spelled out on two different straps.) Ahead of my trip, I tested them out during a light drizzle in New York City, and found that their material dried superfast, and their textured soles kept a firm hold on my wet feet.
I stumbled upon a 31-inch fly swatter like this at a liquor store in Rhode Island a few weeks ago. The $6 one I saw was bright orange, which made it stand out among the cases of White Claw and bottles of Whispering Angel. And, like those refreshing beverages, it seemed too good not to buy. It was definitely more of a novelty purchase, but the thing is functional — my apartment has 12-foot ceilings and the swatter has already allowed me to kill some flies without climbing on the furniture. There's something very satisfying about the thwhack of its oversized head against a wall. Mine is made by a brand called Epic Summer, but I couldn't find it online; this Kole Imports model is basically identical (except in green). Shipping is free, but not Prime, so if you urgently need your giant fly swatter, consider these other options, many of which can ship overnight.
This month, I bit the Baggie bullet and ordered these dusty "stone blue" shorts. Others have praised Baggies on this website before, and in my weeks of wearing them, I've grown to love the shorts for many of the same reasons they do. I've yet to swim in mine (that's not really why I got them), but they're pretty perfect weekend shorts. I will throw them on with a t-shirt for a morning bagel run, keep them on while lounging on the couch for the next few hours, then swap tee for linen button-down or polo to go meet friends for lunch. The 5-inch inseam is neither too short nor too long, but ideal in-between length — they hit above the knee and will rise up when I'm sitting, but definitely in no way look like short shorts on my five-foot-nine-ish, 150 pound–ish frame.
Maxine Builder, managing editor
My best score of the month happened on a random walk through Williamsburg, where my boyfriend and I stumbled upon a Best Made "surplus sale." I'm a sucker for their heavily designed, industrial-rustic aesthetic and some good 22-gauge steel, so I felt like we had won the lottery. I nabbed this three-piece set of trays in red for $18, which is an unheard-of 69 percent off the regular price of $58.
The other big purchase I made this month was a little more practical. Despite our best attempts at duct taping our years-old drying rack together, it finally collapsed on us, which sent me on a hunt for a more heavy-duty, higher capacity option. Enter this Honey-Can-Do drying rack, which butterflies out and gives me more room to air-dry my clothes than I've ever had. I also love the little mesh square in the middle, which I've found is a great place to lay out sports bras to dry.
Karen Iorio Adelson, senior writer
My old bath mat was getting a little threadbare, so I ordered this one as a replacement without really expecting much. When it arrived, though, I was pleasantly surprised with how soft and plush it felt. Standing on it post-shower adds a little bit of luxury to my morning routine.
In the same order, I included these simple dish towels, so that I'd finally have a matching set instead of the hodgepodge of clashing patterns and colors currently in my kitchen. They're definitely absorbent, good for cleaning counters, and give my kitchen that unified look I craved.
Chloe Anello, junior writer
To preface this purchase, I should say that I never used to wear my glasses. I've owned many frames over the years, and even did the whole Warby Parker thing, too, but for the longest time glasses were a strictly utilitarian item I'd reach for on those "I'm a mess" days, rather than a stylish, statement-making accessory. That all changed when my mom and I stumbled upon a local eyeglass store, Luxe Optique, in Beacon, New York. It had the best frame selection I've ever seen. I fell in love with a pair from Anne and Valentin, which initially converted me from a contacts-only person to a glasses person. But that pair made a bit too much of a statement for everyday wear, so I started to look for another slightly less dramatic style that was just as comfortable on my face. These Thom Browne frames that I also found at Luxe Optique were exactly that, and after four visits specifically to try them on, I saved enough money and finally splurged on them as a birthday present to myself.
This was a Marshall's find. It was significantly discounted (only $16, sorry), and although I fully support the Canadian tuxedo look, the colored denim makes for a more subtle take. Plus, I thought the jacket complemented my new glasses.
My family just adopted a miniature Schnauzer. His name is Rudy, he's four, and blue just felt like his color. We prefer these harnesses to collars because they make it easier to control him, and we won't choke him when he pulls on the leash.
Hilary Reid, writer
The necklace and earrings I wear almost every day were looking kind of grimy, so I bought these cloths, which came recommended by some of the jewelry designers I talked to about the best products for cleaning silver. They're SO GOOD — they took off a ton of dirt, and are extremely satisfying to use because you can see all of the grime you've removed on the pastel cloth.
A couple hauls ago, I mentioned buying some Astier de Villate incense, but what I failed to mention at the time was that my "incense holder" was a balled-up piece of aluminum foil. I'd been on the hunt for something more respectable ever since, and found this brass ball holder at Dimes Market. I like its minimal design and, honestly, I'm also excited to have another thing to clean with my new polishing cloths in a few months.
I love Fresh's rose mask, and reupped my supply this month when I noticed I was almost at the bottom of my current jar. The mask seems like it won't work because it has a light gel consistency and the jar comes inside a floral-patterned box that's more English cottage guest bathroom than clinical, but I've found that it makes my skin look brighter, and when I use it at night, I wake up looking slightly better-rested than I actually am.
Lauren Ro, writer
In an attempt to add more color to our home, I splurged on this cushion for a new armchair that we recently got. I love how bright and water-colory the floral print looks, and the fact that the pattern is different on the other side. It's admittedly pretty loud (my husband is on the fence about it), but I can't stop looking at it. Now I'm thinking about replacing all our wan, deflated throw pillows with more colorful ones.
Earlier this summer, I let a major opportunity slip when I couldn't remember the name of the company that makes these sandals after a stranger complimented me on them (I didn't have my phone on me at the time or else I would have checked). I told her that it was something like Charlotte Shoe Company (instead of Charleston), but also suggested she Google the footwear using the search terms "Strategist," "New York Mag," and "sandals." To make up for my blunder, I bought a pair in coral for my mother-in-law, who, like that friendly stranger, was just as interested in the sandals after she saw me wearing them one weekend.
I'm sensing a major pink theme with my latest haul. I bought these trainers from Lane Eight after reading Dominique Pariso's story on the next status gym shoe. I needed a pair of sneakers (that weren't running shoes) for my at-home workouts, mostly because I didn't want to wear dirty shoes inside. (Also, if anyone has tips for how to squeeze in a gym workout or two when you also have a small child, please let me know.) These turned out to be perfect for my needs — they're snug and have just the right amount of bounce for my plyometrics-based exercises. The only problem is, because they look so cool, I'm not sure how long I can go without wearing them in the dirty streets!
Alexis Swerdloff, Strategist editor