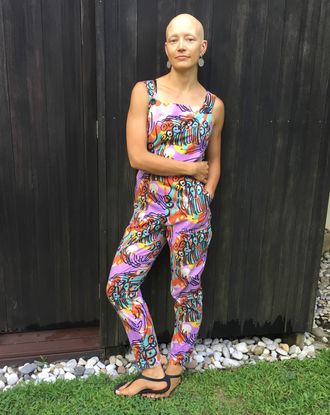 "I pretty much can't leave the house without a woman trying to buy them off my body."
Photo: Gail Thompson
Helen Phillips is the author of The Need, which came out in July from Simon & Schuster.
Since having kids, my attitude toward my clothing has become: the simpler the better. I've adopted a basic uniform of black sneakers, black Levi's jeans, a black T-shirt, a black sweater, and colorful earrings. This has served me well despite a few comments from my students (for a writing assignment called "I Remember," based on Joe Brainard's book of the same name, one student wrote, "I remember wondering why Professor Phillips wears black all the time"). The answer is that I have about 90 seconds to get dressed in the morning rush each day, and I don't want to have to think about what I'm putting on.
But sticky New York weather present a challenge. Who wants to pull on black jeans in high humidity? Yet I couldn't come up with a warm-weather uniform that enabled me to get dressed quickly and without a thought.
Then a couple of years ago, my sister passed along to me a jumper made by Nooworks. It was a light fabric. It was a single, simple garment. And yes: It featured growling cheetahs on a purple background. Nooworks' bold, bright fabrics are the opposite yet somehow fitting counterpart to my monochrome non-summer uniform.
These jumpers make other women smile. Compliments and inquiries rain down upon the wearer. I pretty much can't leave the house without a woman trying to buy them off my body.
This leads me to believe we are all quietly wishing for one-piece pants-oriented garments that make us feel well-dressed with almost no effort — a desire that Nooworks ("a woman-owned, women-run business" based in San Francisco that makes "limited-edition textiles with artists we love") clearly understands.
The $148 price tag seemed steep to me at first, but when I just rotate among Nooworks jumpers all summer long for multiple summers, it starts to feel fairly cost-effective. On my six-week book tour this summer, I brought no fewer than four Nooworks jumpers. But I didn't have to pack much else.
Nooworks Jumpers I Own (That Are Still in Stock)
Photo: Courtesy of the Retailer
Plus Other Strategist-Approved Jumpsuits and Overalls
This is Strategist editor Maxine Builder's favorite inexpensive and versatile jumpsuit, about which she wrote, "My affection for the piece has reached the point where I actually feel a little lost when I reach for the jumpsuit in the morning only to remember that it's in the wash."