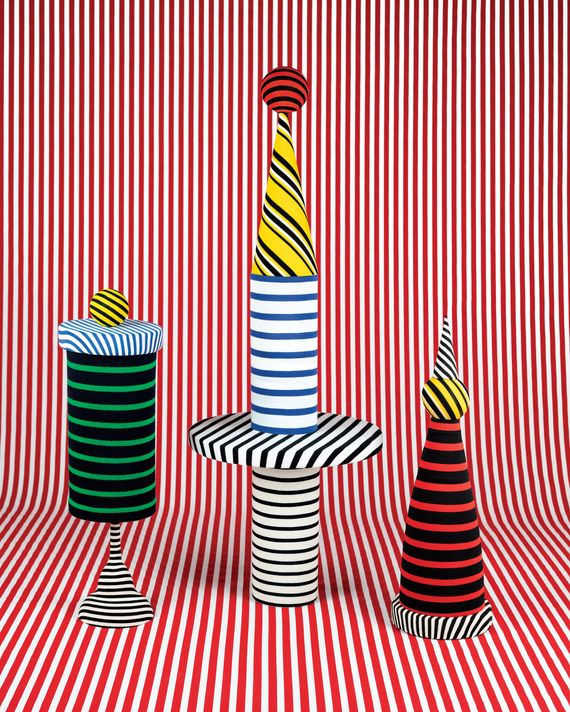 Photo: Bubi Canal. Pictured: Entireworld (navy and green, left); La Ligne (white and blue, center; black and red, right); Kule (white and black, center)
The moment the striped knit shirt switched from utilitarian object to fashion item is uncontested: It was in 1917, when Coco Chanel began selling seaman-inspired nautical tops out of her shop in Normandy. The French quickly fell in line (Brigitte Bardot), then Hollywood (James Dean in Rebel Without a Cause), and then, really, the whole world; Saint James, which has been making Bretons since 1858, has collaborated with everyone from Swedish graffiti artist André Saraiva to Japanese designer Junya Watanabe. In the past five years, no fewer than five stripes-only start-ups (some of whose shirts can be seen wrapped up and twisted above) have launched. And so we've thoroughly investigated the striped shirt, from the question of how well it sells at popular New York stores to the theory behind particular brands' versions to the stripes that sent the Connecticut blog world into a tizzy.
Dana Goodin, a Ph.D. candidate in fashion, explains the enduring obsession.
"The simple explanation is that it's a visually arresting pattern. But I think it's more complex. On the surface, stripes represent a kind of casual luxury, an idea of a moneyed summer, which, for a century, people have loved to subvert. They were popular in New Wave films, which we might think of as chic but was actually a time of social upheaval: All the old fashion houses were losing money because the new generation didn't have the money for them; the striped shirt, its uniform, was a rebellion against the Old Guard of dress. Then there's punk — Johnny Rotten of the Sex Pistols loved a striped top. And now, when we're experiencing economic pressure and there's a heightened focus on gaudy wealth, the popularity could be explained as a different rebellion, the freedom to be relaxed in dress."
Strategist writer Hilary Reid tested four tops from new stripe-specific start-ups.
La Ligne
The brand: Founded by former Vogue editors.
The stripes: 3/8-inch
The fit: The short-sleeved Seberg ($95) is boxy but not too large, and the crewneck gives it a camp-counselor vibe.
The verdict: It has a nice cut and is high-quality, but the price is also high. The kind of shirt you might pack for vacation when you want your nicest basics.
Entireworld
The brand: Started by Scott Sternberg — formerly of Band of Outsiders — Entireworld has a vibe that feels like a cross between Muji and Sesame Street.
The stripes: 5/16–inch
The fit: These ($45) fit like shrunken baby tees but in an I-left-it-in-the-dryer-too-long way, not in a flattering way. They're also extremely clingy in the hips.
The verdict: The fit just wasn't right.
Kule
The brand: Initially a luxury children's brand, Kule has since come to focus on stripes for women.
The stripes: From 3/16-inch to 5/16–inch
The fit: Very flattering. The shirts ($88) are boxy and oversize without being shapeless.
The verdict: The best of the batch. A pleasure to wear — soft and a cooler alternative to the slightly stale "French girl" aesthetic.
Mon Breton
The brand: "Authentic" French stripes made by French artisans in a factory in France.
The stripes: 5/16-inch
The fit: The fabric on this shirt ($73) is the stiffest of the ones I tried, which gives it a very secure (albeit almost itchy) feeling.
The verdict: Though it might take a while to break in, it looks sturdy and dignified on.
Over the course of three hours at the corner of Prince and Elizabeth Streets on a recent Tuesday afternoon, writer Kayla Levy spotted 94 striped shirts.
"I got this shirt in San Francisco on my last visit to the U.S. I like stripes because my wife wears them a lot." —Ameen Kamlana, doctor, London
 "Stripes, in my mind at least, are casual, classic, and striking." —David Bernier, studio assistant, Stuyvesant Heights
"I'm wearing this today because I'm going to the Bowery Mission, and the people there like it when I look spiffy, like in stripes, instead of not so spiffy in my grubbies." —Pauline Bethel, volunteer, Soho
J.Crew has been selling stripes — a lot of stripes — since the brand launched in 1983. "They tend to rank in the top three of our T-shirt sales," says Lisa Greenwald, J.Crew's CMO. But sometimes, she says, a surprise trend will emerge: like rainbow stripes, which recently began selling like crazy. Jen Mankins, the owner of the Brooklyn-based boutique Bird, has noticed something similar. "We've been seeing lots more colorful stripes, reminiscent of the '70s and the '90s. But no matter the style of the stripe, it'll sell." That stripes-centric businesses are doing so well right now makes sense too, according to retail strategist Georganne Bender. "In 2019, consumers like companies that have a niche, offer clothing with gender-neutral wares, and emphasize quality," she says. "Stripes check all those boxes. Plus, Americans are just perennially obsessed with the French."
5.
An
Obsessive's
Collection,
Annotated
1. Armor Lux MoMA: This was designed for the 2017 "Is Fashion Modern?" exhibit at MoMA. It was a limited edition, and I tracked it down when I started working at the museum. It is a classic Armor Lux, but it has this single red stripe on the left sleeve and a MoMA logo button on the bottom-right corner.
2. Agnes B.:  I stole that out of my mom's closet during college. She must have gotten it in the '90s. I remember her wearing it while she gardened. Agnès B. shirts can withstand a lot; they're fantastic.
3. Uniqlo U: This one is from Christophe Lemaire's first Uniqlo U collection. I love how starchy it is — it's extremely structured. Kind of like wearing a box.
4. Edith A. Miller: I got this one from a Steven Alan sample sale four or five years ago. It's ribbed and fits super-close to the body, which is a great, great look. I love it tucked into a pair of jeans that make your butt look really good.
5. Saint James: This one has three-quarter sleeves, and is so feminine. The colors are saturated enough, and interesting enough, that I feel like I can wear it casually or dress it up and wear it to work with a white tennis skirt, which I guess is very American-flag-esque.
6. Uniqlo: I actually have two long-sleeved Uniqlos. They were on sale and reminded me of the L.L. Bean shirts my mom used to order from a catalogue. They're faded but look authentically faded.
7. Vince: I got this at a yard sale and now wear it to shop yard sales with my mom on Long Island. I leave it at her house there.
8. Tagless: I got it at an Army-Navy store, and it's just perfect — the quintessential artist's shirt. It's extremely simple, Jean Seberg–ish, boyish, but still very feminine. It looks great with a red lipstick, it's supercomfortable, and it's made of this perfect worn, thick cotton. The stripe is entirely uninterrupted and goes all the way up to the neck.
9. Giuseppe: That one is a Salvation Army find, the one near Skidmore, my alma mater. The colors remind me of my grandmother's Florida condo.
10. J.Galt: I actually bought this at Brandy Melville. It's like equal parts elastic, viscose, and cotton, so it literally bounces off your skin. It has that fake-vintage look the teens love. I got it my first year out of college and now just wear it to sleep. It's a good sleeping shirt because it's comfortable and makes your breasts look great.
11. Armor Lux: It's the classic striped tee, a foundational piece in my collection.
6.
The
Past
Decade
in
Stripes
2009: Marimekko collaborates with Comme des Garçons to create a striped shirt.
2010: The striped shirt is all over the spring runways, from Acne to Stella McCartney, whose Bretons are adorned with appliqué flowers.
2013: Popular fashion blogger Nicole Warne posts about her giant collection of Bretons.
2016: Kate Middleton poses for British Vogue's 100th anniversary in her first-ever magazine shoot; she wears a blue-and-red-striped shirt by Petit Bateau.
2018:  A vertical-striped men's shirt goes viral — it is first seen on Antoni from Queer Eye and eventually gets its own Instagram account: @thatstripedshirt.
2019: Jean Paul Gaultier, noted stripes obsessive, reissues his famous Le Male fragrance, whose bottle resembles a male torso clad in a striped shirt, in collaboration with Supreme. The new version looks similar, except the striped shirt has a Supreme logo printed across the chest.
Two designers talk theories behind their stripes.
"Our classic shirt has been the same since we started in the late '80s. It's meant to pay homage to the seafarers and sailors from the north of France. The merchant seamen who wore Breton shirts along the Atlantic coast wore them so they could be easily identified in water. Ours is nearly exactly like theirs: Twenty-one blue stripes, one for each of Napoleon's victories. Our stripes are one inch apart, unlike the original Bretons', which are 0.8 inch apart — there's no real reason why; we just liked the look of a slightly more prominent stripe." —Rachel Walker, owner of the Breton Shirt Company
"Our initial striped tees were classic marinière shirts—boat neck, stripes just over an inch apart — inspired by the mood of the one worn by Picasso in that famous picture. Next season, we're doing a shirt with very thin stripes; the blue is about half a centimeter, and the white is one. The idea was to make something that looked natural and plain, that doesn't have anything so special about it." —Judith Touitou, artistic director of A.P.C.
8.
The
Real-Estate
Lawyer
Who
Started
a
Mommy-and-Me
Stripes
Brand
Karen Feldman launched the Striped Sheep out of her New York apartment late in 2018.
"I am a mom of three boys, and I was looking to do something more interesting than mortgage loaning. I loved dressing my boys in stripes and also noticed that there were no mommy-and-me companies for boy moms. So I decided I'd create one. A few months in, Tuckernuck, which is like a Shopbop for preppy people, was considering buying my shirts and ripped me off instead. I wrote about it on Instagram, and the preppy Connecticut blog world went crazy. Tuckernuck took down the shirt. Within four days, my shirt had sold out completely, and I had a wait list of 1,200 people. People love them. I'm seeing tons of boy moms say, 'Woo-hoo! I can finally match with my littles.' "
According to Corinna Williams, the co-founder of Williamsburg laundromat Celsious.
"They're a tricky piece of laundry because they tend to be a mix of white and (in most cases) a darker (red, navy, or black) color. In order to preserve the color of the stripes, you want to make sure to always machine-wash in cold. If your machine allows you to add an extra rinse, do it to get rid of any potential residue that might dull the color stripes. To boost the rinse, add some white vinegar to the fabric-softener compartment. It'll keep the white white and the colors superbright."
*This article appears in the September 16, 2019, issue of New York Magazine. Subscribe Now!
The Strategist is designed to surface the most useful, expert recommendations for things to buy across the vast e-commerce landscape. Some of our latest conquests include the best acne treatments, rolling luggage, pillows for side sleepers, natural anxiety remedies, and bath towels. We update links when possible, but note that deals can expire and all prices are subject to change.