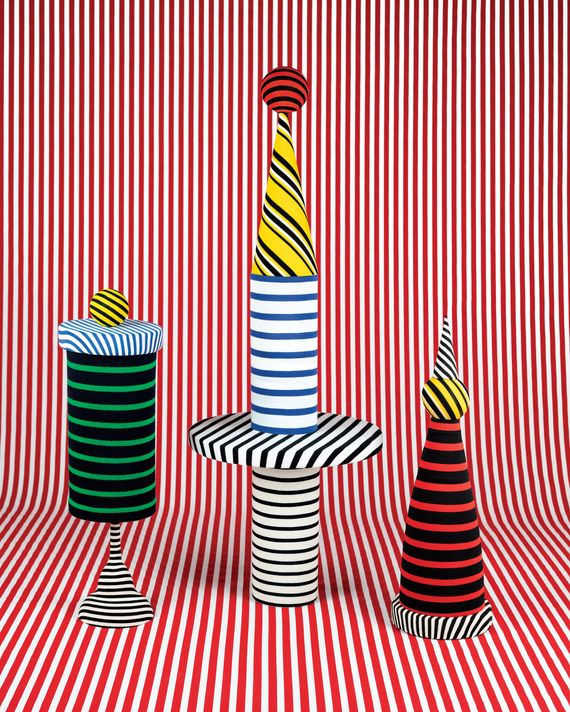 Photo: Bubi Canal. Pictured: Entireworld (navy and green, left); La Ligne (white and blue, center; black and red, right); Kule (white and black, center)
The moment the striped knit shirt switched from utilitarian object to fashion item is uncontested: It was in 1917, when Coco Chanel began selling seaman-inspired nautical tops out of her shop in Normandy. The French quickly fell in line (Brigitte Bardot), then Hollywood (James Dean in Rebel Without a Cause), and then, really, the whole world; Saint James, which has been making Bretons since 1858, has collaborated with everyone from Swedish graffiti artist André Saraiva to Japanese designer Junya Watanabe. In the past five years, no fewer than five stripes-only start-ups (some of whose shirts can be seen wrapped up and twisted above) have launched. And so we've thoroughly investigated the striped shirt, from the question of how well it sells at popular New York stores to the theory behind particular brands' versions to the stripes that sent the Connecticut blog world into a tizzy.
Dana Goodin, a Ph.D. candidate in fashion, explains the enduring obsession.
"The simple explanation is that it's a visually arresting pattern. But I think it's more complex. On the surface, stripes represent a kind of casual luxury, an idea of a moneyed summer, which, for a century, people have loved to subvert. They were popular in New Wave films, which we might think of as chic but was actually a time of social upheaval: All the old fashion houses were losing money because the new generation didn't have the money for them; the striped shirt, its uniform, was a rebellion against the Old Guard of dress. Then there's punk — Johnny Rotten of the Sex Pistols loved a striped top. And now, when we're experiencing economic pressure and there's a heightened focus on gaudy wealth, the popularity could be explained as a different rebellion, the freedom to be relaxed in dress."
Strategist writer Hilary Reid tested four tops from new stripe-specific start-ups.
La Ligne
The brand: Founded by former Vogue editors.
The stripes: 3/8-inch
The fit: The short-sleeved Seberg ($95) is boxy but not too large, and the crewneck gives it a camp-counselor vibe.
The verdict: It has a nice cut and is high-quality, but the price is also high. The kind of shirt you might pack for vacation when you want your nicest basics.
Entireworld