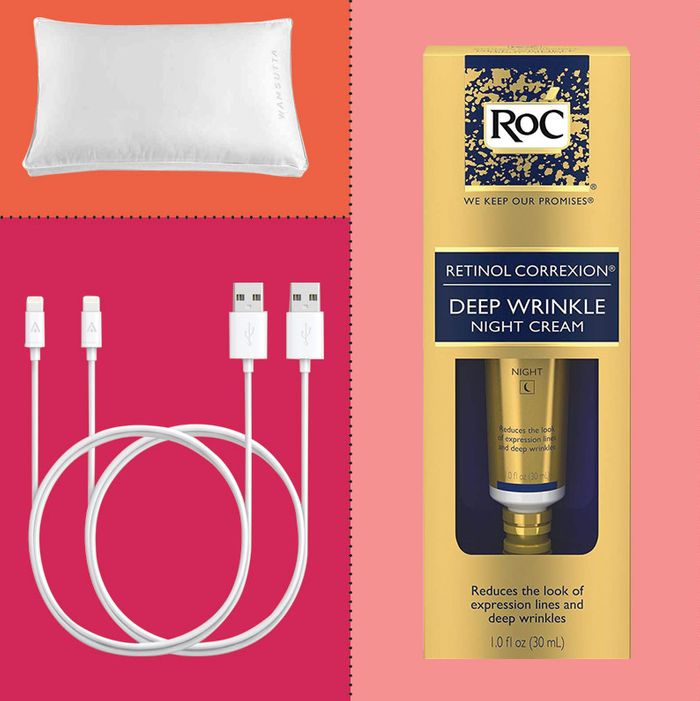 Photo: Courtesy of the retailers
Welcome back to Your Shopping Cart, wherein we break out the top ten products that you, devoted Strategist readers, all bought in droves. Think of this as the tl;dr of the Strategist: If your like-minded brethren are buying these items, maybe you'd like to, too.
For the second time in a row, this dentist-recommended electric toothbrush takes the top spot. Our second-place finisher, though, is a blast from the past: a scalp-massaging brush last seen on our list two years ago. Next up is a set of colorful bath toys in third place, followed by an iPhone-charging lightning cable in fourth and an interactive board book for toddlers rounding out the top five. Our only newcomer this week, a wrinkle cream beloved by dermatologists, debuts in sixth place, and two recurring picks pop up in seventh and eighth: Strategist beauty writer Rio Viera-Newton's favorite K-beauty sunscreen and a fancy lube. Thanks to a big Dermstore sale last month, these pimple patches, which have been off the list since last November, return in ninth place. Finally, a perennial favorite pillow for side sleepers closes out the list in tenth.
Making its sixth appearance on our list, this electric toothbrush is the top pick among dentists, as we discovered during Teeth Week earlier this summer. The pros like that it both rotates and oscillates (i.e., vibrates) — 44,000 times per minute — to clean teeth and remove plaque and that its round brush head can make contact with all sides of the teeth. It's clear that Strategist readers care about their pearly whites: This is its second consecutive first-place finish.
This (very cheap) rubber brush was the only thing that helped writer Alison Freer get rid of her "turbocharged" dandruff. "Its flexible vinyl bristles give just the right amount of scrubbing pressure without scraping or scratching your head," says Freer. "It works to break up any stubborn dandruff flakes and gets my scalp cleaner than my hands alone ever possibly could." Plus, it feels like a scalp massage.
Up a bit from last time's fifth-place finish, these fun bath toys enter the top three this week. For the uninitiated, the pipe toys attach by suction to the side of the bathtub and have different moving parts that little ones can activate in the water. The set came recommended by child-development expert Sarah MacLaughlin as a perfect gift for a 1-year-old. "The idea that there are moving parts goes right along with that curiosity of the in, out, up, and down," says MacLaughlin. "Moving parts are pretty attractive to a 1-year-old, which is why you'll find them going after everything in your home that's not a toy."