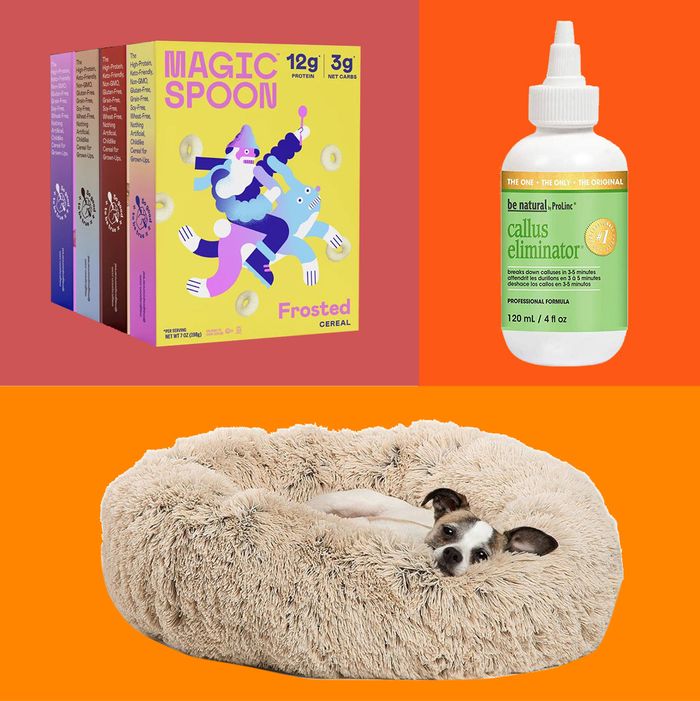 Photo: Courtesy of the retailers
Welcome back to Your Shopping Cart, wherein we break out the top ten products that you, devoted Strategist readers, all bought in droves. Think of this as the tl;dr of the Strategist: If your like-minded brethren are buying these items, maybe you'd like to, too.
In this edition of the list, we have a healthy mix of returning champs, old favorites, and newcomers. This dentist-recommended electric toothbrush holds down the top spot for the third consecutive time, while our second-place finisher, a travel neck pillow, makes its debut. Another new product, a cozy dog bed, rounds out the top three. Next up are two picks for little ones that have been enjoying a good run on the list: a set of colorful bath toys in fourth and an interactive board book for toddlers in fifth. A wrinkle cream beloved by dermatologists finishes in sixth for the second time in a row. A callus eliminator last seen on the list two years ago returns in seventh, followed by a low-carb cereal (a number-one best seller back in June) in eighth. Our ninth-place finisher is a perennial favorite pillow for side-sleepers, and a hair oil recommended by Strategist beauty writer Rio Viera-Newton closes out the list at number ten.
Is there anyone who doesn't love this electric toothbrush that's a favorite of both dentists and users? The pros like that it both rotates and oscillates (vibrates) to clean teeth and remove plaque, and one Amazon reviewer raves: "This toothbrush leaves my teeth feeling like they've been power-washed." Our readers are certainly fans. It's appeared on our list seven times now, and this week marks its third first-place finish.
Although we discovered this travel pillow back in 2017, this is its first time on our best-seller list. Former Strategist senior writer Lauren Levy described it as "essentially a padded scarf, taking up the same amount of space as a couple of magazines." Hidden underneath a layer of cozy fleece are three interconnected bands that you can position to cradle your head on either shoulder. Velcro straps make it adjustable for a just-right fit. Novelist Celeste Ng also told us it's the only thing that helps her sleep on planes. Why the surge in interest now? We suspect it was due to a big sale earlier this month.
As Strategist writer Liza Corsillo learned during her research into the best dog beds, different breeds have different needs. For small pups, though, this shaggy faux-fur bed is one of the best options. Certified professional animal behaviorist Jessica Gore says, "It's great for warm snuggling and cuddling and provides just enough support and security for smaller body types." Amazon reviewers agree, with more than 1,000 reviewers awarding it five stars and describing how soft it is and how much their dogs love it.