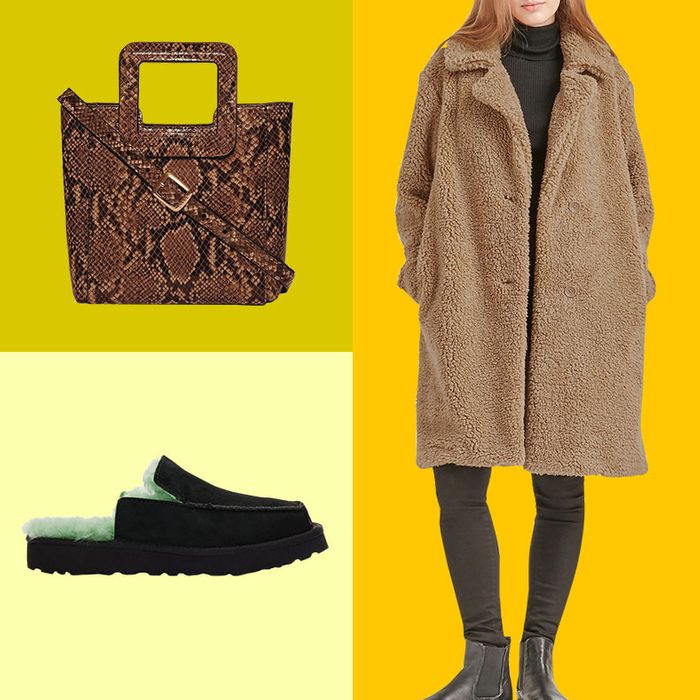 Photo: Courtesy of the vendors
A few years ago, we talked to an expert at trend-forecasting agency WGSN about the best gifts to buy ahead of the Black Friday/Cyber Monday rush. The suggestions we received back then were so spot-on that we've since drilled even further into that topic, talking to forecasters in various categories to find out what kids' toys and things for women, men, and tech junkies they think will sell out during the holiday season. To find out what will be the most popular gifts for stylish women this year, we spoke to Melissa Moylan, vice-president and creative director of womenswear at trend-forecasting agency Fashion Snoops; Hallie Spradlin, the accessories director at Fashion Snoops; and Sidney Morgan-Petro, a senior retail editor at WGSN. Read on for everything they say to buy the stylish woman in your life now, before it's too late.
Sloungewear
"We've been talking about 'sloungewear,'" says Morgan-Petro, explaining that the term refers to clothes that are "like a sleepwear-loungewear [hybrid] but still smart enough to run around in — you can look at it also as the evolution of athleisure." She names Aday and Lunya as examples of sloungewear brands that will be popular this season. We were very impressed when we tested Lunya's silk pajamas, and when we asked Teen Vogue fashion and beauty-features director Tahirah Hairston about her favorite white button-down shirt, she named the brand's linen set as perfect to wear when rolling out of bed and going to brunch — something that sounds very sloungewear to us.
Morgan-Petro also told us to look out for what WGSN has dubbed "two-mile wear" this season. Similar to the Japanese concept of "one-mile wear" — comfortable clothing you would wear in a one-mile radius of your home — two-mile wear refers to lounge clothes that have a slightly more professional bent, or, as Morgan-Petro puts it, "for that person who's working from home but it's still rooted in comfort." She describes this category of clothing as something that "focuses on the comfort of home but is smart enough that you could run errands outside and go to the grocery store and wouldn't be embarrassed to run into somebody." One example would be a hybrid slipper-shoe, like one from UGG's collaboration with Eckhaus Latta. "When they first came out, UGGs were so popular that we didn't know they'd still be going so strong in 2019," says Morgan-Petro. "It's one of those things where if you look back at the early 2000s, with Ed Hardy and Von Dutch, UGGs are really the only ones that have evolved."
Coats
"In times like these, we could all use a real-life security blanket," Moylan says. "Behold the Teddy Coat." Following the popularity of Max Mara's shearling Teddy Icon coat last year, even more jackets with the soft silhouette are out there this holiday season, she explains. "We're going to see a lot more of the Teddy this winter in popular neutrals like camel, while Max Mara's bright new colors like cerulean blue will make waves among the fashion flock." If the Max Mara is out of your budget, Moylan notes the good news is that "virtually every brand out there is doing their own take on it," including Uniqlo, whose Teddy Coat will get you in on the trend while it's still hot for a not-unreasonable $50.
If the woman you're shopping for has a sportier style, Morgan-Petro says that "packable puffers" and fashion puffers are having a moment. "With the increase in people doing more experiential gifts" like trips to Iceland or Alaskan cruises, she says that packable puffers "that work with those experiences are definitely helpful." Morgan-Petro told us that brands like Moncler are considering how to make the puffer into a more fashionable silhouette, and suggests looking to Moncler's Genius line for some puffers that fit the bill. (For some more affordable options, click on over to our roundup of cool puffer coats under $180.)
For something lighter-weight, Moylan suggests this Sherpa-lined denim jacket from Levi's. "Because gifting (or perhaps pulling off) mom jeans isn't easy, opt for a jean jacket instead," she says. Moylan notes that this jacket taps into the '90s-throwback looks that are popular with teens, and also nods to the oversized jean jackets currently sold by Balenciaga. "We're seeing oversized jean jackets trend in a big way at Balenciaga, but there's nothing quite like the original," Moylan says. "Levi's ex-boyfriend style works in a relaxed silhouette with the addition of Sherpa lining for winter."
Sustainable clothing
Moylan says that in addition to being extremely cozy, this turtleneck from Everlane "taps into sustainability with recycled cashmere that cuts the carbon footprint in half compared to traditional cashmere sweaters." It falls into a larger trend of "sweater dressing," according to Moylan, who told us that "luxury brands like Loro Piana make the case for never leaving the couch with coordinated knit sets, while slightly oversized turtlenecks are intended to be worn out."
While "today's power woman loves a suit," Moylan notes it's easier to gift a classic blazer, like this sleek one from Theory — which is also made with sustainability in mind. "Theory's long blazer offers a flattering tailored fit without going into '80s-shoulder-pad territory," she told us, noting that this is made from "responsibly milled Good Wool." As for how to wear the blazer, she says "it pairs well with slim or cropped pants and looks sharp layered over knits or sweaters," adding that "both jewel and soft tones are a great look for the holidays."
Lingerie