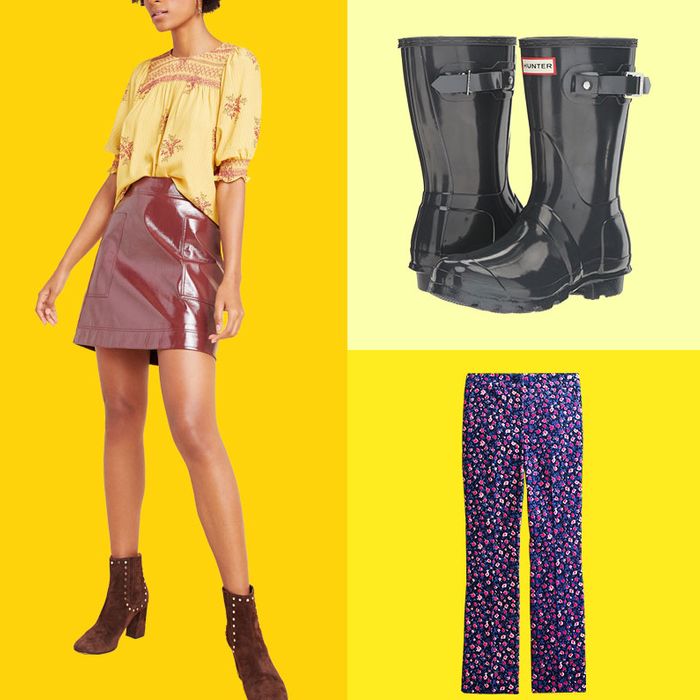 Photo: Courtesy of the vendors
This week's look into the best sales the internet has to offer includes everything from a Pendleton quilt to a (too early in our opinion) "Black Friday" deal to some 65 percent off Dries Van Noten from Barneys.
It's lounging-around-the-house season and luckily these Tommy John joggers in a lovely shade of "fired brick" are 40 percent off.
It's rare to find a non-silky leopard-print button-down. (This one's cotton.)
If you've been interested in the "belt bag" trend, this 50 percent off Rebecca Minkoff one is an elegant bag to start with.
Over at Anthropologie, all sale items are an extra 40 percent off, which means this slouchy red jacket (available in plus sizes) is just 60 bucks.
These mustard-colored cargo pants are from L.A.-based brand J.O.A.
A little tie-dye number from Michael Stars.
This faux-patent leather skirt would look great with some black tights and a turt.
Who knew Lululemon made raincoats? It's quite sleek and it also comes in green.
A "rugged" Pendleton jacket perfect for fall.
This Pendleton coverlet set is (somewhat weirdly) meant for kids, but would obviously look great in a grown-up room.
Some (62 percent off!) Calvins in a non-weird color (black).