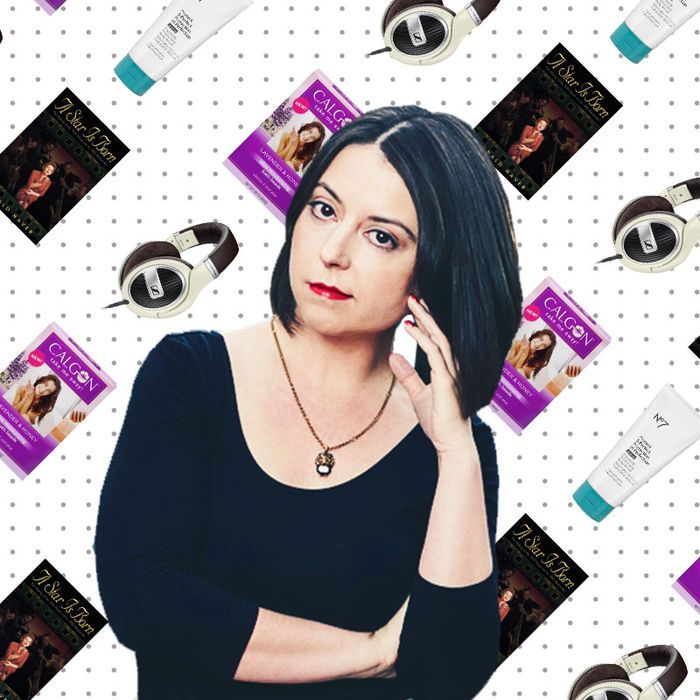 If you're like us, you've probably wondered what famous people add to their carts. Not the JAR brooch and Louis XV chair, but the hand sanitizer and the electric toothbrush. We asked Karina Longworth — film historian and host of the podcast You Must Remember This, which just returned for a new season — about the podcasting headphones, disposable cameras, and '80s-era bath beads she can't live without.
These are the headphones I used for podcasting. I bought them in 2014 after I had done ten episodes of You Must Remember This and I decided I wanted to get serious about doing podcasting as a job. I wasn't making any money off of the podcast yet, and this seemed like a huge expense, but it was kind of a way to show my commitment to doing this. I have the same pair five years later. My ears are really small and most headphones kind of crush them. These are padded with velvet and are really comfortable and sound quality is just incredible. Every other headphone is incredibly uncomfortable compared to these for me. I actually just bought a new pair to listen to music with.
My husband thinks this is the most hilarious thing I bring into our home. He grew up seeing those famous Calgon commercials and just thought of it as a brand old ladies were into in the '80s. But it still exists, in a box that says "Take Me Away," and I buy it regularly. We have a really great bathtub and I take baths to relax all the time. I'm always looking for stuff to use in the bath that isn't too expensive. I've tried other things, but I keep coming back to those Calgon bath beads.
The black-and-white photos these cameras take are so flattering. I just — I don't have the best face for HD, and whenever someone takes a candid photo of me on their phone it's never that exciting. The photos this camera takes are the perfect soft-focus, low-resolution images that don't ever need retouching. I'll buy them for parties — I had them at my book party last year, and then when my husband and I got married, we had done the legal ceremony beforehand but had a big party for our friends, and instead of spending money to hire a photographer we gave a ton of these cameras out to our guests and told them to take pictures all night long. The pictures are great. You have to use the flash if it's dark out, and a lot of our guests — even though we reminded them — were drunk and did not, but we still got so many great photos.
I have really sensitive skin that reacts to the sun and heat, and I also have eczema. This means I often get rashes and weird dry spots on my arms and legs. I discovered this cream when I was living in London — where they have Boots on every corner. I've found that this is the only thing that always works no matter what weird skin condition I have. I always take it with me when I travel, when my skin tends to get the most irritated.
After Bite had an old-school formula that I used — it was like ammonia in a pen — but they reformulated it. I actually did a side-by-side comparison: I put the old version on one leg and the new version on the other — both legs had bites. The new one, which is less harsh, actually cleared it up better.
I have chronic shoulder pain, which doctors have told me is basically because of my "lifestyle," sitting at a computer — one doctor even told me I needed to sleep on the floor. There's only so much you can do to change your lifestyle without completely giving your life over to this. I box and do Pilates regularly and can only work out if I use this stuff. I rub it on my shoulders before a workout. It smells like menthol though it doesn't smell as toxic as Icy Hot, but feels really cold and numbing.
I've been using this a lot lately. It sort of smells like smoky lavender. I'm working on seven projects and am really stressed all the time, and I've found myself craving to smell like this thing. It's made in Los Angeles, close to where I live; my friend Rachel Syme wrote about it in her perfume newsletter which is I think how I found out about it.
This was the first book that got me excited about film history, and the only book that I still have after moving cross-country multiple times. Reading this, I realized that being a film historian was something I could do for a living, and inspired me to apply to grad school. I was already a fan of Judy Garland and knew A Star Is Born, but this book gets into how the production was mishandled. The original cut was three hours long, they put it in movie theaters, and without the director's permission, took it out, cut 40 minutes from it, put it back in, and lost the 40 minutes they cut. In 1983, Ronald Haver, who wrote the book, and at the time was the director of film programs at LACMA, tried to reconstruct the film and went on a hunt for the footage. For me, this is my true crime.
This is a multipart documentary series made in the early '80s, directed by Kevin Brownlow and David Gill. What they did is they went to old-age homes and interviewed all the people who worked in silent films and got interviews with them before they died. It's narrated by James Mason and really brings silent films to life. For a long time it was unavailable — I had seen a bootleg version of it. Now it's on Amazon Prime; these rights change all the time so people should watch it know. It's particularly good for those who have little or no knowledge of silent film — every episode is about a theme or aspect of the business or a star. There's a whole episode about stunts; people were literally dying to make movies in this unregulated time.
This is a record that's been with me for a long time. When I was a teen in the '90s I was really into Sonic Youth and The Breeders. Those bands haven't really gotten the benefit of our '90s revival in pop culture. This record was super important to me as a 12-year-old and it still bangs.
I loved FilmStruck, TCM's streaming service that shut down, and now I subscribe to the Criterion Channel app. It's not just Criterion movies; they made deals with film libraries and they have tons of classic movies. Like, right now they have 20 pre-code Barbara Stanwyck films that aren't easy to see anywhere else. Whenever I have some free time and want to watch something, the first place I go is the Criterion app.
I'm a really big Dodgers fan — our season didn't end so well. Basically between March and October of every year, I'm following baseball pretty much constantly. I travel a lot, and spend a lot of time in Europe, so with this app, I can watch Dodgers games on my iPad in my hotel room in the middle of the night.
The Strategist is designed to surface the most useful, expert recommendations for things to buy across the vast e-commerce landscape. Some of our latest conquests include the best acne treatments, rolling luggage, pillows for side sleepers, natural anxiety remedies, and bath towels. We update links when possible, but note that deals can expire and all prices are subject to change.