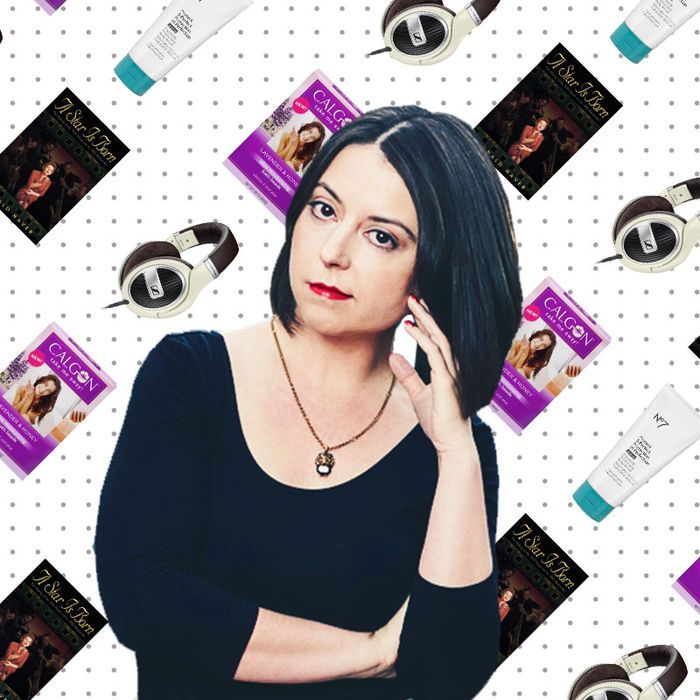 If you're like us, you've probably wondered what famous people add to their carts. Not the JAR brooch and Louis XV chair, but the hand sanitizer and the electric toothbrush. We asked Karina Longworth — film historian and host of the podcast You Must Remember This, which just returned for a new season — about the podcasting headphones, disposable cameras, and '80s-era bath beads she can't live without.
These are the headphones I used for podcasting. I bought them in 2014 after I had done ten episodes of You Must Remember This and I decided I wanted to get serious about doing podcasting as a job. I wasn't making any money off of the podcast yet, and this seemed like a huge expense, but it was kind of a way to show my commitment to doing this. I have the same pair five years later. My ears are really small and most headphones kind of crush them. These are padded with velvet and are really comfortable and sound quality is just incredible. Every other headphone is incredibly uncomfortable compared to these for me. I actually just bought a new pair to listen to music with.
My husband thinks this is the most hilarious thing I bring into our home. He grew up seeing those famous Calgon commercials and just thought of it as a brand old ladies were into in the '80s. But it still exists, in a box that says "Take Me Away," and I buy it regularly. We have a really great bathtub and I take baths to relax all the time. I'm always looking for stuff to use in the bath that isn't too expensive. I've tried other things, but I keep coming back to those Calgon bath beads.
The black-and-white photos these cameras take are so flattering. I just — I don't have the best face for HD, and whenever someone takes a candid photo of me on their phone it's never that exciting. The photos this camera takes are the perfect soft-focus, low-resolution images that don't ever need retouching. I'll buy them for parties — I had them at my book party last year, and then when my husband and I got married, we had done the legal ceremony beforehand but had a big party for our friends, and instead of spending money to hire a photographer we gave a ton of these cameras out to our guests and told them to take pictures all night long. The pictures are great. You have to use the flash if it's dark out, and a lot of our guests — even though we reminded them — were drunk and did not, but we still got so many great photos.