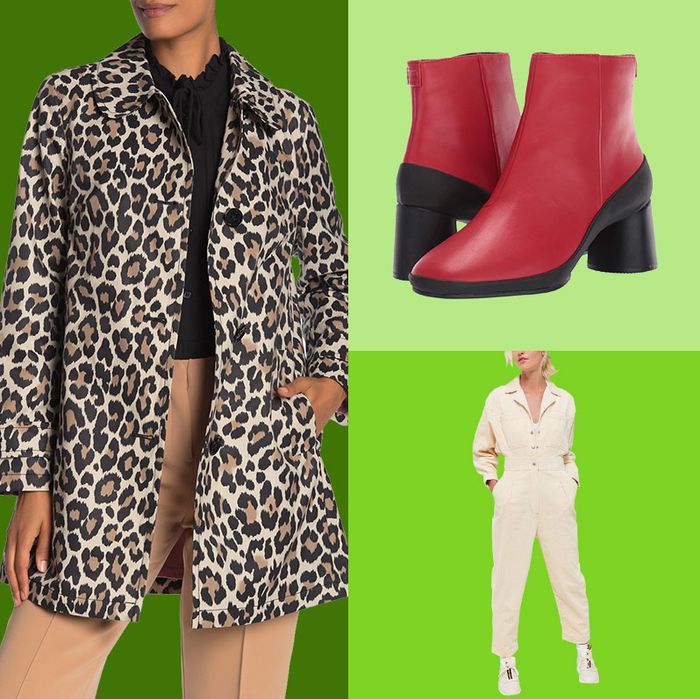 Photo: Courtesy of the vendors
This week's deep dive into the internet's collective sales bins includes a cozy corduroy jumpsuit, some very bold boots, a jaunty neon-green clutch, and a half-off Samsung 4K TV.
This, the second iteration of Ashley Graham's lip kit for Revlon, appeared in a Don't Dillydally back in April. We guess it didn't sell out … and now it's only $7.
Some party loafers from Everlane.
This Everlane cashmere crew neck, last we wrote about it, was $70. Now it's been dropped ten dollars.
Some one-size-fits-most "supersoft and comfy" boy short underwear that are also available in two shades of pink.
If you have any weddings, say, on the horizon, this neon-green clutch would look very cool paired with a black dress.
We actually own this tea kettle, and like a chump paid full price for it!
Some nice cut-off sweatpants from Free People.
A va-va-voom sheath dress from Wolford.
A slick leopard-print trench coat that apparently runs small.
We wrote about this classic pump yesterday as a Deal of the Day, and it's still on sale, and there are still a lot of sizes left.
Amazon just rolled out a bunch of holiday deals (!) including a 23andMe kit that's usually $100.