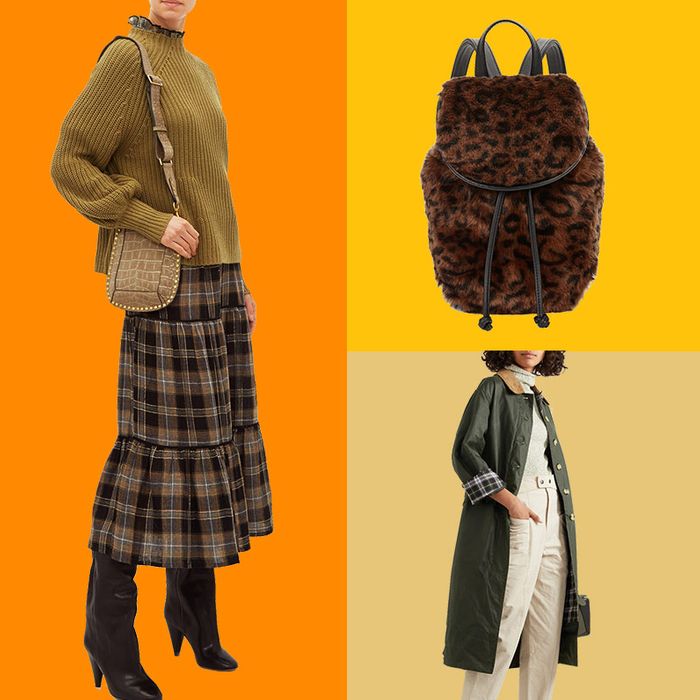 Photo: Courtesy of retailers.
Hoo boy: Black Friday is exactly a week away and we are already completely overwhelmed by the already excellent sales bombarding us. Below, the best of the best of the current sales; we've paid special attention to items that would make good gifts.
So the Net-a-Porter sale (which we think is its Black Friday sale more or less) is really great at the moment, and at press time at least, there's still quite a bit of stock left, so we are going to spend a little time surfacing some gems if that's all right. We are officially Veja-sale watchers these days, and this is a good price for these cheerful green ones.
These Sorel winter boots have a faux-fur "collar" and a sneakerlike sole.
We read somewhere that 2019 was the "year of the Continental," and there's still over a month left to get on it.
It's very rare to see RE/DONE jeans for 50 percent off.
Which is why we're throwing this pair into the mix as well.
Oh, and these as well, which have been targeting us on Instagram.
We've been coveting this Barbour + Alexa Chung jacket since it was released, and it's now inching somewhere toward a vaguely more realistic purchase.
A more approachable jacket — a slouchy number from Ganni.
Nice gift alert! The first in this roundup (there'll be more).
Pair this with some black tights and some shiny shoes and you have yourself a holiday party outfit.
Another excellent gift; we've written about the joys of the Le Labo solid perfume before.
So we covered a few Coach items in last week's sales roundup, but we realized that we merely skimmed the surface of the 30 percent off sale. This coin case would be a great gift for a sister-in-law type.
Crocodile-embossed is our new favorite type of leather.
These sweatpants are a little more elevated than your standard.
Now, a few things from roundups we've written about this week (so many sales!) that you may have missed. Brooklinen launched its Black Friday sale yesterday, and its classic duvet cover is now $87.
We noticed that a bunch of Backpacks were very discounted over at Backcountry — like this Patagonia daypack.
And these color-blocked Live the Process leggings.
Yes, Walmart has a ton of Black Friday deals up already (we've been tracking them here), but there are also some non-B.F. deals afoot, like this li'l leopard backpack from Scoop that's a good gift for a teen type.
And these combat boots (which have a fun, red ribbony pull tab in the back) do not look like they cost $28.
The Matches Fashion sale launched this week, and like with Net-a-Porter, we want to devote some time to it. Well, wouldn't you know it, another pair of Vejas.