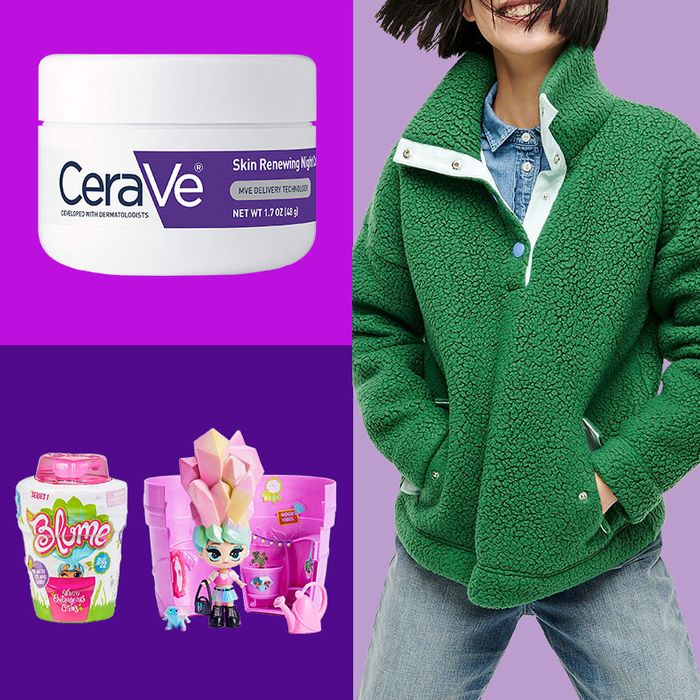 Photo: Courtesy of the vendors
Welcome back to Your Shopping Cart, wherein we break out the top ten products that you, devoted Strategist readers, all bought in droves. Think of this as the tl;dr of the Strategist: If your like-minded brethren are buying these items, maybe you'd like to, too.
After five consecutive first-place finishes, a beloved dentist-approved electric toothbrush gets bumped to second place by an adjustable memory-foam pillow that's a favorite of both Amazon reviewers and Strategist writers. Next up are two CeraVe moisturizers — a gentle everyday lotion in third and a rich night cream in fourth — that have both been on the list for a few weeks now as we settle into colder (read: drier) temps. Our fifth-place product, making its debut this week, is a "blooming" doll that experts predict will be the hottest toy this holiday season. Two more skincare products, a surprisingly effective wrinkle cream and an affordable vitamin C serum, remain on the list in sixth and seventh place respectively. A popular plush dog bed drops to eighth place from seventh this time around, while our perennial favorite pillow for side-sleepers falls from fifth to ninth. Finally, we recommend acting fast if you want to pick up our tenth place finisher: a cozy (and on-sale) fleece that we're pretty sure will sell out soon.
First seen on our best seller list in July of last year (after former Strategist writer Lori Keong raved that "it's adaptable enough to auto-adjust to my sleep positions, evenly supporting my head no matter how I'm angled"), this adjustable memory foam pillow returns after a lengthy hiatus. The pillow also has 12,000 five-star reviews on Amazon, with one happy customer calling it "the holy grail of pillows."
This electric toothbrush is a favorite of dentists, Amazon reviewers, and, clearly, our readers, as it's been on our list ten consecutive times (including five weeks in the top spot). The pros like that it both rotates and oscillates (vibrates) to clean teeth and remove plaque, and one reviewer raves: "This toothbrush leaves my teeth feeling like they've been power-washed."
Now that the weather is getting colder, it makes sense that lots of you are stocking up on this thick cream (which can be used on both face and body) that dermatologists recommend for dry skin. Derms also like it for mature skin, or anyone dealing with the drying effects of taking Accutane. The experts say it replenishes ceramides, natural lipids that are often missing in dry skin. It's also "fragrance-free, so it is suitable for those with sensitive skin and doesn't feel greasy," as well as budget-friendly. It remains in the top three after slipping a bit from a second-place finish last time.
Another CeraVe pick, this moisturizer that's rich in ceramides and hydrating hyaluronic acid was rated the best-overall night cream when we polled dermatologists. "This is an excellent moisturizer for when the weather starts getting cold and your skin starts losing more moisture," according to one doctor we spoke with. Others say it's just as effective as much more expensive creams.
While last year's hottest holiday gift for kids was Hatchimals, trend forecasters are confident that this year it's going to be all about the Skyrocket Blume Dolls. Adrienne Appell, senior director of communications at the Toy Association, says the doll — which starts out looking like a potted plant and come with a little watering can — is a new take on the "surprise toy" trend, in that you don't know which style doll you're going to get until you open it. Appell explains "the hair of the doll is made of slow-rise foam, and when you water the 'plant' it looks as if your doll is blooming from the pot."