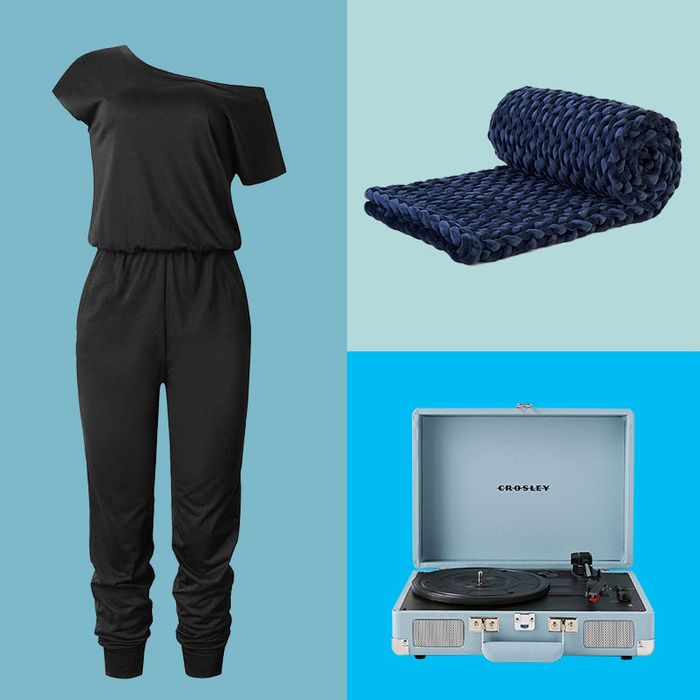 Photo: Courtesy of the retailers
We write about hundreds of products a week. Here, in our version of the Sunday Circular, we've plucked out some of our favorites — expert-recommended essentials, life-changing stuff you didn't know you needed, newly launched gizmos, and the very good deals we uncovered while trolling through the vast online-shopping universe this past week.
Judy Collins's favorite purple pens
"I think mine bring me luck," the singer-songwriter said of this specific shade of Pilot pen. "Purple is a very spiritual color, they say. So these purple pens are with me always." They're one of ten things Collins can't live without, which also include some coffee beans she loves so much that she took them with her on a visit to the Clinton White House — where, after an unfortunate spill, she wound up "on my knees in the middle of the night in the Lincoln Bedroom's bathroom, cleaning up the coffee off the floor."
A dusty-blue Bluetooth record player
Some glasses for the SAD days ahead
Not sad like you didn't get the gift you wanted, SAD like Seasonal Affective Disorder. According to Dr. William Redd, professor at the Icahn School of Medicine at Mount Sinai, these light-therapy glasses make a worthy alternative to lamps for treating mood changes that come with shorter days. "The light source is adjusted" to account for being so close to eyes, he explains, and unlike with lamps, the glasses mean you don't need to worry about having a properly sized light shining on you at the correct angle.
Amazon U.K.'s (really good) in-house label
A Chris Black-approved bottle opener
When we spoke to beer folk to compile our list of the best gifts for beer lovers, they said a good bottle opener is never a bad idea. Of all the good bottle openers that appear on the list, this is the only one that doubles as a belt — and not just any belt, but one with some big "I played a side stage at Lollapalooza in 1993" energy, according to our Resident Cool Guy.
A (kind of) Chris Black-approved backpack
Some (kind of) Kindercore earrings
A year-in-the-making baking sheet
A cute little vacuum
A smart little vacuum
"I HAVE NOT VACUUMED FOR A MONTH AND MY HOUSE IS SPOTLESS," wrote (shouted?) one reviewer after siccing this robot vacuum on their floors. The iLife took the title of "best (less expensive) robot vacuum" on our list of the top-rated models from Amazon. It's some $60 less than the Roomba we named "best entry-level vacuum," but the price isn't the only thing the iLife has on a Roomba. According to another reviewer, "It made it up and over the small ledge between the hallway and bathroom that the ol' Roomba just wouldn't or couldn't."
A foolproof eyeliner for the trembly