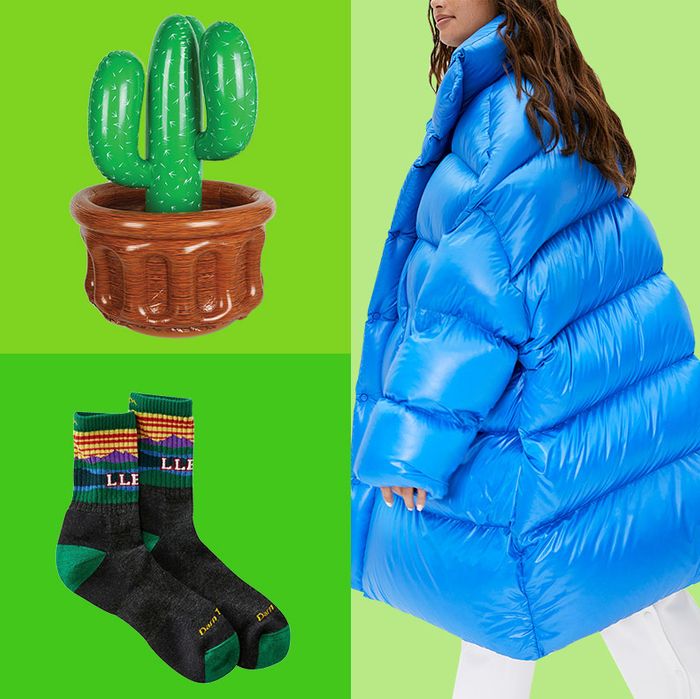 Photo: Courtesy of the vendors
If you follow our biweekly feature Your Shopping Cart, you know that we have some eerily good intel on what you all are buying. Which led us to think that, as Strategist editors, we could turn the tables and highlight all the things we've been buying for ourselves. As you'll notice, it's both a blessing and a curse to be a Strategist editor; we're picky, but sometimes we just have to get on with it. (It's online-shopping expertise meets IRL needs.) Below, what we all bought in November.
David Notis, writer
I bought a set of Brooklinen sheets in off-white a few months ago and have been loving them. I stubbornly ignored my mom's advice to get two sets, because I wanted to try them out first, but I must admit that alternating between these and my old Bed Bath and Beyond set to coordinate wash cycles has made me wish I just bought two from Brooklinen up front. Luckily, not buying two at first has paid off: Brooklinen is having an early (and apparently ongoing) 20 percent off sale sitewide for Black Friday, which seems a perfect excuse to finally treat myself to that second set, in classic white.
I've written about my love for Darn Tough socks before. There are a lot of good wool-blend/washable socks out there. Smartwool is great. A lot of my friends swear by People Socks. But I'm loyal to Darn Tough just because I admire how they stand behind their products, and from my experience they hold up better than anything else. Maybe I am lame, but I personally find an L.L. Bean x Darn Tough collab much more exciting than any Off-White or Supreme release, so I had to have these. I love the wild design.
Karen Iorio Adelson, senior writer
For too long, I'd been using a Fitbit for everyday use and a (very old) Garmin GPS watch for running. I liked the ability to program interval workouts on my Garmin and its running-specific stats, but I liked how my Fitbit tracked steps and sleep. The Vivoactive 4S combines the best features of both, and now I have all of my data in one place. Compared to the Vivoactive 4, the 4S model is a little smaller, so it doesn't totally overwhelm my wrist. And the white strap with rose-gold accents make it a bit more nice-looking than your average activity tracker. It's also extremely customizable, with the ability to choose what data you see on the home screen (I have my daily steps and mileage), and lots of different ways to organize the screen while you're running to see heart rate, current pace, lap pace, or other stats.
Molly Young, New York's literary critic (and a regular Strategist contributor) sold me on the new English translation of this French novel in her book-recommendation column and newsletter, Read Like the Wind. As Molly says, "The book revolves around an ensemble of horrible people … watching their privilege evaporate in real time and reacting with the full range of human ugliness." So far, she's spot-on and I'm really enjoying it.
Liza Corsillo, writer
When shopping for clothes, I force myself to first ask a series of questions before allowing myself to pull out my wallet. That's because, in the past, I have gotten overly excited by colors, patterns, textures, or some other fun design element and lost sight of whether the thing I am buying will actually help me get dressed in the morning or just hang in my closet for all eternity. The questions usually include some version of "Do you like this because it's wacky? Or do you like it because it looks good on you?" This sweater from Moussy is one of the very rare items that checks both boxes. It's cozy, flattering, and it looks like a deconstructed muppet. I would like to be buried in it.
On the other hand, I bought this skirt because it's not wacky at all. I knew it would be flattering and would encourage me to opt out of jeans more often. Plus, it looks very hot librarian with a turtleneck and loafers. I bought it in navy because I have a mostly blue-leaning closet. But now that it's on sale, I'm thinking I should perhaps buy one in a mustardy brown, too. Twenty bucks just seems too crazy-good a deal for something I will definitely wear for years to come.
Katy Schneider, editor
Photo: Courtesy of Tourists
My purchase of note this month was experiential: a night at Tourists, a newish hotel in the Berkshires. It was so completely lovely. There were tahini cookies at the front desk, extremely cozy robes in the rooms, and it's located right near MASS MoCA and a bunch of really great antique stores. I was happy there.
At one of said great antique stores, I walked away with an extremely