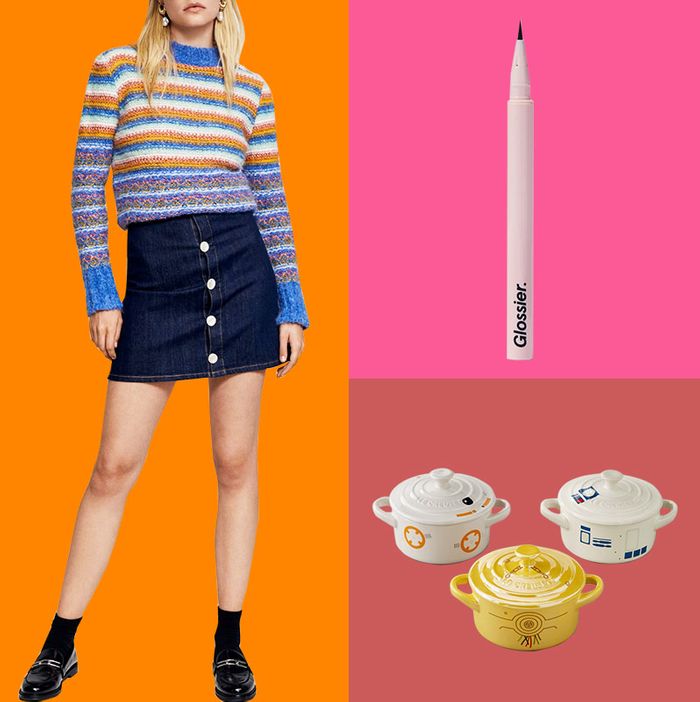 Photo: courtesy of the retailers
Our regular peek into the fast-paced world of drops, collaborations, and new releases, includes some dummy-proof eyeliner, a Han Solo roaster, a Betty Boop sweatshirt, and a very good pair of jeans.
Le Creuset x 'Star Wars'
It's an unlikely but somewhat amazing (and highly giftable) collaboration that your grandkids will be selling on eBay in 50 years. After being announced a few months ago, the stuff's finally for sale. Note: The cocottes below won't arrive till February.
Glossier Pro Tip Liquid Eyeliner
Everlane's ReCashmere Beanie
Everlane just dropped a bunch of winter hats including this "carpenter beanie" made from recycled cashmere. We also love it in bright yellow. There's a ReCashmere beret, too.
Olivia Kim x Nike x Nordstrom
There's a lot going on here so try to follow us: Olivia Kim, director of special projects at Nordstrom, has collaborated with Nike on a Nordstrom-specific, '90s-inspired line called "No Cover." The sneaker part of the collaboration sold out almost immediately, but there's still a lot left, including this amazing Betty Boop sweatshirt and hat and a neon-green puffer.
Scoop's Holiday Collection
We've been surprisingly into Scoop's new incarnation as a (very affordable) Walmart sub-brand. They just released a holiday collection, and this slouchy sweater is a standout.
Mango x Leandra Medine
We apologize for being a little late to the game, but we'd remiss if we didn't mention that Leandra Medine's Mango collection launched in late October and the stuff is really good. Some clothes have already sold out, but there are still goodies to be had.
MZ Wallace's First Men's Collection
Dermstore's Holiday Gift Sets