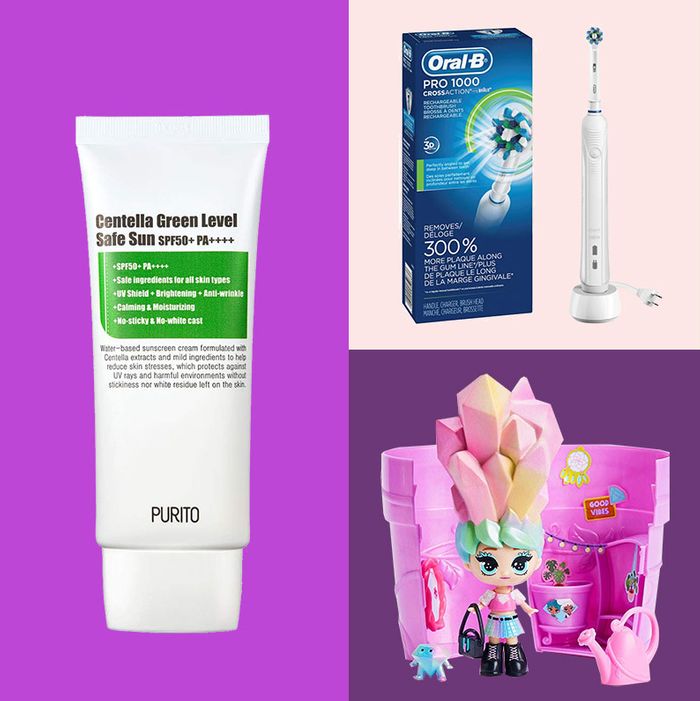 Photo: Courtesy of the retailers
In lieu of a regular edition of Your Shopping Cart, a biweekly breakdown of the top-ten items Strategist readers have bought in droves, today we're taking a look back at the entire year and rounding up the 25 best-selling products of 2019. Full of practical goods (like an electric toothbrush and a handheld vacuum), kids' toys (including a wooden piano and the very trendy Blume dolls), and things that would make great gifts (a weighted blanket and the infamous Amazon coat), this year-end list is a fitting snapshot of the useful, delightful, unexpected mix of products we write about every day.
This electric toothbrush debuted on our best-seller list in July in fifth place. It has remained on the list ever since, appearing 13 times, including five consecutive first-place finishes. Now it takes the title of best-selling product of 2019. We discovered this brush during Teeth Week, when several dentists called it their favorite electric toothbrush, with one explaining how it rotates 44,000 times per minute for "a lot of disruption of plaque." It's also the top-rated model on Amazon, where it has earned more than 7,000 five-star reviews. As one happy user says, "This toothbrush leaves my teeth feeling like they've been power washed."
Oh, the Amazon coat. It all began when Strategist editor Katy Schneider spotted the expensive-looking (but actually very affordable) jacket on a handful of stylish women on New York's Upper East Side. Since then, the coat has inspired a dedicated Instagram account, sparked dozens of imitators (there's an Amazon coat for dogs, apparently), and now comes in red and in kids' sizes. Due to its runaway popularity, the coat has gone up in price from under $100 to $140 over the past two years, but that hasn't stopped our readers from buying it. And in case you're thinking the trend is dying down, consider that the coat finished 2018 in ninth place but jumped up to second this year.
One of the best gifts for 2-year-olds, according to child development experts, the interactive Press Here board book has popped up on our best-seller list six times since its August debut. While it never hit No. 1 or even broke into the top three, the book made a strong showing around the holidays (it was a top seller on Black Friday even though it wasn't on sale) and ultimately finishes in third place for the year. Illustrated by artist Hervé Tullet, the book features colorful "buttons" to let toddlers learn about cause and effect. It encourages finding patterns, making predictions, learning colors, remembering sequences, and having fun with a parent, sibling, or other caregiver.
We discovered this fancy lube back in 2018, when Samantha Bard, co-owner of Shag in Williamsburg, described it as "one the highest-quality silicone lubes out there." Überlube has made our best-seller list 17 times (the third-most of any product) over the past two years and finished in sixth place in our top items of 2018.
Photo: Courtesy of vendor
Each year, we ask tend forecasters to predict which kids' toys will sell out during the holiday season, and so far they've been spot-on. While last year was all about Hatchimals, the Skyrocket Blume Doll is shaping up to be 2019's toy of the year. It ranked on our last four best-seller lists of the year, including two consecutive times in the top spot. As Adrienne Appell, senior director of communications at the Toy Association, explains, "the hair of the doll is made of slow-rise foam, and when you water the 'plant,' it looks as if your doll is blooming from the pot." We had a chance to try one out on in the Strategist office, and watching the doll's head pop through left us giddy.
This tiny yet powerful handheld vacuum first made the best-seller list in summer 2017 and has appeared ten times since then, most recently this June. What initially drew our attention were some very enthusiastic Amazon reviews: Nearly 11,000 shoppers give it five stars, including this one who raves, "It quickly and easily sucks up crumbs, hair, dust, litter, and all those other little items that plague our surfaces, and it makes our space look soooo much nicer."
The Wamsutta side-sleeper pillow has made our best-seller list an impressive 25 times and was the 17th-best-selling product of 2018. It debuted nearly two years ago, in January 2018, following a rave review from former Strategist deputy editor Jason Chen. After consulting with sleep experts and personally testing out a handful of pillows designed for side sleepers, Chen declared the Wamsutta his "absolute favorite," writing, "Unlike other pillows that mistake plushness or fluffiness for support, the WEF didn't sink as soon as I rested my head. Instead, it had a firm, satisfying spring — it's a different sensation but one I took to right away."
Even with an update to add more of the latest and greatest toys to our gift guide for 1-year-olds, this bathtub play set from the original list is still incredibly popular. The pipe toys suction onto the side of the bathtub and have different moving parts little ones can activate in the water. The set debuted at No. 1 one on the best-seller list back in April, and while it made only four appearances total (most recently in September), enough of our readers bought one to propel it into the top ten for the year.
After actress Aubrey Plaza raved about this natural deodorant (which she learned about from Judy Greer), Strategist editor Alexis Swerdloff picked one up and reported that it kept her (and several of her friends) "dry as a bone." A few more of us tried it out, and it became a bit of a craze around the office. While dermatologists say no aluminum-free deodorant will actually stop sweating, ingredients like vegetable glycerin and aloe absorb moisture to leave you feeling dry. Readers were as intrigued as we were and got Real Purity onto our best-seller list five times this year.
The first of three phone-charging USB cables on the list, this Anker cord is the best MiFi-certified option (meaning it's approved by Apple for use with the brand's devices) on Amazon, according to reviewers. "Anker cables are just as good as the originals, and they charge without any problems," writes one satisfied shopper. Cheaper than Apple-branded options, Anker cords were a hit among our readers, landing on the best-seller list four times in 2019. If you need a longer cord, writer Alison Freer calls the ten-foot long version "the gold standard of cables."
Strategist writer Rio Viera-Newton has tried a lot of sunscreens, so when she gave this K-beauty formula a glowing review, we sat up and took notice. She says it "almost immediately improved the texture, radiance, and moisture levels of my skin" thanks to superstar ingredients like brightening niacinamide and moisturizing hyaluronic acid. It's now part of her daily routine. Lots of you have embraced it as well — it has been on our list nine times now. It also comes in an unscented version if you find the lavender smell overwhelming.
A more affordable alternative to pricey Vitamix blenders, the Ninja has been a Strategist favorite (editor Alexis Swerdloff loves hers, and managing editor Maxine Builder recommends it) for a while now. Along with making our top ten twice this year, it was the 23rd-best-selling product of 2018. Even though it's not the most expensive blender, Amazon reviewers confirm it gets the job done. One says, "This is a no-joke, super-duper machine that puts a real spin on food."
One of our best weighted blankets to gift for two years running, the Baloo style stood out for its high quality and thoughtful design. "It gives you that soothing, grounded sensation while still being aesthetically pleasing," says Strategist senior writer Karen Iorio Adelson. "Because it isn't superthick and is made from breathable cotton, I felt cooler sleeping under the Baloo than most of the other blankets." Considering the Baloo blanket made our best-seller list six times in 2019, readers clearly followed her lead and picked one up as a gift (or possibly to keep for themselves).