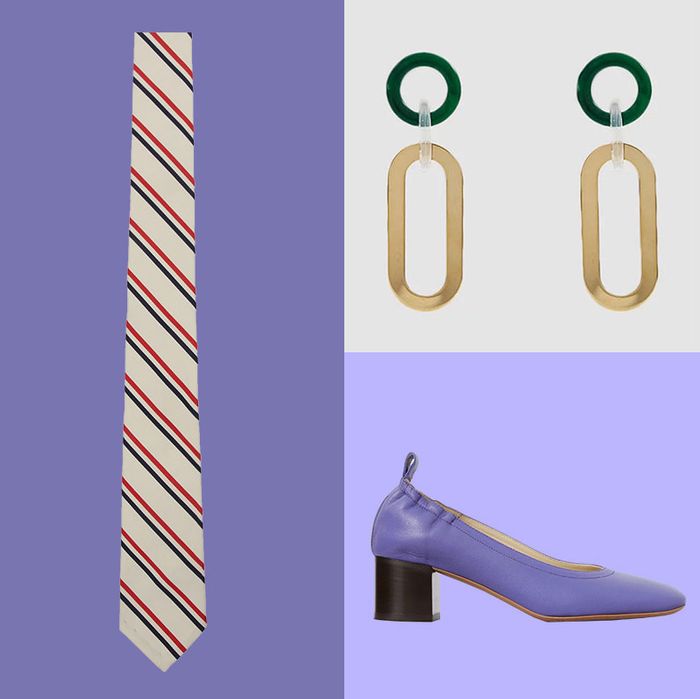 Photo: courtesy of the retailers
It is extremely fortuitous that right as everyone is getting serious about their holiday shopping there are just zillions upon zillions of sales going on. We rounded up a ton of gift-appropriate deals (as well as some stuff for yourself).
To those who say you can't wear a pair of violet-colored heels in winter, we say, Oh yeah? This is one of several pairs of shoes has been added to Everlane's Choose What You Pay section.
An ever-so-slightly more practical option: a pair of flats with a "modern point."
And these classic Street Shoes that are not quite a sneaker and not quite a not-sneaker.
It's hard to see in the photo, but this A.P.C. striped top is actually ribbed.
Though it's hard to fathom, a Mansur Gavriel bag under $300 is actually a "steal."
Stumped as to what to get a traveling-type in your life? A Smythson leather luggage tag is hard to argue with.
Same deal with a Want Les Essentiels wallet.
Or a WLE passport holder.
One of our favorite hair dryers — again, good gift! — is 25 percent off.
For a skin-care junkie, this gift box from Ulta (that was on sale during Black Friday) is chock-full of minis, including a Clarins Hydra Essential Moisturizing Reviving Mask, a Kiehl's Rare Earth Mask, Philosophy's Anti-Wrinkle Miracle Worker + Moisturizer, and a Tula Skin Reviving Treatment Pad.
A Thom Browne tie is usually prohibitively expensive, and right now it's less so.
The Carhartt hat is still the hat.
Outdoor Voices is having a fleece sale, and this fuzzy sweatshirt (that also comes in safety-cone orange) is 31 percent off.