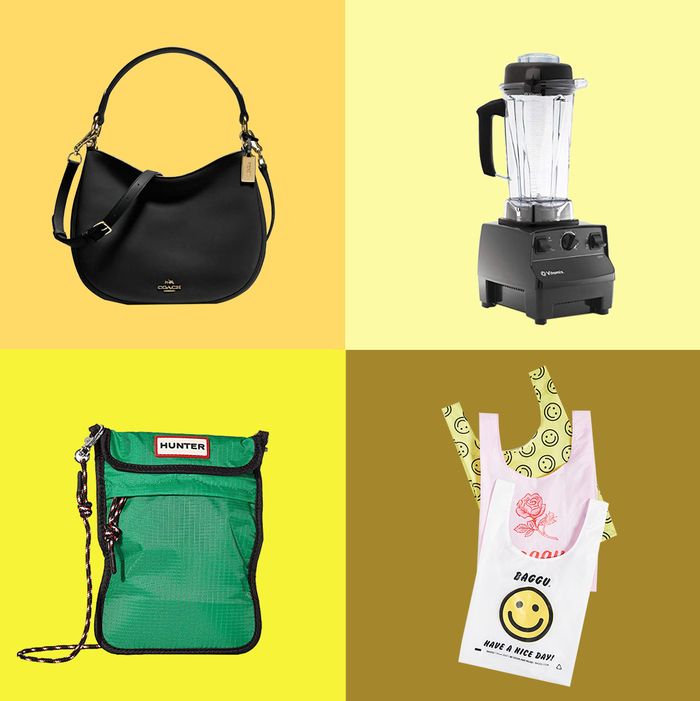 Photo: Courtesy of the retailers
You may have noticed some posts from our friends at the Strategist on the Cut. They'll be dropping in every now and again, sharing their expertise on the basics you don't have time to research and the weird and wonderful things you don't yet know you need.
For last-minute shoppers who would rather not spend an arm and a leg on loved ones (or those whom you feel obligated to get gifts for), look no further: We rounded up the best giftable deals out there on the internet that, for the most part, will arrive in time for Christmas. Do double-check the shipping situations for each of these, as they are likely to change throughout the day and over the weekend.
An actually elegant-looking TV that's $400 cheaper than usual.
We like the Thom Browne–esque toggle in the back.
It's sort of hard to see in this photo, but this robe is adorned with tiny white dots.
This is a very good price for some butter-soft Eberjey house pants. They're on sale in "dusty grape" too. (Also, the Dusty Grapes is our new band name.)
These sateen pj's are giving us real Darien, Connecticut, vibes.
These shearling UGG flip-flops are so nuts that we couldn't not include them. Also: They kind of make great house shoes? One reviewer put it best: "It's so ugly it's pretty, and very on point right now."
If there's anyone on your list about to go on a trip, this packable phone pouch will come across as a thoughtful gift.
She will never know that this wallet (that has a chain so it can be worn as a cross-body) was 80 percent off.
This floral weekender, made from Orla Kiely's signature PVC laminated polyester fabric, also comes in red.
A perfectly worn-in-looking Vince tee.
Photo: East Dane
If you're truly stumped, there are few fellas out there who'd turn down a pair of Filson knit gloves.
Also pretty failproof: a nubby felt laptop sleeve that looks like it cost more than 10 bucks.
These look sort of like the Eberjey sweatpants above (though they might not arrive in time for Christmas).
We're not going to pretend we know anything of substance about this Star Wars LEGO set, but comments range from "my grandson loved it" to "great fun for my nephews" to "put together easily," so we're sold. (For more Star Wars gifts, click here.)
This Vitamix (our deal of the day, incidentally) was only $10 cheaper on Black Friday, meaning that it's still a very good price, and no one would not be thrilled to get this for the holidays.
We stan a KitchenAid stand mixer here at the Strategist — it's the type of thing that's always on our sales radar. This matte-silver is very sleek, and it will arrive by Christmas Eve thanks to free two-day shipping.
For those who are related to rabid Frozen 2 fans, this 3D puzzle might occupy them for a few hours over the holidays.
For those who are related to rabid Frozen 2 fans and are feeling a little more generous…
And now, a few things we featured earlier in the week in our Shopbop sale roundup — and today is the last day to get two-day shipping if you're a Prime member. This duo of holiday candles from Nest is good for a mother-in-law type.
This candle's best for a more design-forward friend. We actually own this candle (it sits atop a stack of books in our living room), and it makes us smile every time it catches our eye.
For the kid who loves pushing buttons and emptying your wallet to play with your credit cards. (Click here for our mammoth toy gift guide.)
This shrunken hoodie's perfect for an impossible-to-shop-for teen on your list, and it'll arrive by December 24 with express shipping.