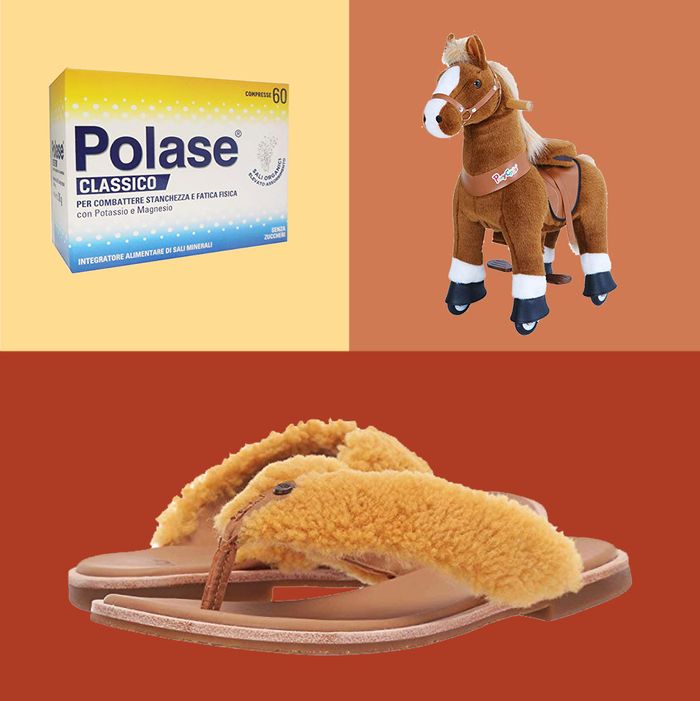 Photo: Courtesy of the retailer
We write about hundreds of products a week. Here, in our version of the Sunday Circular, we've plucked out some of our favorites — expert-recommended essentials, life-changing stuff you didn't know you needed, newly launched gizmos, and the very good deals we uncovered while trolling through the vast online-shopping universe this past week.
A substitute for your afternoon cookie
According to La DoubleJ founder and designer J.J. Martin, "This is one of those hilarious Italian things where people are always like, 'Do you want a Polase?'" The tablets, which you mix with water, taste "kind of orange-y" and are one of ten things she can't live without. "It's the perfect mid-afternoon boost, like when you're done with your lunch and it's four o'clock and you really want a cookie, just have one of these."
Some French ski socks
While we love our made-in-Vermont Darn Toughs, we also love the look — and sound — of this merino-wool pair from French brand Le Bent that Sarah Plaskitt, founding director of the ski-trip-planning agency Scout, says she packs for every ski trip. "They're really smooth and soft but they also have a good compression on them so they're good for your muscles," according to Plaskitt, who told us she's "really particular" about her socks.
A cooler way to count the days
Even if it arrives later than Christmas, this lucite block calendar is a gift you could really give up until the new year — or beyond, since it's not tied to 2020 (the blocks simply feature months and numbers). We found it while poking around what's on sale at Nordstrom.
A magazine for minimalists
When we asked minimalists about the best gifts for people intent on reducing clutter and waste, lots of them not surprisingly suggested anything but more stuff. Simplify Magazine — a quarterly that "covers many of the topics minimalists are interested in, including health and wellness, travel, and gratitude" — is entirely digital, so it won't pile up in the corner of their living room, and offers a lifetime subscription for just $20.
Rio's new go-to for glowing up in these darker days
To create the makeup look she'll be wearing until spring's thaw, our crazy beauty columnist relies on this powder bronzer "to add some dimension and subtle warmth back into my skin without taking the whole look over the top." She uses it on her cheekbones, across her jaw — and around her eyes to "give my lids a bronzy hue."
A horse with four wheels
The PonyCycle — a ride-on toy with "four fur-topped hooves hiding wheels similar to those on roller blades" — first galloped (okay, glided) onto the scene in 2003. But "it wasn't until last year, after a major marketing and social media push, that the mechanical pony truly turned into a craze," we wrote in our investigation of the new status kids' toy. Now, Strategist editors, Tribeca moms and celebs like John Legend and Kim and Kourtney Kardashian all rave about it (and, sometimes, ride it). One mom of twins who each have a PonyCycle explains the appeal: "It's worth it because it's not made with cheap materials, and it feels like you're actually riding a horse," she told us. "They have to move their legs to make it go, and the faster they move their legs, the faster it goes."
A bike with (yes) two wheels …
Believers will tell you there are many benefits to bike commuting, saving money chief among them — if you can find a reasonably priced bike that's durable enough for daily slogs. This Pure Cycles model, which you can get for the cost of about four monthly MetroCards, fits that bill, according to experts we spoke with. It has a sturdy steel frame and mechanical disk breaks, a rare feature for this price point, according to REI's Alex Gonzalez. "Disk brakes are much smoother than traditional rim brakes, and great for stopping," he adds.
… And a basket to go with it
"Add a pannier (from the French word for "basket")," says contributor Francine Maroukian, "and your bike becomes more than just personal transportation. Some of the things I've carried on my bike: two eight-packs of paper towels; a case of wine; a queen-size Ikea comforter; a duvet cover with pillow shams; two 20-inch decorative pillows with inserts; and 2 live four-foot Christmas trees." This, her favorite pannier, has "a thick, durable fabric that does not mildew or fade" and "hooks to your bike with a very easy-to-use cam-lock hook system made of aluminum, not plastic, so it won't crack."
The only boxer-briefs you'll need next decade
A beanie with Brooklyn appeal