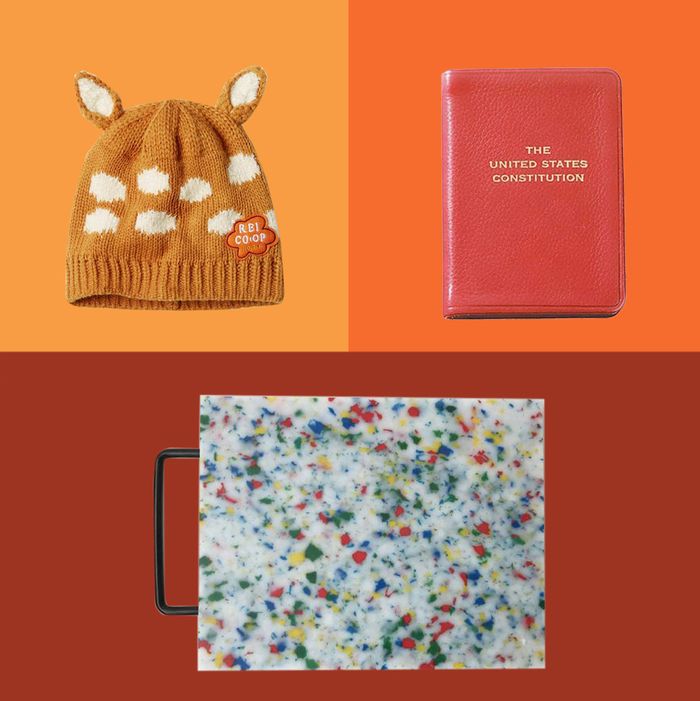 Photo: Courtesy of the retailers
We write about hundreds of products a week. Here, in our version of the Sunday circular, we've plucked out some of our favorites — expert-recommended essentials, life-changing stuff you didn't know you needed, newly-launched gizmos, and the very good deals we uncovered while trolling through the vast online-shopping universe this past week.
A sweatshirt to go with your schmear
While looking for the best gifts for New York City lovers, we stumbled upon an assortment of delightful (non-edible) things at Zabar's. "The classic Upper West Side grocer's merch," we wrote, "is so astoundingly inexpensive — a T-shirt will set you back $6, and a mug only $4." While it's a bit more than $4 or $6, $22 is still a pretty reasonable price for this pretty perfect sweatshirt.
An actually tasteful pumpkin-spice product
If you've seen the types of ladies who shop at the pharmacy-slash–department store Zitomer's, you know they're a fancy bunch. So our ears perked up when one of them directed us to this very highbrow-sounding, pumpkin-spice lotion when we asked her about her favorite gifts. "Wonderfully spicy," she told us. "I give it as a gift to everyone I know. It's the holidays in a bottle!"
A very dear deer hat
In rummaging through REI's ongoing 40 percent off sale (that ends on December 16), we found 22 great deals on cold-weather outdoor gear for the whole family. There's lots of good stuff — slippers, North Face fleeces, even an all-terrain stroller — but none of it is as precious as this hat.
A Funfetti cutting board
There are a lot — a lot — of good things on our list of gifts recommended by 130 people with particular, exacting taste. But few are more universally appealing and smile-inducing than this cutting board suggested by hairstylist Masami Hosono, who says it is "super-fun — and it will make any old kitchen look cool and chic."
Editor's note: the multi-color cutting board has sold out, but an equally delightful blue-and-yellow style is still available at both retailers below.
Rockette-approved red lipstick
As anyone who has seen it knows, "for the Christmas Spectacular, we wear red lipstick," according to Radio City Rockette Sophie Silnicki (one of ten Rockettes we spoke to about what gifts they're hoping for this year). Her favorite red is Chanel's 99 Pirate: "It's a beautiful cool-toned blue-red color with great pigment. Very classy and chic" — and, of course, giftable.
A jacket for (basically) every type of dad
We recently put out a call to readers looking for help buying gifts for specific people in their life. Among the 1,607 requests was to find a $150–200 gift for "my dad who likes running, hiking, wearing hiking clothes even when he's just going to the store, pretending he doesn't love my mom's cat, reading on his Kindle, watching sports, listening to old school rock, cooking (but nothing too fancy), public radio, and being a goof." Our suggestion was this shirt jacket, and since this dad basically sounds like every type of dad rolled into one, we'd wager it's a pretty fool-proof dad gift across the board.
A treat for tired feet
"Your eyes actually roll back in your head when using it," one satisfied customer writes of this electric foot massager, which topped our list of the best-reviewed ones on Amazon. "So much better than [a] human massage therapist," says another reviewer, and a third agrees: "This mimics a real massage; my husband is tired of me begging him to rub my feet every night."
A Frozen sweater we'd wear ourselves
Since merch related to the hit Disney franchise is likely on lots of kids' (especially girls') list this year, we spent some time looking for actually nice-looking things inspired by Frozen 2 — none of which, we should note, will play a single note of Let It Go. "Leave it to children's brand Hanna Andersson (we love its pajamas) to make Frozen clothes," we wrote of this sweet pointelle sweater with embroidered snowflakes. "We sort of wish came in adult sizes."
A Cartier dupe that stopped us in our tracks
While putting together our list of the 38 best gifts for wives, we had to scroll back to, then zoom in on, this Seiko watch in order to be perfectly, completely sure that Amazon didn't mislabel it as a far, far more expensive Cartier Tank watch.
A White Elephant gift for impeachment season