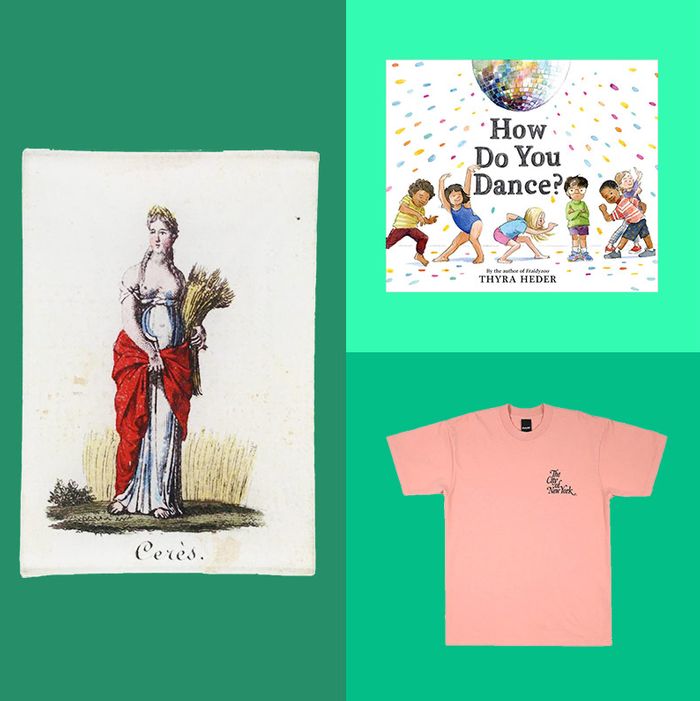 Photo: Courtesy of the retailers
If you follow our biweekly feature Your Shopping Cart, you know that we have some eerily good intel on what you all are buying. Which led us to think that, as Strategist editors, we could turn the tables and highlight all the things we've been buying for ourselves. As you'll notice, it's both a blessing and a curse to be a Strategist editor; we're picky, but sometimes we just have to get on with it. (It's online-shopping expertise meets IRL needs.) Below, what we all bought in December — in addition to the holiday gifts we bought for friends and family.
Rio Viera-Newton, writer
For Christmas, I bought my sister this beautiful starry jug from Ralph Lauren. She hosts a lot of our family brunches and also takes great pride in her table arrangements, so I thought it was perfect for her home. (I picture it holding a big jug of icy, lemon-wedge-heavy water.) Alternatively, I thought she might like it as a flower vase as well. The choice is hers!
My mom has extremely sensitive skin but has also been desperate to integrate a retinol into her nighttime routine. This Christmas, I took it upon myself to find her one that yielded the same skin-smoothing and brightening benefits of a traditional retinol, without triggering any severe irritation. I love the brand Biossance. Their Squalane Vitamin C Oil and Rose Lip Balm are two of my daily staples, and I'd heard particularly good things about their Squalane + Phyto-Retinol Serum. It uses bakuchiol, a plant-derived natural retinol that is allegedly less harsh on the skin, along with hyaluronic acid and squalane — two deeply hydrating and moisturizing ingredients I know my mom likes. She's been using it for a few days now and hasn't had any bad reactions.
Dominique Pariso, writer
With the holiday gift-buying bonanza that took place this month, I didn't buy anything for myself except a couple of new houseplants. My favorite is this ginseng ficus, which reminds me of a Lisa Hanawalt illustration. The curvy trunk and explosion of leaves looks delightfully humanoid, and they're supposedly not too tricky to take care of. I bought mine in person in the Flower District, but they are available online too.
For our annual Strategist white elephant, I picked up this Soom tahini two-pack. Since our cap is set at ten bucks, I kept the regular tahini for myself and used the (way more festive) chocolate halva spread as the gift. It ended up going home with Rio, who reports that it was very yummy.
For my family's annual white elephant, I bought this board game, which was recommended by board-game designer Will Sorrell. He says it's super fast-paced and frantic, which I thought was perfect since we're a competitive bunch. Plus, I loved the fun illustrations.
David Notis, writer
I first saw this on Dominique's list of best party board games and then I played it at a friend's house. I loved it so much I bought it on my phone before even heading home. It's super simple and quick, but it can also get sneakily cerebral. I'm generally not a big board-game person (although I do love the occasional round of Catan). Also, I really hate being the one to bring a new game somewhere because then you have to explain it to everyone, which I'm never good at, and then it becomes a whole thing. Well, I brought Codenames to my friends' house for Christmas Eve dinner this year. They always host a big group, and after dinner we usually play a game. I was nervous when I pulled out Codenames, but everyone loved it. And since the game is so simple, even my subpar instructions were enough to get things rolling. Multiple people thanked me for bringing it and asked me to bring it next year.
Hilary Reid, writer
According to a Google search conducted while shopping in John Derian, Ceres is the Roman goddess of agriculture and motherly relations — in other words, the ideal goddess to have on a Hanukkah gift for my mom, who has always loved gardening and plants.
I'd seen this book about the Troubles on a few year-end lists, and thought it seemed like a strong gift contender for my history-loving dad. Then, when I heard from a trusted arbiter of Dad Lit that the book was indeed as good as all the lists said, I went for it. An hour after opening it, my dad was already about 50 pages deep. I'd say it was the right choice.
For the past couple years, I've looked forward to shopping at oTTo hats' annual sale, where you can find bright woolen pieces by the wonderful milliner Kika Schoenfeld. Last year, I went for a Doctor Zhivago–style gray hat. This year, I chose a softer, white open-top hat. (Mine's not online, but picture this one without a top.) As a friend put it, the hats make your head look like a "chic turnip" — in the best way.
Lauren Ro, writer
It was only a matter of time before I jumped on the Blundstone bandwagon, and I'm really glad I did. (I got them during Black Friday sales, when they were 15 percent off.) These have a removable sheepskin footbed that keep my feet cushioned and warm, making them perfect for everyday cold-weather wear. And the classic Chelsea shape means I can pair them with just about any outfit. They're also surprisingly comfortable — it only took me a couple of wears to break them in. I'm still going to reach for my Bean boots during heavy snowfall, but I foresee these being my go-tos for the remainder of the winter.
This was another Black Friday purchase. (It's even further discounted now.) I copied Hilary and bought this lightweight puffer from Uniqlo, but in beige. I have a huge down parka with a fur-trimmed hood from Mackage that I've had for years, but as much as I love it, it's bulky and heavy. I wanted something that required a little less commitment but would still keep me warm. Now that I've had the chance to wear it for a while, I would say that this puffer is better for 40-degree weather, but not necessarily for when it's below 30. Still, it's roomy enough that you could easily wear several layers underneath, including a chunky sweater.
I was not immune to the charms of that gigantic Jacquemus straw hat that made the Instagram rounds a couple of summers ago, which is why this more practical (and delicate) one spoke to me. I nabbed it at Philadelphia-based boutique Rennes, when it ran a "secret" online sale for its newsletter subscribers. I'm a sucker for anything that reminds me of summer in the south of France. Here's to looking forward to warmer days ahead.
There's a tiny historic shopping district in Glendale, California, where I grew up. One of the best stores there (and in my opinion, in all of L.A. County) is Faye's Intimate Apparel, a boutique that sells nightgowns, lingerie, and other loungewear for what I am (respectfully!) calling the granny set. The store has been there since 1949 and looks like a mid-century time capsule, all pastel-colored paneling and dowdy nightgowns in the best way. I had to get a Lanz, which I've always wanted ever since I saw them at the Vermont Country Store.
Alexis Swerdloff, Strategist editor
These monogrammed Lands' End tote bags for my mother-in-law and her husband say "Mimi" and "Papa," which is what my son (when he can talk) will call them. We were going to do L.L.Bean Boat and Totes, but when I went to order them, I learned that they wouldn't arrive in time. These totes didn't seem to be any less sturdy than the Bean ones, and they were actually cheaper.
My dad loves a book about New York City (he walked the entire length of Broadway after reading Broadway: A History of New York City in Thirteen Miles, which I bought him last year), so this year I got him Sam Roberts's A History of New York in 27 Buildings and Thomas J. Campanella's history of Brooklyn, which Emily Gould liked-ish, and which he's already devouring.