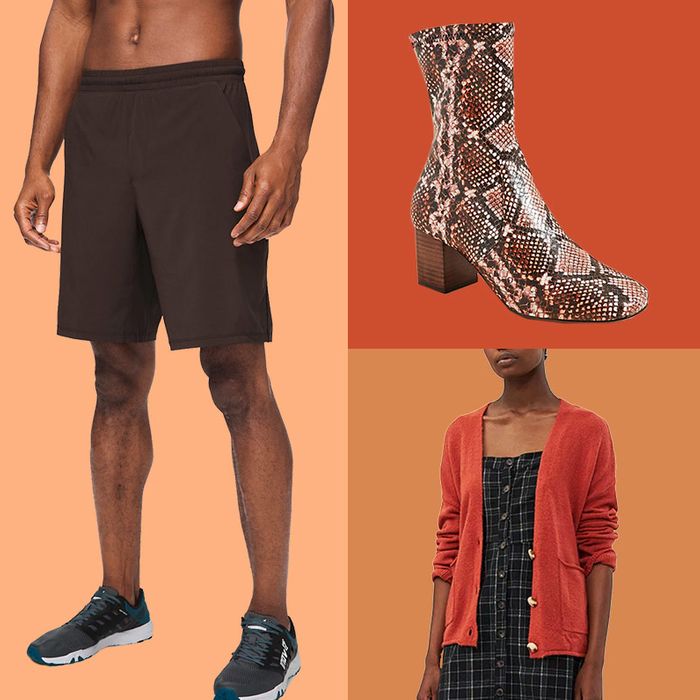 We found some excellent deals this week — if we do say so ourselves. Allow us to present you with a $9 Lululemon bra, a $10 Martha Stewart-designed pillow, and some purple Uggs we can't stop thinking about.
For some reason right now the deals at Lululemon are particularly good. There's the vest we wrote about in yesterday's sales roundup, and then, also for men, these shorts "for pretty much everything" that come in a very pleasing shade of Sequoia.
And then there's this $9 (!) bralette that many reviewers loved so much they've ended up buying it in multiple colors.
We were so taken with one particularly effusive review, we decided to post it in full here: "I bought these pants in every color. And not only would I recommend them to a friend, I have recommended them to several friends already. Here's what I love: 1) I have proportionally larger hips compared to my waist — most pants (even in a "curvy" fit) don't really sit right. These are fitted on my waist but roomy in the hips. 2) Aforementioned roominess in the hips is perfect for me for work. I really don't want to draw attention to my butt in a professional setting. These are flattering and comfortable but not attention-calling. 3) I travel a lot for work and love that these don't wrinkle in my suitcase or after sitting on a plane for a few hours. I normally wear an 8 in Lululemon shorts to get the leg/hip size right. I bought these in a 6."
KZBELD, from Dallas, Texas, would you like a job at the Strategist?
These 73 percent off chunky boots are available in several other colors, too.
When we see something for 88 percent off — particularly if it's a pillow adorned with two sweet-looking elephants — we feel it's our Strategist editor duty to alert you all.
We are generally wary of Le Creuset deals due to inflated list prices — but this grill pan is actually a good deal. While the list price here appears to be incorrect (it says $260, but the pan seems to normally cost $180), the cheapest it is anywhere else is $144 at Sur La Table.
If your New Year's resolution was to be kinder to your hair, a nice place to start is with a gentle, silk scrunchie. On sale, this six-piece set from Slip works out to five bucks a tie.
There is extremely cheap makeup for sale at Nordstrom Rack right now, and we will start our tour through the madness with some eye-shadow palettes. This set apparently includes "eight otherworldly new shades of planet Earth's sparkliest shadow."
This 12-shade Bobbi Brown palette offers a slightly more muted look, with matte, shimmer, and metallic colors.
And something for whom choice is too overwhelming.