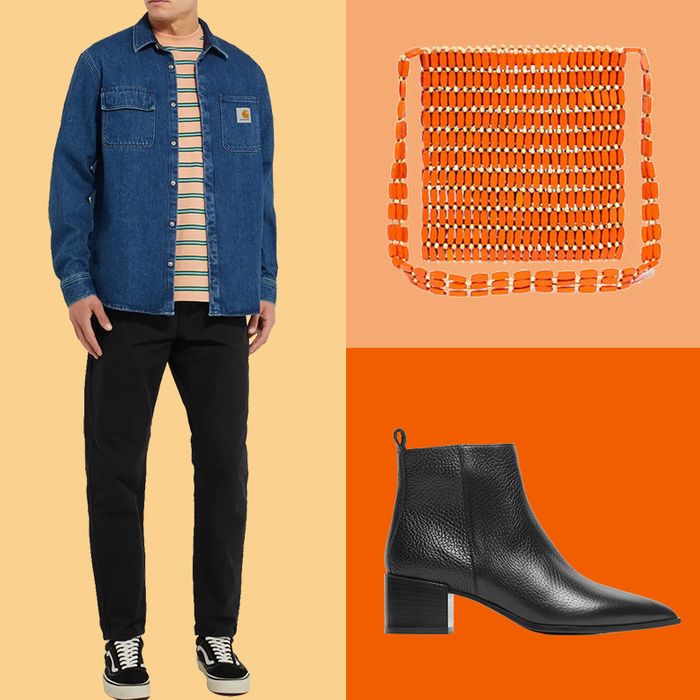 The holidays have finally, officially passed, which means one thing, shopping-wise: Winter sales are really in full force. Many retailers' post-Christmas sales that began last week are continuing apace, while others have begun offering new discounts now that January is here. If you didn't receive that new pair of sneakers or cashmere sweater or comfy leggings you hoped for, don't fret: In this week's Friday Sales roundup, we leaned a bit heavily into all the good deals on clothing — including some rarely discounted Outdoor Voices leggings, black leather ankle boots from Everlane, and an almost 70 percent off Comme des Garçons sweater. But we also found a handful of other well-priced things for the home and the kids, too.
Outdoor Voices is having its biannual OV Extra Sale, for which the brand's rarely discounted athletic-wear is now up to 50 percent off — like these leggings meant for extra-sweaty workouts, which are now $15 less.
This pair of the brand's beloved Warmup Leggings in a lovely shade of lilac is a mere $37.
Already on-sale items at Anthropologie are currently an extra 40 percent off, bringing the price of this timeless sherpa-lined jacket down to $72. Note that the full sale price only shows after you add items to your cart.
This cozy plaid wrap could double as a nice office blanket.
Just some overalls that you'll want to wear every weekend.
A pretty, not-overly-twee garland that would brighten up any party or room.
Everlane's annual winter Choose What You Pay Sale is still going on, with a wide selection of the brand's goods on sale. These pointy black heeled ankle boots would look as sharp with a skirt and tights as they would with a pair of Levi's.
$65 for Everlane cashmere is an insanely good deal.
An appealingly nondescript pair of sneakers for less than $60.
Another cozy cashmere sweater that we could see being the type of wardrobe staple one wears several times a week.
A structured, cozy, weekend-or-weekday-appropriate fleece, for less than $40.
Layer this ribbed cotton sweater in the winter, or wear it alone in the spring. It's part of an ongoing Final Sale at Everlane (which, we should note, means no returns or exchanges).
Also on final sale is this rather unheard-of deal: $35 for a full-zip Everlane fleece with what we think is a rather appealing little collar.
And, for men, these (now very inexpensive) straight-fit jeans, which also come in dark indigo, "mid-blue," black, and dark blue.
The Everlane Final Sale also includes a few pairs of shoes, including these neutral, wear-'em-with-anything flats for half off. Also included: an almost-as-versatile pair of heels.
The first step to keeping that New Year's resolution to cook more might be getting some new sauté pans. This set, now almost 30 percent off at Nordstrom, seems like a good place to start.
Also part of Nordstrom's end-of-season sale is this classic North Face fleece for kids.
Pair that black-and-white fleece with this adorable citrus-colored Peanuts hat-and-glove set.
If you didn't get to take advantage of our recent Deal of the Day on Sorel boots, Backcountry is now offering 25 percent off on lots of the brand's footwear, including this pair of waterproof hiking boots that would be ideal for your next upstate weekend (or for trudging around the city).
As part of that sale, select colors of Saks' crewneck cashmere sweaters are now 70 percent off, including this lovely raspberry shade.
Over at Macy's 48-hour sale, a pair of very warm and classic-looking snow boots can be yours for $32.
Photo: Courtesy retailer
Stand out in the sea of teddy coats in an emerald-green teddy coat (which, we should mention, has some very nice deep pockets).