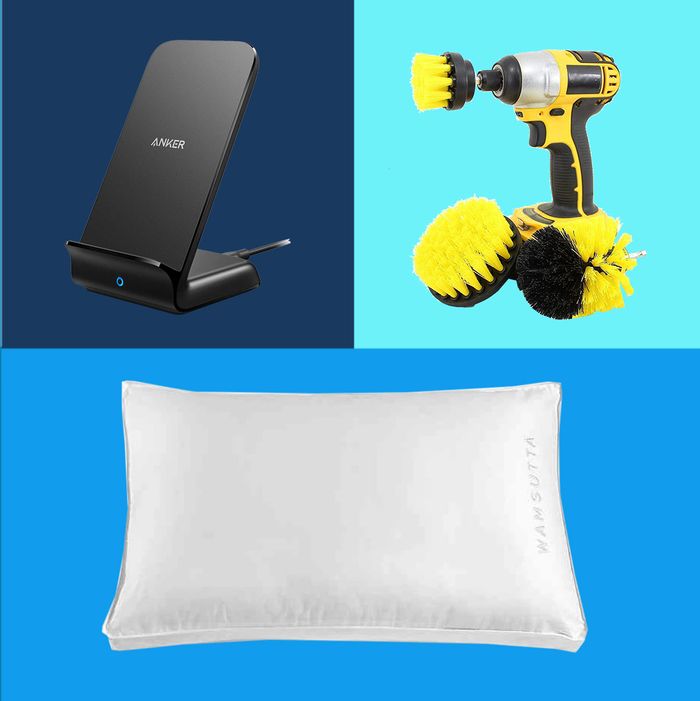 Photo: Courtesy of the retailers
Welcome back to Your Shopping Cart, wherein we break out the top ten products that you, devoted Strategist readers, all bought in droves. Think of this as the TL;DR of the Strategist: If your likeminded brethren are buying these items, maybe you'd like to, too.
This edition of the best-sellers list — our first of 2020 — covers the final days of holiday-gift shopping and includes both returning favorites and some promising newcomers. The doll that trend forecasters told us would be the hottest toy of the season took the top spot for a third time, followed by a lip balm from the Gen Z–beloved Glossier. Closing out the top three is a board book for toddlers. Next up are two new-to-the-list products: a set of string lights in fourth and a wireless charging stand in fifth. Our sixth-place finisher, a drill-brush attachment for cleaning bathroom surfaces, hasn't been on the list since last April, and another new product, an expert-recommended board game for parties, comes in seventh. The weighted blanket we deemed one of the best to give as a gift takes eighth place, while a cozy bathrobe lands in ninth for the second time in a row. Finally, a perennially popular pillow for side-sleepers rounds out the list in tenth.
Photo: Courtesy of vendor
Back in November, trend forecasters told us that they predicted the Skyrocket Blume Doll would be the most popular gift for kids this past holiday season. It looks like they were spot on. This week marks its third first-place finish on our best-sellers list, and it was the fifth best-selling product on the Strategist overall in 2019. Adrienne Appell, the senior director of communications at the Toy Association, says the doll — which starts out looking like a potted plant and comes with a little watering can — is a new take on the "surprise toy" trend, in that you don't know what exactly you're going to get until you open it. "The hair is made of slow-rise foam," Appell explains, "and when you water the 'plant' it looks as if your doll is blooming from the pot." When we tested one out in our office last month, we found that whole "blooming from the pot" experience to be totally correct — and captivating.
This lip balm is one of Strategist beauty columnist Rio Viera-Newton's favorite Glossier products (she says the berry color is "the yummiest, prettiest, and boldest blackberry shade") and a Gen-Z staple. In our survey of 100 cool teens, the highly Instagrammable Balm Dotcom was named as the lip balm to have by many respondents. One told us, "I can't live without this. I know it's a bit pricey, but it's really good and also the packaging is cute!" It also made our list of the best gifts for teen girls, so we suspect many unwrapped some over the last few weeks.
After child-development experts told us this interactive board book is one of the best gifts for 2-year-olds, it has now appeared on this list seven times — and was also one of our 2019 best-sellers. Illustrated by artist Hervé Tullet, the book features colorful "buttons" to let toddlers learn about cause and effect. It encourages finding patterns, making predictions, learning colors, remembering sequences, and having fun with a parent, sibling, or other caregiver.