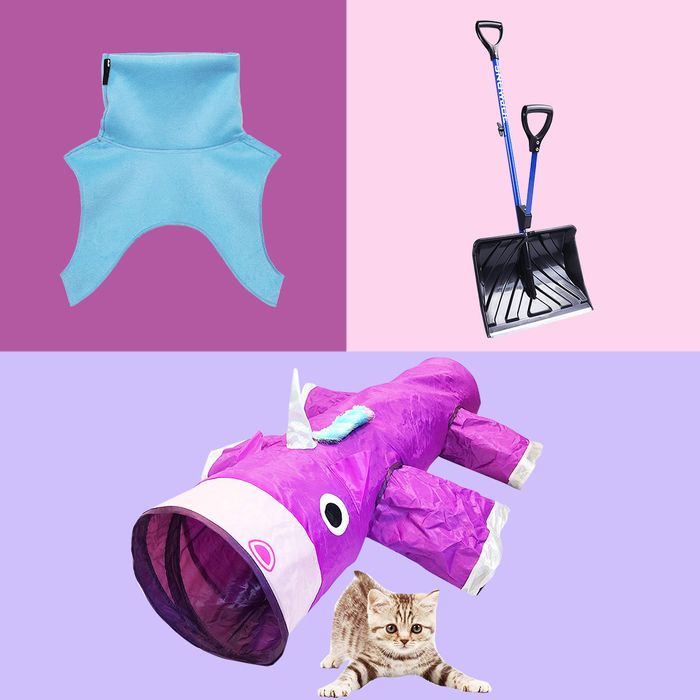 Photo: Courtesy of the retailers
We write about hundreds of products a week. Here, in our version of the Sunday circular, we've plucked out some of our favorites — expert-recommended essentials, life-changing stuff you didn't know you needed, newly-launched gizmos, and the very good deals we uncovered while trolling through the vast online-shopping universe this past week.
A cheap (but expensive-looking) dining table
When decorating their first "adult" apartment, contributor Eric Marguiles and his wife splurged on West Elm furniture, a custom bed frame, and chairs at auction. But of all the new décor, Marguiles said "the one piece that everyone — from the guests at our first housewarming party to our designer and musician friends to even our parents — won't stop obsessing over is our dining table: a very cheap (for a dining table), fluorescent-yellow metal number designed for outdoor use."
A cheap (but expensive-looking) sofa
Alone it may look like a chair, but this guy is actually part of a modular sofa that interior designers told us is perfect if you're looking to furnish a tiny or strangely shaped space on a budget. "You can choose exactly how many pieces you want to make your sofa, from a two-piece to a five-piece," according to Decorist designer Baylee Floyd, who suggested the furniture for our roundup of the best sofas under $1,000. To keep within that budget, we suggest "combining two of these armless chairs to create a loveseat, or a corner chair and armless chair to create an open-ended sofa."
A generously discounted puffer jacket
In black, no less! You've still got months to wear it — and, come next winter, you'll have a (practically) brand new one. We found the jacket while rummaging through the Outnet's clearance sale, for which tons of stuff (like, some 8,000 things) is up to 90 percent off through Tuesday.
Baggu's kookiest collaboration yet
Just when we thought we'd seen every Baggu bag fit to carry, the brand dropped a new set in collaboration with Peanuts that includes this Snoopy-in-space print and another called "rainforest gang." Given the popularity of the reusable totes — and the beloved cartoon — we predicted the bags will fly off shelves.
A 'unicorn' cats go crazy for
If you've ever wondered whether there's anything Rio is as crazy about as beauty, the answer is: Yes, her cat, Martini. And what, pray tell, is Martini crazy about? This "giant toy that loosely resembles a unicorn," according to Rio. "She sprints through all the little tunnels, weaving in and out of them like a maniac," she told us, adding that "it keeps her busy and entertained when I'm out of the house or working from home."
A snow shovel sent from heaven above
"Having that extra handle is a godsend," wrote one extremely satisfied customer of this shovel that topped our list of the best-reviewed snow shovels on Amazon. "These bad boys are a TOTAL back-saver! I've shoveled several hundred pounds of the white stuff myself, and I gotta tell ya, I will NEVER use a 'regular' snow shovel again!"
An alternative to the office microwave
Contributor Alyse Whitney told us she never has to touch "the dreaded office microwave" again now that she has this electric bento box-looking contraption at her desk. "A circular heat source on the bottom heats up a small container on top meant for water, which then slowly cooks the food that lays inside small container on top of that," she told us. As for whether it works, Whitney says she's used the thing to make ramen noodles, sushi rice, and fish, and to heat up leftover butternut squash soup "while I simultaneously worked on finishing up a story."
A faster way to free tangled hair
If, like pop singer Hayley Kiyoko, you are in a "constant state of needing to detangle hair," listen up. "This spray literally takes seven seconds. It might even be less than seven seconds," she said of the leave-in conditioner, one of 11 things she can't live without. "When I get out of the shower, I spray this in my hair, then I brush it — and then I'm done."
Seventy pieces of incense in one pretty package
From our roundup of the best gifts for every type of sister comes this inexpensive set of seven different wood incense to burn, with ten pieces of each. The fragrances — including pinon, cedar, juniper, hickory, alder, mesquite, and fir balsam — seem as alluring as the box they come in.
A better house shoe