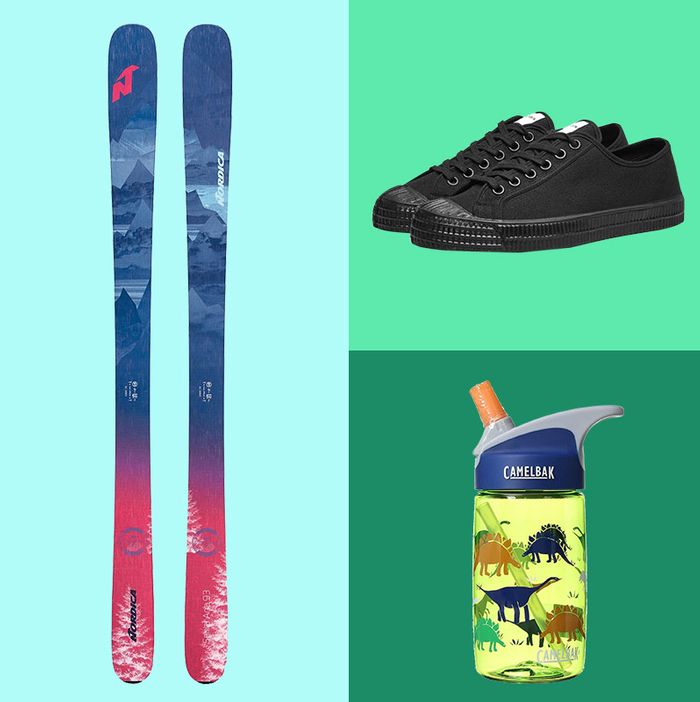 Photo: Courtesy of retailers
We write about hundreds of products a week. Here, in our version of the Sunday circular, we've plucked out some of our favorites — expert-recommended essentials, life-changing stuff you didn't know you needed, newly-launched gizmos, and the very good deals we uncovered while trolling through the vast online-shopping universe this past week.
A bodysuit for seemingly every body (and occasion)
Of the size-inclusive layer (Universal Standard offers "everything from 00 to 40") that she has worn to barre class, work, and happy hour, contributor Francine Maroukian wrote, "It is simultaneously utilitarian and luxurious. The adjustable straps (which never slip), the higher neckline, and the upper-rib-cage seam give some breast support, and the contoured waistband keeps the bodysuit flat across the midsection, where no one wants any extra fabric. It is insanely soft, comfortable, and liberating."
The best skis for him and her
Following our investigation of Street Ski, we turned our attention to stuff you might actually use on the slopes, talking with experts about their favorite ski boots, snow pants, and skis themselves. When it comes to the latter, these pairs topped our list of expert-recommended picks, with Michael Rogan, who coaches a hand-selected group of the country's best ski instructors, telling us that Nordica's Santa Ana (for women) and Enforcer (for men) are "the benchmark that everything else is measured against."
A not-your-everyday eye mask
For getting "enough sleep no matter what time zone you're in," globe-trotting celebrity facialist says no eye mask beats this "game-changer," which is one of nine things she can't live without. "There are Bluetooth speakers where your ears go, so they cancel out all the background noise of wherever you are, whether you're on a hotel or an airplane. And obviously, you have the eye mask on."
A not-your-everyday face mask
"My favorite pre-event sheet mask ever," said Rio of this "splurge-worthy" product she always recommends to brides asking for wedding day skin-care tips. "It fits wonderfully, feels great and cooling, and skin just soaks up all the amazing plumping and hydrating treatment instantly. It's so brightening and hydrating and makeup goes over it perfectly." [Editor's note: Face masks ordered from Neiman Marcus, the only retailer we found selling them right now, will take longer to ship.]
A CamelBak for the kiddos
If cutting down on single-use plastic is a family affair, this cute kids' water bottle from our list of the top-reviewed ones on Amazon would be a good way to help them develop better habits. The straw makes it "easier to use than actual sippy cups," according to one reviewer, while another points out that it's as fun — and safe — to play with as it is to drink from. "My son loves to turn the bottle around, shake it, and hit it on tables. It doesn't spill, no matter how fiercely the kid uses it."
Everlane's first legging
"It's a big moment for new athleisure lines," we wrote in Don't Dillydally after Everlane made its "first proper foray" into the space with the release of its new Perform Legging. "Made of 58 percent recycled nylon as well as 'performance fabric' from a 'renowned Italian mill,'" the leggings come in four colors available in XXS to XXL and, we think, will be quite popular.
A treat for cold hands and feet
Photo: Courtesy of Vendor
Condoms made for quickies
Photo: Courtesy of the Vendor
Sometimes, you just want to — safely — get down to it before continuing your day. For those occasions, sex educator Dr. Carol Queen told us that "you want a thin and comfy condom that lets you get down to it," and these "hyperthin" ones are exactly that, according to her and other experts we spoke with about the best condoms for every shape, size, and proclivity. With these, the pros assured us, "you'll be able to feel everything and there's just the right amount of lube."
Chris Black–approved Converse alternatives