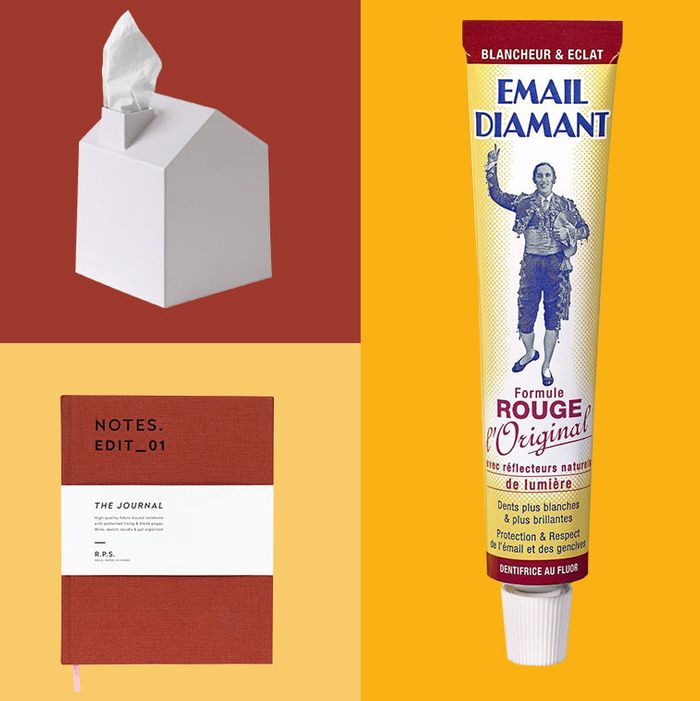 Photo: Courtesy of the retailers
We write about hundreds of products a week. Here, in our version of the Sunday circular, we've plucked out some of our favorites — expert-recommended essentials, life-changing stuff you didn't know you needed, newly-launched gizmos, and the very good deals we uncovered while trolling through the vast online-shopping universe this past week.
A spinner for fidgeters and fitness folk
When contributor Jason Stewart went about creating a basic but respectable home gym with a focus on "good old-fashioned strength training," he told us that an inexpensive gizmo like this was among the pieces he needed for his simple setup. He says it's a must for anyone who works with their hands — or spends five days of their week gripping a steering wheel as they drive to and from work. "This gadget helps me recover with some wrist-strengthening and tension-relieving exercises," he says. "When spun at top speeds, the handheld tool has my strawlike forearms burning within 60 seconds."
A baby monitor for parents worried about privacy
When her daughter was born, writer Sara Jayne Levy was determined not only to keep the babe off social media — but any digital network, which meant she could not to use any of the Wi-Fi–enabled monitors on the market. The first newish analogue baby monitor she bought turned out to be "more like a relic from the early aughts" with a "pixelated and crappy" picture quality. Levy resolved to live with these flaws, she told us, but then she found the Vava, which "looks and works like a sleek 21st-century baby monitor" without sending any video of her child to "the cloud."
A coffee maker with industry cred
The words "coffee machine" can be controversial among coffee purists, if you prefer to have a gadget do the work for you, the Bonavita Connoisseur would be a very good one. It topped our list of the best expert-recommended coffee makers, receiving high marks for its ability to brew at the proper temperature, evenly shower grinds with water, and for generally being "consistent from start to finish," as George Howell, the owner and founder of George Howell Coffee, put it.
A colorful way to clean teeth
Move over Marvis: While columnist Chris Black does keep the status toothpaste in his medicine cabinet, he told readers he also likes this Email Diamant toothpaste for days when you crave more excitement from your oral hygiene. "It is RED — a shocking color to see swishing around your mouth," he wrote. But the toothpaste isn't just fun to use: "Your teeth will look a little brighter after one brushing," Black assures.
A Dopp kit you won't forget to pack
From our Friday Sales roundup, this bright, compact Pendleton pouch stands out from the many other mostly solid-colored Dopp kits out there. Made from coated cotton, its colors are neither too boyish nor too girly, making it appropriate for pretty much anyone. Not only will the fun print keep this top of mind when packing, we also noted it makes the bag pretty much impossible to "get lost in your duffle."
A mask for plumping winter skin
"Every year, like clockwork, New York's aggressively chilly winter weather causes my skin to lash out," our beauty-obsessed columnist Rio Viera-Newton recently lamented. This hyaluronic-acid mask is one of the eight products she uses to combat that. The mask "works better than any hyaluronic-acid mask I've ever used in my life," she promises, leaving her with skin that "looks and feels plump and intensely dewy, and the effect lasts for days."
A mousse for tanning winter skin
If your skin craves color, not moisture, this season, this dark, self-tanning mousse from our list of the best-reviewed self-tanners on Amazon may be just the ticket. "For someone who is white enough to scare Casper the friendly ghost, I no longer look like a Victorian-era sick person on her deathbed," wrote one reviewer after using the stuff. Another agrees, adding that the foamy mousse checks all the other boxes you might want from such a product: "It doesn't smell, it doesn't leave stains on the bed when you sleep, and the tan lasts for me about four to five days."
Some smart-looking (on-sale) sweatpants
We're always looking for the type of comfy sweats that you can go from couch to coffee shop in. This pair we found while rummaging through the ongoing winter sale on men's, women's, and kids' stuff at COS — our favorite "modern minimalist cousin to H&M" — seems exactly that.
A cottage for your Kleenex
Sophia Bush's favorite notebook
Or, perhaps your resolution may be to journal more, like actress and podcast host Sophia Bush. "I'm really trying to become a person who journals in 2020," she told us — and this is the journal she is using to become that person. It's one of seven things she can't live without. "I love the texture; the fabric is really beautiful," Bush said, adding, "I like that it's a hard cover, too. It's also not too big. I can fit it in most of my bags. It has blank pages, I'm not a fan of a lined journal. A blank page lets me do whatever I want."
And an aubergine to keep you squeaky clean