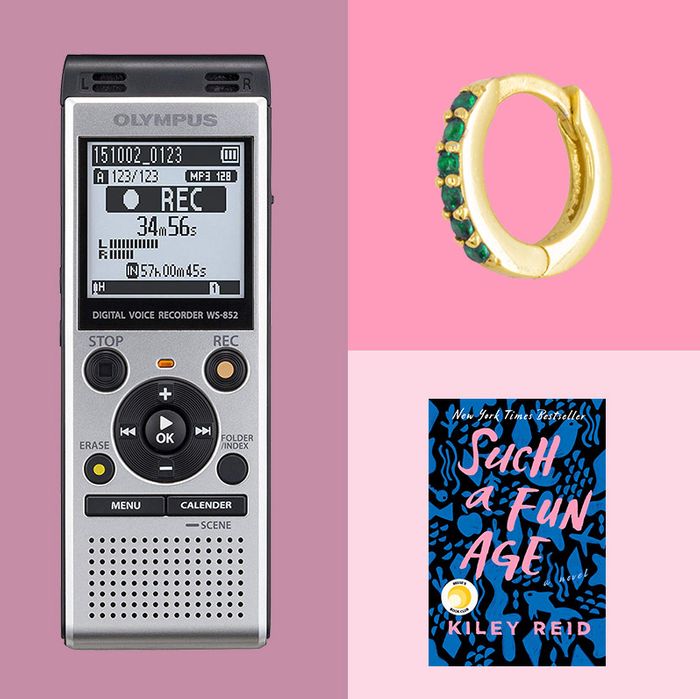 Photo: Courtesy of Retailers
If you follow our biweekly feature Your Shopping Cart, you know that we have some eerily good intel on what you all are buying. Which led us to think that, as Strategist editors, we could turn the tables and highlight all the things we've been buying for ourselves. As you'll notice, it's both a blessing and a curse to be a Strategist editor; we're picky, but sometimes we just have to get on with it. (It's online-shopping expertise meets IRL needs.) Below, what we all bought in January.
Chloe Anello, junior writer
I weave as a hobby, but I have only a small hand loom, and there's only so many tiny square pillows, random patterns, and weird little wall hangings I can make. So I decided to try embroidery and bought a couple of inexpensive tools to get me started. So far, I'm loving it, and Hoop Dreams has helped me quickly get the hang of things. The author describes each stitch, step-by-step, in simple terms, so I didn't feel like I needed to have a sewing background to get it. Plus, the patterns she provides are fairly modern-looking.
I also stumbled upon and bought this book, which has a similar vibe as Hoop Dreams, but with a few additional techniques and pattern ideas. When I start a hobby, I more or less go all in.
Somehow, Alex Mill created my dream jeans — dark wash, straight-legged, tall inseam, and preferably under $200 — for much less than I was willing to spend. (I even found them on sale at Net-a-Porter, which made it that much better.) These feel and look like trousers, so they're a touch more put together than my other pairs of denim, yet they're still so comfortable. The stitching also makes them look more expensive than they are. If they came in other washes, I would totally buy every color.
Maxine Builder, managing editor
I was walking through Union Square, biding my time before yoga, when I saw that Ricky's was having a sale. I stopped in and I spotted the mother lode: a whole stack of full-size Mason Pearson hairbrushes for just $100 each, an unthinkably low price for such a statusy hairbrush. I never would've forgiven myself if I hadn't bought one, and though I don't know if my hair looks shinier or healthier or anything, I feel a heck of a lot fancier when I use it.
We moved offices right before the holidays, and though I love a fresh start, the whole space felt a little sterile and not quite lived in, especially because the desks and walls are all white. I bought this Yamazaki coat rack on-sale — both for decor reasons and as a functional place to hang my coat — and I think it's really tied my little nook together. (I know that Tony appreciates being able to use it.)
I love this snow bib, and I'm now on the hunt for more snowy activities to do just so I have more excuses to wear it. I wore it while snow-shoeing in the Berkshires over the long weekend. I'm going to be wearing them when I go skiing in Utah in March. But more recommendations (and snow!) would be welcome.
Karen Iorio Adelson, senior writer
I already have a few pairs of these running tights (that I also wear to barre and other workout classes). They're thin and stretchy, so they really feel like you're not wearing anything, and they have tons of pockets (on the waistband and both sides of the legs) for my phone, keys, energy gels, or anything else I might need. I'm always on the lookout for new colors or prints, and these galaxy-printed ones are fun and pair well with lots of solid color tops.
I've been considering getting a pair of Uggs to slip on with leggings or sweatpants for weekend errands for a while now, and I finally took the plunge when I noticed these were on sale. I'm so glad I did because they're warm, comfortable, and even cozier than I imagined. They're like the winter equivalent of flip-flops.
Dominique Pariso, writer
My winter look this year is less street ski and more "fourth-grader going sledding on a snow day," so when I spied this pom-pom hat in one of our sales roundups, I added it to my cart right away. The cap isn't particularly thick, but I wore it walking around frigid Montreal, and the flaps kept my ears warm.
While in Montreal, I also picked up this tote bag for five bucks. I was extremely charmed by the cobalt blue straps and the cheerful bagel on the front.
And I bought this book, which I haven't read yet but am excited to. It's about the legacy of Chile's dictatorship told through the lens of three friends who go on a road trip in a borrowed hearse to track down a missing coffin.
I heeded to Maxine's Mason Pearson PSA and quickly ran to Ricky's to pick one up myself after work. The mini I currently own and love will be moved from the sink to my pocketbook, to make room for this full-sized beauty.
Casey Lewis, senior editor
I own way too many pairs of Levi's Wedgies to justify introducing the Ribcage — known around these parts as the Goldilocks of jeans — into my denim repertoire. When I spotted them in a new (or new-to-me) faded-black wash earlier this month, I gave in. And I'm so glad I did. Unlike a relaxed boyfriend fit, the wider leg of the Ribcage somehow feels more business casual, and the ultrahigh 12-inch waist manages to be more comfortable than the 10.75-inch version, even when sitting in a desk chair all day.
I bought this Loeffler Randall Aylin look-alike months ago, after my beloved Vagabonds gave out on me. I love 'em so much that I just ordered a backup pair during J. Crew's amazing final sale for just $56. The leather feels substantial, the sole is sturdy, and the heel is the perfect height – comfortable to walk in, but still a bit elevated. They're slightly Western-y, but don't feel so trendy that I won't be able to wear them for seasons to come. Which is necessary, since I now have two pairs.
The lining in my grandmother's (faux) fur coat has been slowly disintegrating around my body every time I wear it, which is a lot. I looked into replacing the lining, but it seemed complicated and expensive. Plus, I didn't want to give up my coat at a time when I need it the most. So instead, when I came across a Uniqlo ultrathin down puffer in the exact same camel color, I bought it and sewed it right in. I'm by no means a seamstress, but I'm proficient enough with a needle and thread. It turned out surprisingly great — and warm, too.
Anthony Rotunno, senior editor
By far my most exciting purchase of the year is this tray, which stands about an inch tall and sits at the bottom of my kitchen sink. All it does is basically elevate the dirty dishes above the gunk that's fallen from them, and give you a place to lay small things like a sponge or utensils to air dry. But somehow it also makes something as forgettable as my kitchen sink unforgettable. (I bought it because I co