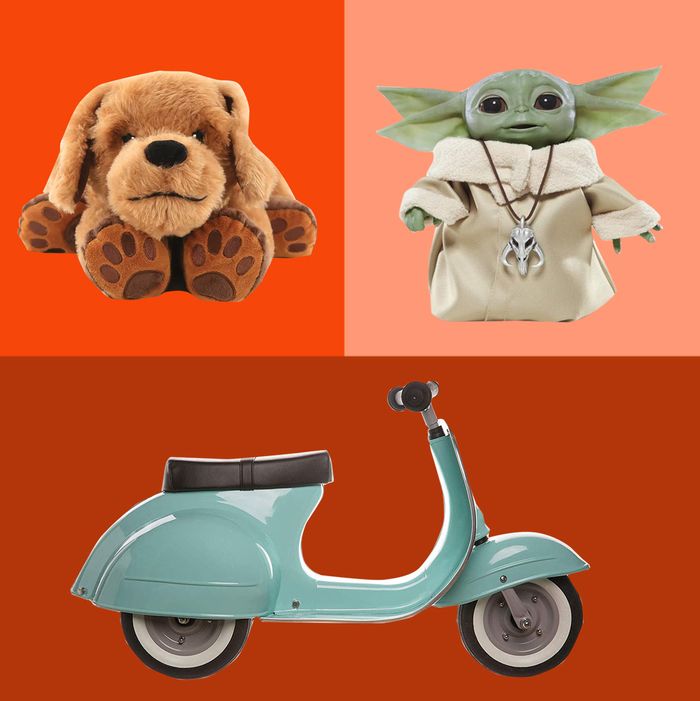 Photo: Courtesy of the retailers.
New York City's annual Toy Fair is basically a childhood fever dream. Life-sized Care Bears, Trolls, and Minions made out of Legos greet you from beneath a set of enormous vinyl signs advertising the newest Beanie Babies. To your left, people dressed as Crayola crayons wave with unending enthusiasm. To your right, men in suits play NBA Jam on a 12-foot tall arcade game. The sprawling convention center houses over 6,000 brands from all over the world. To get a sense of 2020's biggest toys and trends, we spoke to Kristin Morency Goldman, spokesperson for the Toy Association (the company that puts on the Toy Fair), and spent a few hours walking the aisles. A majority of what's on view were prototypes and won't be available to buy until this summer or fall, but we still found a ton of cool stuff you can buy right now (or, in the case of Baby Yoda, at least order right now). Here are our 14 favorites:
Morency Goldman says that the unboxing trend, which was originally inspired by YouTube influencer videos, is still a big deal in 2020. Early on, unboxing or blind box toys came in opaque packaging that kept you from knowing exactly what you got until you opened them up. But now the term includes any toy designed with some sort of surprise reveal — and the reveals have only gotten more and more creative. For instance, this new line of '90s-inspired collectible fashion dolls from L.O.L. Surprise now comes with a blacklight. When you shine it on your doll, the glowing light reveals surprises to her hair, outfit, and makeup. The brand has a bunch of other innovations coming, including a promise to replace their signature egg-shaped packaging with biodegradable plastic balls by beginning 2021.
Skyrocket Blume dolls were the runaway hit of the 2019 holiday season. Their innovative design uses water to reveal a surprise collectible doll that grows out of a mini flowerpot when you water it. Blume Series 2 works the same way, but now the dolls' squishy foam hair also changes color in the sun.
Instead of a single doll in a single round flowerpot, Baby Pop gives you five secret reveals. Pop the five sprouts out of the planter to discover babies or accessories in each one. (The best part of this whole process is the satisfying pop each sprout makes when you pull it out.) The planter transforms into a nursery (with one of five secret themes), the lid turns into a swimming pool with a slide for baby pool parties, and lots of other little surprises hide within.