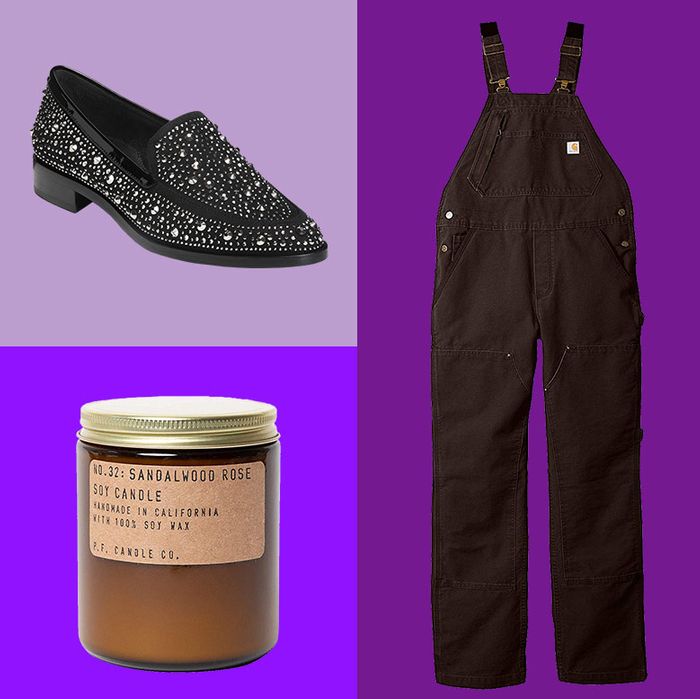 Photo: Courtesy of the vendors
We write about hundreds of products a week. Here, in our version of the Sunday circular, we've plucked out some of our favorites — expert-recommended essentials, life-changing stuff you didn't know you needed, newly-launched gizmos, and the very good deals we uncovered while trolling through the vast online-shopping universe this past week.
A Baggu to match your favorite Levi's
As we noted in a Micro Sale last week, "We've seen this Baggu tote bag in nylon, leather, even metallic-coated — but this is our first time coming across a denim version." The sale price makes it extra appealing to buy now, before New York City's plastic bag ban kicks in next month.
The perfect pan for Serious Bread Bakers
Photo: Retailer
Strategist newsletter editor Mia Leimkuhler wrote that the moment she and her husband knew their bread-baking was more than a hobby was "when I determined that our Le Creuset 7 ¼-quart Dutch oven and Lodge Combo Cooker that I've written about before are fine as bread pots, but not perfect as bread pots." Enter the Challenger pan. "It gets screaming hot, giving the loaves thicker, more evenly colored, and much more flavorful crusts than they could develop in the Le Creuset or even the cast-iron Lodge."
Rio's new favorite lipstick
"With one swipe, you get a soft, blurry, casual, blotted lip (something I would easily wear to a meeting or to the office)," our obsessive columnist wrote of this affordable lipstick from Colourpop, a brand that counts Jessica Chastain and all of Rio's friend group as fans. "This is exactly the kind of product you're going to want in your bag at all times: one swipe in the mornings for a soft, your-lips-but-better, sheer matte look, a couple of additional layers around 5 p.m. for happy hour or a dinner date."
Tools to perfect your push-ups
The "not so perfume-y" candle Barbie Ferreira swears by
"My mom freaking hates anything that leaves a fragrance in the house, but I'm kind of the opposite," the Euphoria star said when we spoke to her about the things she can't live without. "Surprisingly, I have a really hard time finding a candle smell that I like. I love the smell of roses — it's one of my favorite scents — but finding a rosy smell that's not so perfume-y is hard. It's hard to explain, but when I first laid my nose on this candle I was like, 'Okay, she's really good — I want everything to smell like this.'"
A better Cup Noodles
If you're looking for a healthier snack or a simple working-lunch option you can store at your desk, take a cue from contributor James Lynch, who told us that "for a two-month period this summer, I ate a packet of LonoLife every day. The powdered bone broth comes with various proteins, including beef and chicken, and multiple flavors." Lynch added: "LonoLife has ten grams of protein. (Other nutrition facts vary slightly by flavor, but chicken has three grams of carbs and 700 mg of sodium. Compare that to Chicken Cup Noodles with 7 grams of protein, 39 grams of carbs, and 1,190 milligrams of sodium.)"
The return of some rare PS4 controllers
The first batch of "sunset orange" and "berry blue" PlayStation 4 controllers "almost immediately sold out (and were going for exorbitant prices via third-party sellers)," we wrote in Don't Dillydally. Newly restocked, you can now get your hands on them again while "supplies last," says the brand (somewhat forebodingly).
Fashion-editor-approved overalls
While at a "fancy fashion party" in these Carhartts, contributor Julia Felsenthal told us she "brushed by an editor I used to work with as I made my way to the bar. 'Oh my God,' she exclaimed, grabbing my shoulder, and by extension, my strap. 'Your Carhartts!'" The head-turning pair, according to Felsenthal, has "a slightly more tailored silhouette, and a kicky flare to the leg" that set them apart from more utilitarian cuts.
The flashlight a (former) Secret Service agent has at all times
"What people don't realize is that we are also trained to use flashlights for self-defense; if we feel a threat, one of the things we're taught to do is shine the light in the person's eyes so it temporarily blinds them," former Secret Service Special Agent Evy Poumpouras (who was in the protective details for President Barack Obama and First Lady Michelle Obama) told us. "You can't just use any flashlight. Surefire is the brand that I've always used. Police use it, too. It's also made out of metal, so you can actually use it to fight against someone. If you grab somebody's wrist where there's a pressure point, where the bone is, you can slam it against the bone."
Something to make America bake again