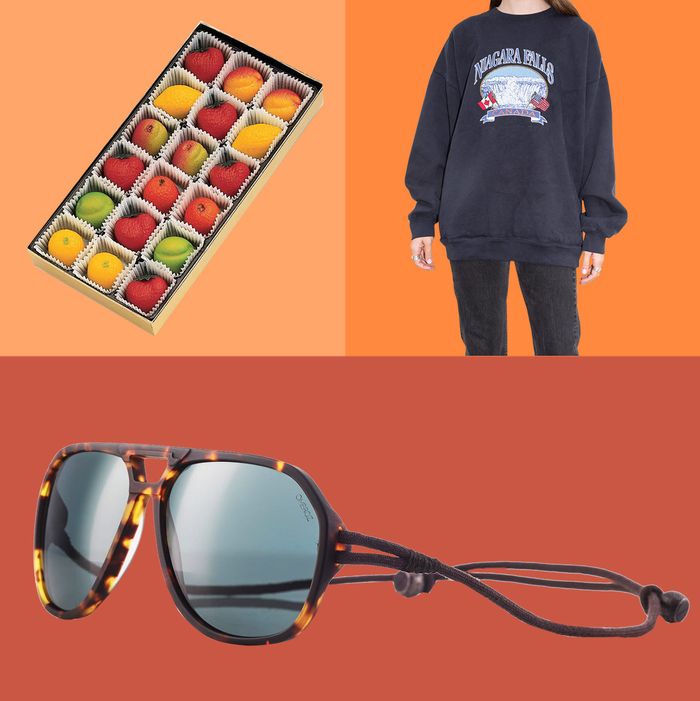 Photo: Courtesy of the retailers
We write about hundreds of products a week. Here, in our version of the Sunday circular, we've plucked out some of our favorites — expert-recommended essentials, life-changing stuff you didn't know you needed, newly-launched gizmos, and the very good deals we uncovered while trolling through the vast online-shopping universe this past week.
A marzipan starter pack
With cool people like chef Laila Gohar, Catbird co-creative director Leigh Batnick Plessner, and Strategist writer Hilary Reid (to name three) flooding Instagram feeds with photos of marzipan, the lifelike candies made with almond paste are having a bit of a renaissance — and not just on social media. "We've definitely seen an increase in the younger generation buying it," the executive pastry chef at Fortunato Brothers pastry shop Reid in her recent investigation into the sweet's trendy turn. If you want to get in on it, we wrote that this sampler would make a "stylish alternative to the old Valentine's Day box of chocolates."
Sunglasses on a string
Contributor Steven John told us that these "unique" sunglasses are his favorites to wear during physical activities such as running. As he explains it: "They have no arms, instead staying in place thanks to easily adjusted cords. That way, when I pull them off, they stash flat in a pocket, making them easier to put on and take off while on the move. The corded design also ensures they stay in place as I'm jogging along."
The sweatshirt all the cool teens are wearing
While clothing brand Brandy Melville may be best known for its teeny-tiny crop tops and tanks beloved by Gen-Zers (and those in older generations that can squeeze into them), its latest must-have piece is anything but body-con. Less of a garment to show their appreciation for the majestic waterfalls on the U.S.–Canada border, the teen-fluencers we've spotted in the baggy sweatshirt told us they like it for its "vintage look" and pockets. But also: Because Kendall Jenner wore it.
A Black Hole for less than a hundred bucks
In scouring the net for our Friday Sales roundup, we found that Backcountry is offering a very good deal on one of our favorite travel duffels. For those wondering why we love it, we wrote: "It's sturdy, easy to carry as a backpack, and can fit easily into plane's overhead compartments."
The best screwdriver for most people
If you've ever wondered which, if any, screwdrivers you really need, lots of household projects can be handled with "a single tool with interchangeable bits," according to Steven John, who spoke to pros and drew from his own DIY experience to put together our new guide to screwdrivers. "If you need a screwdriver only a few times a month (or year), this is your best option. Its 15 bits — including the standard flathead and Phillips, along with more specialized Robertson and Torx bits are stored inside the handle, so you don't have to carry around an extra case."
Docs with a lot of heart
Love is apparently in the air over at Dr. Martens, which released this sweet twist on its classic 1460 boots for Valentine's Day. The footwear, we wrote in Don't Dillydally, is "festooned with hearts 'hand-drawn' by the team at 'Docs HQ.'"
A travel pillow worth every penny
If at first blush you, like this buyer, think it is "silly to pay $20 for this tiny weird pillow," then she's got news for you. "I have NEVER … I mean NEVER slept as good as I did during that trip with this pillow," the reviewer raved about the Therm-a-Rest, which comes from our list of the best-rated travel pillows on Amazon, after she used it while camping and on a flight. "Dude. Buy it."
A butt plug for beginners
"A fun, non-intimidating way to start any anal journey," is how one sexual health educator described this butt plug from our list of expert-recommended ones you can buy. The silicone plug can vibrate at seven different speeds, and its slim silhouette is perfect for anyone "brand new to anal play" who "wants to play in insertion but not girth."
Leon Bridges's favorite tanks
"I usually wear tanks to compress all of my fat," the singer-songwriter told us in a candid moment. He wears his favorite Hanes ones — which are among the ten things Bridges can't live without — "under everything, onstage and just on the street," adding, "they're cut thin, so they can easily fit under things. They also look good just rocked alone tucked into some high-waisted pants."
The preferred perfume of Navarro cheerleaders